Canada tops host Czech Republic at Worlds
Jordan Eberle and Taylor Hall each had a goal and an assist Monday as Canada downed the Czech Republic 6-3 to stay perfect at the world hockey championship.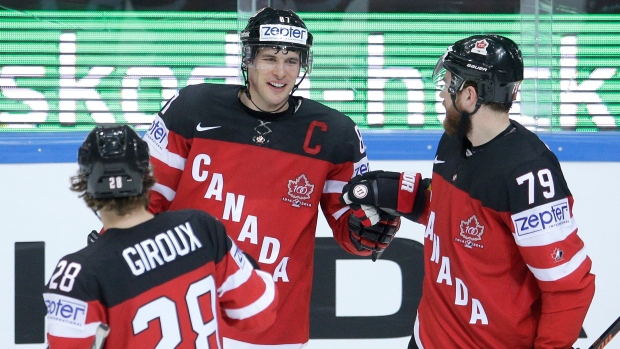 PRAGUE, Czech Republic -- After two games of "annoying" missed chances, Tyler Seguin finally got on the scoresheet. The slick winger picked up his first point at the world hockey championship with what turned out to be the game-winning goal Monday as Canada downed the Czech Republic 6-3.
Seguin had a number of chances through Canada's first two victories -- a 6-1 thrashing of Latvia and a 10-0 demolition of Germany -- but they had yet to pay off.
With his team leading 3-2 early in the third on Monday, Seguin wheeled off the sideboards on the power play and ripped a shot past Ondrej Pavelec to finally register his first of the tournament.
"It was getting a little annoying with all the chances and nothing to show for it, but I feel like I took some of my own pressure off myself with getting that goal," said Seguin. "I'm happy about it, it was a big win and now we move on."
Jordan Eberle, Taylor Hall and Tyler Toffoli each added a goal and an assist for Canada (3-0-0), while Sean Couturier and Sidney Crosby also scored.
Mike Smith made 22 saves to get the win in his second start for the Canadians, who sit atop Group A with nine points.
"It was nice to play in a good hockey game," said Seguin. "The first two games weren't too testing, but tonight with that crowd that they had going on it was a lot of fun and it was great walking away with three points."
Martin Erat, Martin Zatovic and Vladimir Sobotka replied for the host Czechs (1-1-1), while Pavelec made 32 stops in taking the loss.
Canada led 2-1 after the first, but the Czechs came on strong in the second and finally got an equalizer with 4:15 left in the period when Zatovic tipped a shot up and over Smith's glove.
But with the partisan crowd at the O2 Arena still buzzing, Canada retook the lead just 1:55 later. Toffoli intercepted a puck at the Czech blue-line and fired a shot that Couturier -- the only other Canadian player without a point prior to Monday -- deflected past Pavelec.
"They definitely gave us a test," said Seguin. "They used their home crowd to their advantage. It was a lot of fun."
After Seguin scored his goal 2:02 into the third, Crosby made it 5-2 with another on the power play at 10:07.
Sobotka scored with 2:25 left to give the Czechs some hope, but Toffoli fired a shot into the empty net to seal it with 90 seconds remaining.
"Obviously we've proven we can score, but Smitty made some huge saves tonight and that's why they only had three goals," said Seguin. "I think we have a lot of stuff we can work on and it was nice getting a good test tonight."
Canada grabbed a 1-0 lead 4:18 into the first period when Eberle jumped on a loose puck behind the Czech goal and stuffed home a wraparound past a surprised Pavelec.
Hall, who had a hat trick against Germany on Sunday, then scored his fourth of the tournament with 58 seconds left in the period to make it 2-0, beating Pavelec from a tight angle after collecting a nice pass through traffic from Jake Muzzin.
The Czechs got that one back just 21 seconds later when Erat tipped home a point shot past Smith.
Canada's next game is Wednesday against Sweden, which beat Latvia 8-1 in Monday's other Group A matchup.
"Sweden's a great team," said Seguin. "They've proven then can score goals. We've got to be ready for them and we're looking forward to another great game."