Canadian featherweight Dawodu seeks second straight win
After lasting just 39 seconds in his UFC debut, Calgary featherweight (Mean) Hakeem Dawodu bounced back with a unanimous decision in July in his home town.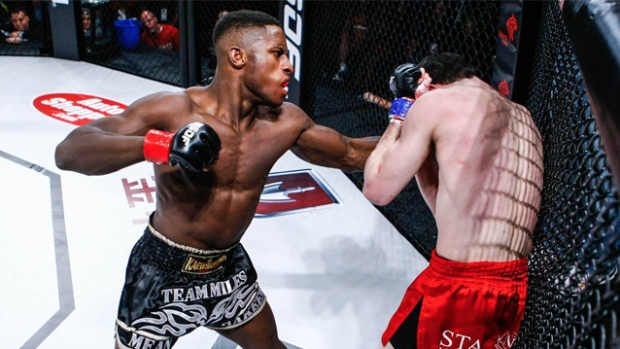 TORONTO — After lasting just 39 seconds in his UFC debut, Calgary featherweight (Mean) Hakeem Dawodu bounced back with a unanimous decision in July in his home town.
"More to come," says Dawodu, who looks to make it back-to-back wins when he takes on American Kyle (Crash) Bochniak (8-3-0) on the undercard of UFC 231 Saturday night.
"I feel like I'm back on track. My last three fights I was fighting with injuries. This fight I'm nice and healthy. I feel like I'm back to my regular self."
Scotland's Danny Henry handed Dawodu his first loss in March in London, felling him with a right to the chin and then latching on a guillotine choke that ultimately left Dawodu unconscious. The fight featured just five significant strikes, according to FightMetric.
Four months later, a different Dawodu (8-1-1) won a unanimous decision over Austin Arnett. Dawodu, who got a standing ovation from the Calgary crowd, punished the American with leg kicks and had a 75-23 advantage in significant strikes.
Both Dawodu and Bochniak credit martial arts for turning their lives around.
Dawodu, 27, had studied taekwondo, wrestling and boxing growing up. But he started taking martial arts seriously to get out of house arrest as a teenager for some juvenile missteps.
After he kept failing to complete the anger management course that was his way out of house arrest — "because I didn't really like it" — his probation officer offered him an alternative.
"She was like 'You know, you don't look like a bad kid, You just look like you do bad things.' So she recommended that I start into martial arts and she could write off the martial arts as anger management."
The plan worked and Dawodu found an outlet — and three months later his first fight. Today he still trains at the same gym — Mike Miles MuayThai & Kickboxing.
"It really did change my life around," he said. "Growing up, seeing how my other friends turned out, I realized I made the right decision."
He went 42-5 as an amateur kickboxer before turning pro. He went 9-0 and won the WMC Intercontinental welterweight world championship.
Only earning $5,000 a fight, he changed direction after watching UFC bouts.
"I was like I'm just as good as some of these guys, if not better. I've just got to learn my ground game. And these guys are getting paid 30 grand a fight."
He had his first pro MMA fight in February 2014 and earned a UFC contract after winning his first eight bouts.
He says he has worked hard on his grappling skills, but didn't need to use them against Arnett.
"I like to stand and bang. That's my style .. I like exciting fights," he explained
Bochniak, 31, was a high school dropout who ended up spending time in jail for what he called "stupid, petty charges" one summer. At 22, he decided to clean up his act. He went to welding school and starting training at a Boston gym.
He had his first amateur bout in 2011 and turned pro in January 2014, making it to the UFC after winning his first six fights. He has gone 2-3 in the UFC, alternating wins and losses, dropping a unanimous decision to Zabit Magomedsharipov last time out in April.
"Tough guy," said Dawodu. "He's got good cardio. He's a brawler. But I've got good cardio. I'm tough, I've got all the skills in the world and I've got a lot more variety of attacks that I can hit him we than he can with me.
"So he's tough but he's just going to be in there taking a beating."
Bochniak also has Canadian ties, training at the renowned Tristar Gym in Montreal.
Dawodu is the lone Canadian on the main card. Max (Blessed) Holloway defends his featherweight title against No. 1 contender Brian (T-City) Ortega in the main event at Scotiabank Arena.
Follow @NeilMDavidson on Twitter