Canadian goalie duo ready for big stage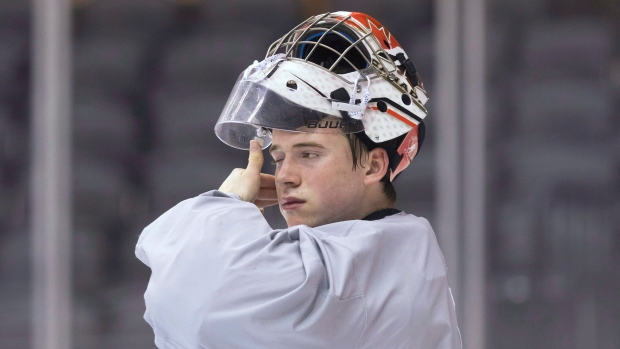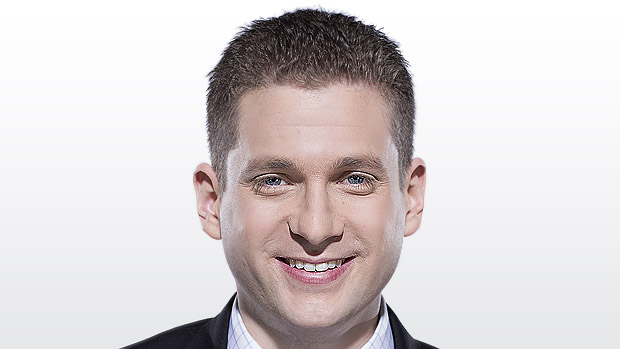 PLYMOUTH, Michigan – A Canadian hasn't been named top goalie at the World Juniors since 2008 when Steve Mason was tournament MVP. But there are two leading contenders to end that drought this year in Buffalo. Carter Hart helped Canada win the silver medal last year by handling home ice pressure very well. And then there's Michael DiPietro who starred in Windsor's Memorial Cup win last spring.
"It gives me momentum, but also gives me experience with pressure," DiPietro said, "and experience with playing against older players too. Obviously, the Memorial Cup you're playing against powerhouses in the CHL ... When you get on the bigger stages, I think that's really when you got to prove yourself and that's really when you can separate yourself from other people and other goalies."
DiPietro grew up in the Windsor, Ontario area cheering on the Spitfires so the chance to play for his hometown team in the Memorial Cup was incredibly special. And he came through in the clutch by posting a .932 save percentage to help the underdog Spitfires take home the title. What's the key to playing well under pressure?
"I think just not thinking," he explained. "Try to embrace pressure. Don't let it consume you. That's the way I approach it."
Even though DiPietro, a Canucks prospect, is 18 and lacks World Junior experience, TSN's director of scouting Craig Button believes he's got a legitimate chance of stealing the starting job from Hart.
Hart's big advantage is he's been here before and he understands very well what it's like to represent Canada at the World Juniors.
"It was a big learning experience for me," said Hart, who posted a .906 save percentage in four games at last year's tournament. "I've never played in front of so many people like that so it was quite eye-opening. I know the first game when I played against Russia it was a sold-out crowd in Toronto. I've never experienced anything like that. I think after that game I sort of settled down, because I knew what to expect."

BROTHER KNOWS BEST
Brett Howden and David Quenneville have an extra edge at the World Junior Summer Showcase, because they have been able to lean on their older brothers for support and advice. Quinton Howden, a Panthers draft pick now in the Jets system, represented Canada at the World Juniors in 2011 and 2012 while John Quenneville, a Devils prospect, wore the Maple Leaf in 2016.
Brett Howden still remembers what it was like to be in the stands watching his sibling. What stood out the most? "The crowd, for sure. Obviously, the games were so much fun, but the crowd had so much to do with that. They were so impactful to the game and how well they played."
And as he watched his brother, who is six years older, Howden couldn't help but wonder what it would be like to one day play in the World Juniors himself.
"I was thinking that," he said. "I didn't know if it would come true or not. It was so far away back then. When I was younger, it seemed like it would be forever, but now it's right in front of me and I'm doing everything I can to be there."
It's not just the World Juniors - Howden leans on Quinton for advice on basically everything. "The reason why I am where I am today is because of him."
As for Quenneville, he got a thrill from watching his brother score at the World Juniors even though it wasn't the prettiest goal.
"He didn't necessarily shoot it in," Quenneville said with a smile. "Mitch Marner kind of shot it in off his pants. He was in front screening the goalie. That was super special for me. Everyone at Christmas watches the World Juniors and having your big bro, who you look up to a lot, score a goal like that – it was a greasy goal, but they all count – was super special."
And just like Howden, Quenneville has been mesmerized by being in the crowd at a World Juniors game.
"It's the atmosphere," he said. "I remember watching the World Juniors a few years back in Edmonton and that was really special. I'm an Edmonton kid and I remember sitting behind the Canadian net and you see the Canadian flag getting passed around against the Americans on New Year's Eve and it's so special. You're in the moment and everyone's so excited to watch the game and so patriotic. Those kind of things are so special."

LILJEGREN'S LEARNING CURVE
A bout of mononucleosis early last season stunted Timothy Liljegren's development and robbed him of a chance to play at the World Juniors. Now, Toronto's first round pick at last June's draft is eager to make up for lost time. And so far the Swede believes he has performed well at the Summer Showcase, especially when it comes to puck management.
"I try to do the hard plays when they come to me instead of looking for the hard plays," he explained. "I think I've been improving on that this tournament."
"Timothy started off good," said Swedish head coach Tomas Monten. "I talked to him coming in here and told him he doesn't have a lot to prove and just to try and play his game. I think he can be an asset for us. Timothy's a skilled player and he's going to make skilled plays. He just can't force them and look for them all the time. He's got to make sure he plays 70 per cent as a defensive defenceman and everything is going to come."
Liljegren was able to watch a bit of the World Juniors last year. What does he recall the most? How well defenceman Rasmus Dahlin played. "He's an exceptional talent," Liljegren said, "so fun to watch."
But Liljegren likely won't get the chance to play with the 2018 top draft prospect on Friday when Sweden takes on Canada, because the 17-year-old is dealing with an illness (fever).

SWEDES RELY ON 'EYE OF THE PUCK'
The battle at the face-off dot should be an intriguing one on Friday. The Swedes struggled in the circle during Wednesday's loss to the Americans and spent a good chunk of Thursday's practice working on draws.
"We really sucked at the face-offs last night," Monten said bluntly. "I think we were 1-for-11 in the first period. It's a little bit different here especially with how the players have to line up. Back home you can stand a little bit more twisted, but here you have to square up and that's been big trouble for our players."
The centres reviewed video of the top NHL face-off takers during the morning meeting. Then on the ice they reviewed video of their practice face-off attempts on an iPad. The video was shot on a GoPro attached to a puck held right above the dot. The design, a brainchild of the team's goalie coach Nizze Landen, has been dubbed "The Eye of the Puck."
"We used the camera just to see how the puck looks from above," Monten explained, "where it lands and where they get beaten and how their feet are moving."
The team usually uses the GoPro when working with goalies and forwards so they can see the exact angle of shots.

UPCOMING SCHEDULE
FRIDAY: Canada v Sweden, 1pm et (TSN Network) ... USA v Finland, 4pm et (TSN Network)
SATURDAY: Sweden v Finland, 4pm et on TSN3/5 ... USA v Canada, 11pm (tape delayed) on TSN3/5
Gord Miller and Craig Button will call the games with Tessa Bonhomme hosting the coverage.