Canadians to watch at March Madness
The NCAA Tournament is now just days away, but while so much of the focus is on Kitchener's Jamal Murray, there are several other Canadians who are not only in the tournament, but could play big roles for their teams this month.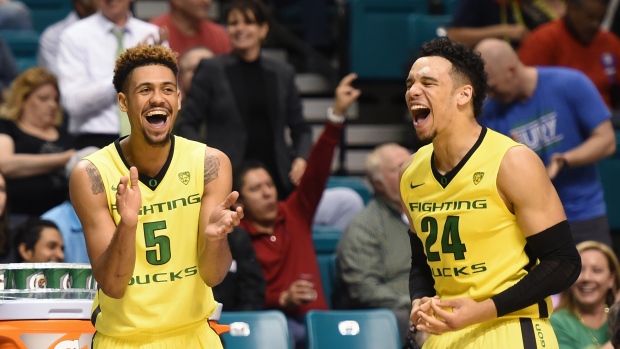 The NCAA Tournament is now just days away, but while so much of the focus is on Kitchener's Jamal Murray, there are several other Canadians who are not only in the tournament, but could play big roles for their teams this month.
So who do you need to look out for?
Here are some of the top Canadians not named Jamal Murray playing in this year's NCAA Tournament.
Dillon Brooks, Oregon:
Like Murray, Brooks played for the Canadian Senior National Team in last summer's Pan-Am Games. And while his role wasn't quite as big as Murray's, there's no doubt that the international experience helped him gain confidence during his sophomore season at the University of Oregon this year.
The Mississauga, Ontario native made a huge jump in 2016, going from an 11-point average as a freshman to over 16 points per game this year, on his way to earning All-Pac 12 honors. Of course it's one thing to see the numbers on paper and another to watch Brooks play. And over the course of the year he has evolved into one of the most complete scorers in college basketball. Overall, Brooks shot 47 per cent from the field this year while connecting on over a three-pointer a game.
Many believe that Oregon is a dark horse to make a deep run in the tournament. And if they do, it will be thanks in large part to Brooks.
It will also be thanks to…
Chris Boucher, Oregon:
Simply put, there might not be a player with a more interesting background in the NCAA Tournament than Boucher, a 6'10 centre originally from Montreal.
Unlike Murray (and to a smaller degree Brooks), Boucher didn't grow up as a big-name youth prospect; he was mostly a soccer and hockey player until his mid-teens. And when he did pick up a basketball, it didn't seem like he had a future in the sport (he working in a restaurant in Montreal and playing pickup locally to pass the time).
But Boucher hit a late growth spurt and thanks to a couple of local scouts, he ended up at a junior college where he went on to earn National Junior College Player of the Year last season.
This year, he's been one of the single biggest surprises in college basketball. Boucher has averaged 12.1 points and 7.6 rebounds per game, to go along with 3.1 blocks per contest, which is tied for second in college hoops.
And he hasn't lost those skills developed before his growth spurt, as he knocked down 36 three-pointers this season, including three in a Pac-12 title game win over Utah on Saturday.
Kyle Wiltjer, Gonzaga:
Wiltjer has been around for a while, beginning his career at Kentucky where he won a National Championship during the 2011-2012 season alongside current NBA All-Star Anthony Davis, Michael Kidd-Gilchrist and others.
And a lot has changed since then, most notably Wiltjer's school. He's now at Gonzaga and he is thriving, averaging nearly 21 points per game in 2016. And Wiltjer has showed a dynamic offensive game, with the ability to score everywhere from in the post to all the way out towards the three-point line.
If you're looking for a sleeper in your bracket this season, it may be Wiltjer's Zags who've won 12 of their last 14 games entering the NCAA Tournament.
Dyshawn Pierre, Dayton:
If Pierre's name sounds familiar that's because - like so many on this list - he's a long-standing member of Team Canada basketball. He was part of the 2010 squad that won a bronze medal of at the U-17 World Championships, alongside guys like Andrew Wiggins and Anthony Bennett.
Pierre has gone on to become a key cornerstone for three straight tournament teams at Dayton, including a group that made the Elite Eight two years ago.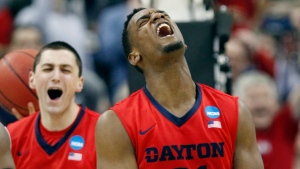 After a tough start to the 2016 campaign (which included a controversial suspension), the undersized forward has bounced back nicely, averaging 13 points and a team-high 8.6 rebounds this season.
Stefan Jankovic, Hawaii:
Hawaii is also in their first tournament in over a decade and much of the credit has to go to Jankovic, a 6'11 forward from Mississauga.
Jankovic's road to the tournament is absolutely fascinating, as he played high school ball in the States (alongside Andrew Wiggins at Huntington Prep in West Virginia), before enrolling at Missouri and then transferring out to Hawaii.
The move has worked out well for Janokovic, as he averaged nearly 16 points and seven rebounds on his way to earning the Big West Player of the Year.
Malcolm Duvivier, Oregon State:
Not every player can be a star, but there's no doubt that role players still play a huge role in their team's success. That's certainly the case for Duvivier, who has taken a back-seat as bigger stars like Gary Payton II - yes, the son of the Hall of Famer - have taken centre stage for Oregon State this year.
Duvivier averaged 10 points and three assists last year, before seeing his numbers dip in 2016, but remains a key cog off the bench, and defensive stopper on the perimeter.
The Toronto native had 16 points in a recent win over Arizona State.
Marial Shayok, Virginia:
Like Duvivier, Shayok has become a key role player on a team that could make a deep tournament run.
While players like Malcolm Brogdan get all the headlines for the Cavaliers, they wouldn't be 27-6 with a No. 1 seed, if it wasn't for players like Shayok, an Ottawa native.
The 6'5 guard from Ottawa is coming off one of his best games of the season, scoring 10 points in 23 minutes of play against Miami on Friday.