Canadiens acquire Drouin, agree to six-year, $33M deal
Jonathan Drouin is coming home. The Montreal Canadiens acquired Drouin from the Tampa Bay Lightning on Thursday in exchange for defenceman Mikhail Sergachev, the club's first-round pick last year, and conditional picks. The Habs and Drouin then agreed to a six-year, $33 million contract.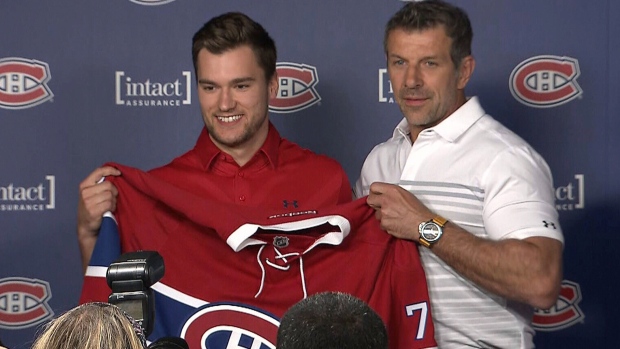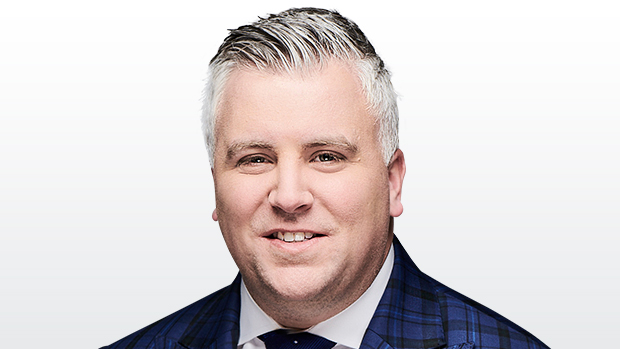 Last June, Montréal wept when a star was moved. One year later, a star is born.
Jonathan Drouin is coming home.
The Montreal Canadiens acquired Drouin from the Tampa Bay Lightning on Thursday afternoon in exchange for defenceman Mikhail Sergachev, the club's first-round pick last year, and conditional picks. A few hours later, the team announced it had signed Drouin to a six-year, $33-million extension.
"Like I always say," Habs GM Marc Bergevin told reporters, "Expect the unexpected."
Drouin instantly becomes the Canadiens' most exciting Québécois threat since Stéphane Richer on a team that has had relatively little French Canadian scoring flavour since Pierre Turgeon and Vincent Damphousse left.
Former Canadien, NHL GM and Drouin's junior team owner Bobby Smith took it one step further with the Tampa Bay Times.
"Montreal has its best French Canadian player since Patrick Roy and its most dynamic since Guy Lafleur," Smith said.
Drouin hails from Sainte-Agathe-des-Monts, Que., and played his midget hockey on the island of Montreal for the Lac St. Louis Lions.
"It's still surreal," Drouin told reporters in Montreal. He was in town training when he received the call from agent Allan Walsh that he had been traded, telling Walsh it was "a dream come true."
"I'm a hometown boy," Drouin told reporters. "You never really think that day's going to happen where I'll actually be playing for the Canadiens."
Drouin racked up 21 goals and 53 points for the Lightning last season – good enough for third on the team – and put his all-world talent and vision on display, but became the odd man out in Tampa Bay by way of a perfect storm.
Not only were the Lightning in an uncomfortable salary cap position, likely struggling to ink Drouin to the dollars he signed for in Montreal, but they also had to re-sign fellow restricted free agents Tyler Johnson and Ondrej Palat. And general manager Steve Yzerman also had expansion protection issues to consider.
So, Yzerman flipped Drouin for Montreal's biggest trade chip in the 18-year-old Sergachev, who is both exempt from the expansion draft and has yet to begin his three-year entry-level contract. Drouin was the only piece Yzerman could move, short of Steven Stamkos, to fulfill Tampa Bay's biggest need on defence.
Sergachev, who turns 19 on June 25, fits Tampa Bay's cap structure and need for a potential top-four blueliner who can grow with their core. There is some risk for Tampa Bay, trading a known commodity for one who still has much to prove, but Sergachev will have plenty of fellow Russians to help assimilate him in Tampa Bay with Nikita Kucherov, Vladislav Namestnikov and Andrei Vasilevskiy on the roster.
"There's risk involved in every trade," Yzerman reminded reporters.
Two conditional picks were also exchanged in the deal – a second-rounder going to Tampa Bay and a sixth-round pick heading to Montreal – but neither of those picks will change hands if Sergachev appears in 40 or more regular season or playoff games next year.
Drouin was drafted third overall by the Bolts in 2013; Sergachev went ninth to the Canadiens last June. Bergevin said in February he wouldn't deal Sergachev for "anyone," but felt like he wasn't trading future away to get a player in Drouin who is still just 22.
"To get a young player [of] his calibre, it's something as an organization we couldn't have passed by," Bergevin told reporters.
This is the type of trade that leaves both fan bases thinking their GM did a masterful job.
In fact, Drouin's addition may help drive down leverage for winger Alexander Radulov, whose contract demands reportedly remain high. The 31-year-old is a pending unrestricted free agent and will be up for grabs to the rest of the NHL on July 1.
It is true that the electrifying Drouin does little right now to solve the Habs' shortage at centre, but it's important to keep in mind that Drouin was being groomed at times with the QMJHL's Halifax Mooseheads for the position - something Bergevin said the Habs "took into consideration." Drouin played primarily left wing in Tampa Bay, but took 220 draws for the Bolts last season.
It's seemingly not June without a blockbuster from Bergevin, but he might not be done just yet.
Drouin pulled on a No. 72 sweater with his name on the back at his introductory Bell Centre press conference on Thursday, but his familiar No. 27 may be available before long.
Alex Galchenyuk, who did not meet coach Claude Julien's expectations down the middle, has been circulating through the rumour mill. It's possible that Galchenyuk could be flipped to fill a long-term hole on defence that Bergevin now created in moving Sergachev. The Habs have reportedly been sniffing around the Minnesota Wild and their available young defencemen.
Either way, Drouin will be ready to bask in Les Glorieux.
There is a certain pressure that comes with being a French star in Montréal – one unlike any other in an NHL market. Drouin has been uniquely tested already.
He bet on himself in January of 2016 when he walked away from the Lightning for two months during an unprecedented holdout. He trained in Montreal, then returned and proved himself, quieting the naysayers with a fantastic playoff run to Game 7 of the Eastern Conference Final and followed with his best regular season yet, answering any questions about how he'll handle playing in his hometown.
"I'm a French Canadian and I like pressure. I like that stuff," Drouin told reporters Thursday. "For me as a player, I think I'd rather have that pressure on myself than some other places. I've played at the Bell Centre many times as an away guy and just to be on the home side is even better."
-

Contact Frank Seravalli on Twitter: @frank_seravalli