Canadiens lose G Price for at least six weeks
The Montreal Canadiens will be without their best player for the foreseeable future as Carey Price will miss at least six weeks with a lower-body injury, the club announced Monday. Price was injured again Wednesday night against the New York Rangers in just his third game back after missing the previous nine.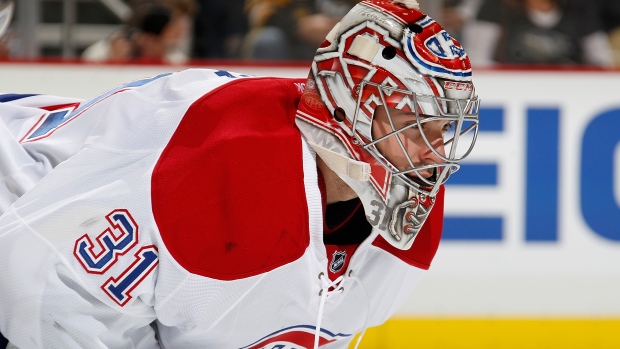 MONTREAL - The Montreal Canadiens survived one nine-game stretch without star goaltender Carey Price, but now they'll will be missing him a lot longer.
The Canadiens announced Monday that Price will be out at least six weeks with a lower body injury that he sustained during a 5-1 win over the Rangers in New York last week. He will not require surgery.
Last season's Hart and Vezina trophy winner is expected to miss at least 16 games, with only a slim chance he could return for the Winter Classic outdoor game Jan. 1 in Boston, if he heals quickly.
"He's a big part of our team," said defenceman P.K. Subban. "But if we think we're going to get any sympathy from the teams we're going to play in the next six weeks, we're not.
"The good thing is we've had to deal with not having Price in the lineup for a little while already and we know what that means. When a key part of your team goes down, everyone has to pull up their socks and be a little better."
The injury returns first-year back-up Mike Condon to the hot seat. The Boston-area native went 5-2-2 the last time Price was out from late October to mid-November, although he started to look shaky at the end of that run.
Price returned for two games, winning both, and played the first 40 minutes in New York when he was injured again.
Condon took over for the third period, then started a back-to-back series on the weekend against New Jersey, earning a shootout win and an overtime loss. This season, Condon is 8-2-3 with a solid 2.19 goals-against average and a .916 save percentage.
Third-stringer Dustin Tokarski, who allowed two goals in one period of NHL action this season, is now the backup.
"I'm a lot more comfortable," said Condon, 25. "I've had 14 appearances so far, so every time you go out there it gets a little more familiar and easier."
General manager Marc Bergevin said he will not go shopping for another goaltender just yet.
"I don't discuss transactions but we're really comfortable with Mike," said Bergevin. "I don't feel there's a need.
"We have Mike and Ticker (Tokarski). I was at (an AHL game) and Zach Fucale played really well. That's why you have many goalies in your system. Now, if we lose three goalies, that's a different story."
Bergevin said he was convinced by team doctors and trainers that Price did not return too early from his previous injury.
"It was not because he came back too quick that he got injured, but I understand the question," said Bergevin. "You always wonder if that was the case, but we looked into it really deeply and that was not the case."
When Price returned from his last injury, his teammates spoke with pride of how they kept winning and proved they are not entirely dependant on their star goalie. A year ago, losing Price would have been devastating on a team that gave up too many shots and scoring chances.
This season's squad plays a stronger all-around game, with much-improved special teams. The Canadiens also lead the league with 88 goals scored in 25 games.
"It's a unique situation because Price is our leader," said defenceman Nathan Beaulieu. "We almost owe it to him to continue playing and not moan about him not being there."
The Canadiens are also missing first-line right winger Brendan Gallagher and centre Torrey Mitchell with injuries.