Canes desperate to squeeze out a win and avoid sweep
The Carolina Hurricanes will attempt to dig themselves out of a deep 3-0 hole tonight against a Boston Bruins team that would love to finish the series and catch a breath, Frank Seravalli writes.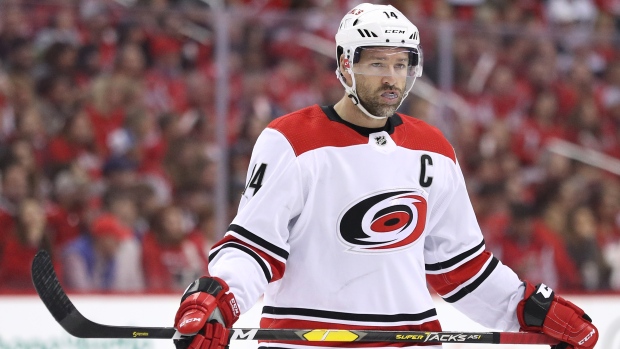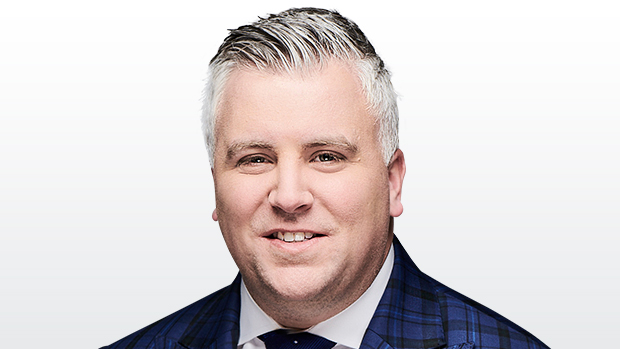 RALEIGH, N.C. — The Bunch of Jerks are down to the end of the tube.
"You know the toothpaste where you can always squeeze a little bit more out of it?" Canes captain Justin Williams was saying. "We're going to try to squeeze as much as we can out of our toothpaste here. We've got plenty left in it."
That's only slightly more palatable than the last analogy that Williams used before in this Eastern Conference final, saying the Hurricanes needed to chew on a "poop sandwich."
But in some ways, the Hurricanes are still munching on it, maybe even more so after their first- period surge against the Boston Bruins in Game 3 failed to turn the tide on home ice. As well as they played, it wasn't good enough.
"Everybody felt they played pretty hard, these are the tough ones to recover from," coach Rod Brind'Amour said. "They are. That's just the human nature of it. That's our job, to pick up the pieces, come in [Thursday], try to put everything behind you and know that it's going to take that same effort, plus something else, to beat these guys.
"That's the challenge."
If it sounds like a tall order to muster that kind of mental strength and re-engage to battle back from a 3-0 series hole, well, Brind'Amour won't sugarcoat it.
Brind'Amour speaks as a coach like he played – honestly, emotional and occasionally with an edge.
"They've got a good team," he said of the Bruins. "They could score every shift. That's the one thing about this group that we're playing – it's tough to say, 'We can attack that' or 'Good, that line's out.' "
And that's not even mentioning Tuukka Rask's superhuman play.
Yes, there's a reason only four teams in Stanley Cup playoff history have done it: the 1942 Maple Leafs, 1975 Islanders, 2010 Flyers and 2014 Kings. Williams was on that Kings team, while five of the Bruins lived the reverse sweep in 2010.
On a blue-sky Carolina day in mid-May like this one, it's easy to let the mind wander.
That's exactly what the Hurricanes and the Bruins must guard against in Game 4.
It might be even more dangerous for the Bruins, with the Prince of Wales Trophy in the building and a trip to their third Stanley Cup final in the last nine years on the line.
"The next game is the most important game," captain Zdeno Chara said. "We're not looking for anything that is going to be given to us. We have to earn it. You have to enjoy it, you have to embrace the position you're in. You have to earn everything that you want to accomplish. You can't just rely on 'it's just going to happen.'"
Man, oh man, would it be nice for the Bruins to stomp on the Canes' necks and catch a breath.
They've played from behind a lot in these playoffs, facing 1-0, 2-1 and 3-2 series holes to the Maple Leafs in the first round, then a 2-1 deficit to the Blue Jackets in Round 2.
The one staple of each of the last 10 Stanley Cup winners is that they've taken advantage and closed out at least one short series along the way.
The average number of games played by the Cup winner in the first three rounds over the last decade is 17.4. If the Bruins can break out the brooms on Thursday, that will be their 17th game of the spring – right on schedule.
"Yeah, it would be nice," David Krejci said.
Then Krejci deadpanned: "But at the same time, that means more practices. I don't like practices."
The Bruins are about as healthy as a team could ask for this deep in the Stanley Cup slog. Fourth-line forward Chris Wagner was sent back to Boston and ruled out for Game 4 after blocking a shot to seal the Game 3 win; Noel Acciari will draw in. Other than that, defenceman Kevan Miller is nursing a lower-body injury, and that's it.
"I feel good," Krejci said. "But yeah, it would give us time to heal up some bruises, obviously. It's the playoffs. Every team goes through some injuries; I guess you'll find out [all of them] at the end of the season. For being in the Conference finals, we're feeling pretty good."
They could feel even better watching the San Jose Sharks and St. Louis Blues hurtle toward what seems destined to be another long series. The Sharks could be staring down their third straight Game 7. If the West goes six or seven games, it would mean both teams in the West will have played at least two, maybe three more games than Boston. Rest is the motivation for the Bruins to close it out.
It's not hard to dream if you're the Bruins.
The days are growing longer, the temperatures getting warmer. The sizzle of barbecues in the PNC Arena parking lots beckon like sirens of summer.
It's perilously close for the Canes as they try to squeeze out just a little bit more of their season.
Contact Frank Seravalli on Twitter: @frank_seravalli