Canes' Slavin 'walks the walk' as man of faith in NHL
The story of Carolina Hurricanes defenceman Jaccob Slavin is very much his own: He leads his team in points as a blueliner in their first run to the Eastern Conference final in a decade, and he isn't afraid to reveal that his faith matters most, Frank Seravalli writes.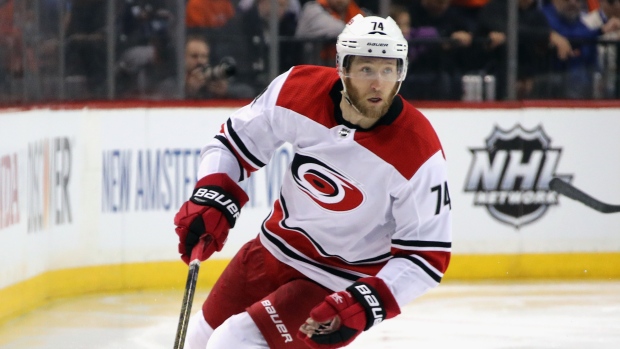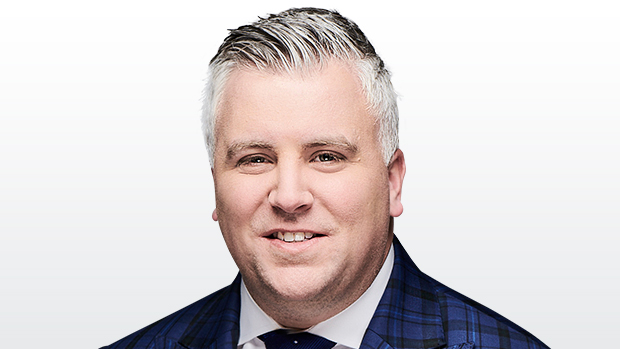 BOSTON — Carolina Hurricanes defenceman Jaccob Slavin met his wife on Twitter, but probably not in the manner you might think.
"Most people think, 'Oh, you're the hockey player. She creeped you or she stalked you, right?' But no," Slavin says. "It was a total God thing."
Long before he had a true path to the NHL, was drafted by the Hurricanes or signed a $37-million deal, Slavin was playing in the United States Hockey League in Chicago as an 18-year-old when he was drawn to a tweet from his now-wife Kylie.
"She wrote about being on fire for the Lord, so I clicked on her profile," Slavin said. "Reading through her tweets, I could tell she was genuine and really loved the Lord. I clicked on the picture and I was sold. I was like, 'Okay, I'll follow her.' She didn't follow me back for a while so I had to work at it. Eventually we started talking."
Slavin convinced Kylie to meet after sending her a Snapchat with a video of him singing Taylor Swift's "Stay Stay Stay."
"Then I guess you'd say the rest is history," Slavin said.
History is His Story, the Bible says – and Slavin's story is very much his own in today's NHL. Slavin is unapologetically himself.
Slavin has been a revelation to the rest of the hockey world, leading the Hurricanes in points as a defenceman in their first run to the Eastern Conference final in a decade, and he isn't afraid to reveal what matters most to him.
"My faith is the most important thing to me, to my wife, and to my family," Slavin said. "That's who I am and what I stand for. That's how I was raised, to not be ashamed of it – even if guys on my team, guys around the league, they might poke fun every now and again."
The bigger the stage, the bigger the platform to share his message – but it's been that way since Slavin first got to the NHL, not new since the Canes have become relevant again. This isn't attention-seeking.
"He walks the walk," said Glen Wesley, whose No. 2 is retired by the Hurricanes. "He has been given a platform and he's not afraid of any type of persecution or being stomped on for what he stands for. That's his No. 1 objective. There is a lot of boldness there and I commend him for being who he is. God has given him a great talent."
Slavin, 25, has a team-high 11 points in 12 Stanley Cup playoff games this spring – already approaching half his 31-point total from the 82-game regular season. With 11 assists in his first 10 playoff games, he was four off Bobby Orr's record, and tied in heady company with Paul Coffey and Brian Leetch.
Wesley, now 50, has known Slavin since the Hurricanes drafted him in the fourth round (120th overall) in 2012. Up until last year, Wesley was Carolina's director of development for defencemen, the man responsible for helping nurture Slavin through the ranks. He left the organization last year after new owner Tom Dundon took over and was hired immediately by the St. Louis Blues.
Some other coaches in the Hurricanes' organization have tried to push Slavin to play a more mean or physical style, but he won't try to be something he's not. No surprise.
"Everybody has a personality and when you are an adult, it's hard to change that," Wesley said. "He is always going to be a stick-on-stick guy. That's fine. He is elite without that edge, the way he gets away from checks, his fast first three steps, his vision is incredible."
Wesley has a special bond with Slavin. Wesley says he "became a believer" himself while playing for Hartford in the 1990s. On his day with Stanley in 2006, Wesley took the Cup to church. He knows what it's like to be Slavin, to have teammates look at him sideways in a generally unreligious sport.
It's common to see NFL players pray in the end zone after a touchdown on Sunday, or to see an MLB player point to the sky as he touches home plate, or for an NBA player to say how he is blessed in post-game interviews. That almost never happens in hockey.
"Very minimal. It's definitely rare," Slavin said. "Hockey is probably one of the roughest sports out there that doesn't talk about religion and, I mean, I don't know why that is?"
He has a guess.
"I don't think a lot of hockey players grew up seeing the need for it," Slavin said. "If you play hockey you obviously grew up in a more wealthy lifestyle, because the game's so expensive to play. But like with football and basketball, all you need is a field as a ball, you know? So that's a [big factor]."
Part of the other reason might be hockey's diversity. According to Canada's 2011 National Household Survey, 24 per cent of the country identified as not religious. In the United States, the number is a lot lower, at 18 per cent.
But nearly half the NHL is Canadian. The number of people who identify as not religious is even higher in Sweden (28 per cent), Finland (28 per cent) and Russia (13 per cent). Blend it all together and more players in hockey are less religious, by nature, than other sports.
"Religion is big in Canada, but the religion is hockey," Wesley said, laughing. "But seriously, hockey is always on the weekend. A lot of times if you're going to church, it's at the same time. I think that has something to do with it."
Wesley says religion has grown by "leaps and bounds" in the NHL over the last two decades. Slavin hails from Erie, Colo., but he said he attends a Southern Baptist church in Carolina. He watches church services online when he is on the road with the team.
But there are now regular chapel meetings that take place between players at the rink or hotel throughout the season – no special time or place required.
"It's Christian, but it's nondenominational," Slavin said. "It's every day and everyday interactions and everyday life and great conversations."
On the Winnipeg Jets, for instance, Mark Scheifele, Adam Lowry, Josh Morrissey and Tucker Poolman have all been cited as players who gather to pray and talk. Boston's David Backes, Florida's James Reimer, Columbus' Adam McQuaid, Buffalo's Tage Thompson and Vegas' Paul Stastny have all been involved with Hockey Ministries International.
Wesley said current Canes' coach Rod Brind'Amour was known to occaisionally attend chapel as a player in Carolina.
"Rod was very respectful of me," Wesley said. "He's that guy that created a culture there to be respectful of everyone's interest, that it's OK to be different."
Brind'Amour said he's enjoyed watching all of Carolina's unique personalities come together - whether it's Slavin or Dougie Hamilton or the team "dad," as he referred to captain Justin Williams - in a special way in his first season as an NHL head coach.
"It's a family," Brind'Amour said. "You play at this time of the year, I don't think you can get this far without having those intangibles as a group. We've had them all year … There's a real brotherhood in there for sure. You can feel it when you're around on a daily basis."
Slavin is trying to bring more people together. A gathering is planned to bring current and former NHL and AHL players together in Utah this summer through PAO (Pro Athletes Outreach). Retired playoff pest turned agent Claude Lemieux has spoken with Slavin and others such as David Booth to help organize.
"That's been pretty fun to see it come together," Slavin said. "We're trying to get people aware of it and trying to get people out there just to see that we can still have fun even with what we believe in."
Contact Frank Seravalli on Twitter: @frank_seravalli