Canucks D Tanev lost six and a half teeth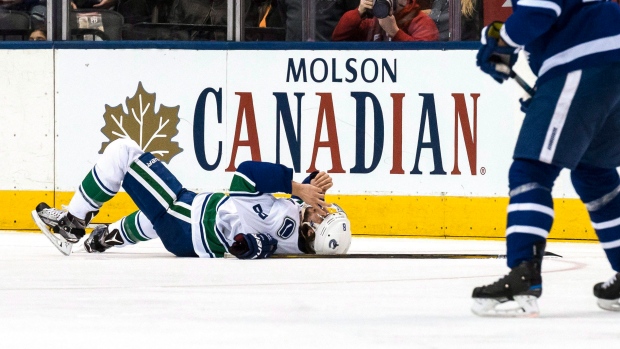 Vancouver Canucks defenceman Chris Tanev skated Thursday for the first time since taking a puck to the face in the first period of Saturday's loss to the Toronto Maple Leafs.
Tanev took a wrist shot from Morgan Rielly to the face and dropped immediately to the ground in pain. He left the game and did not return, while teammate Michael Del Zotto was seen collecting Tanev's teeth from the ice.
Tanev revealed Thursday he needs surgery to repair the damage and added he lost a total of six and a half teeth on the play.
"It sucked at the time," Tanev said Thursday. "Doctors and dentists have done a good job up to this point. I still need some work done over the bye week but it's definitely getting better."
"My two front bottom teeth just got pushed all the way under my tongue," added Tanev, who will wear a cage when he returns to the Canucks lineup.
Tanev said he is hoping to return to the lineup on Friday night against the Columbus Blue Jackets. Head coach Travis Green added there's a "good chance" Tanev will play.
The 28-year-old said he needs surgery on his gums to remove shrapnel, fix damaged nerves and roots, which he'll have done while the Canucks are off from Jan. 14- 20.
Tanev has two goals and four assists in 27 games with the Canucks this season. He sits fourth on the Canucks in average ice time, logging 20:01 per game.
The Canucks could receive another boost to their lineup before the end of the week as centre Brandon Sutter said he is targeting Sunday as a return date from his lower-body injury. Sutter has been out since Nov. 24.