Canucks exploring trade options for Higgins
Chris Higgins may be on his way out of Vancouver. Canucks general manager Jim Benning issued a statement Sunday confirming the team is exploring trade options for the 32-year-old winger.
Frank Seravalli, TSN Senior Hockey Reporter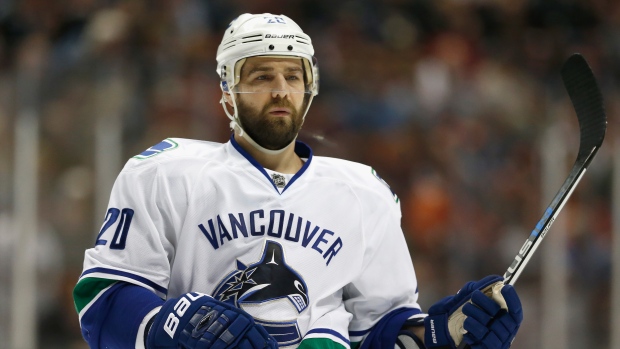 The Vancouver Canucks took an unusual step on Sunday to try and drum up interest in forward Chris Higgins.
GM Jim Benning issued a statement to the media "confirming" the Canucks are "exploring trade options," despite the fact Higgins' name never really percolated in trade rumours. It was more or less a public plea for any team to take Higgins off of Vancouver's hands - something rarely if ever seen in NHL circles.
"As part of our transition to a younger team, I can confirm we're exploring trade options for Chris Higgins so we can create more roster space for our younger players to develop," Benning said. "Chris is a quality person who has been an important member of our team for nearly five seasons. Our focus has been on finding a positive new situation for him and we will continue to do so."
Higgins, 32, has just two goals and one assist in 25 games this season. He played 11 minutes in the Canucks' overtime loss to Tampa Bay on Saturday night, his 22nd consecutive game without a goal.
Last season, Higgins finished fifth in Canucks scoring - ahead of Alexandre Burrows, Jannik Hansen, Derek Dorsett and Shawn Matthias - with 36 points despite the team's worst shooting percentage (7 per cent) among forwards.
The Canadiens' former first-round pick (14th overall) from 2002 has played for five different NHL teams. He has one year remaining on his contract at $2.5 million AAV.
Higgins will not remain with the Canucks while this situation is sorted out, according to multiple reports. A trade with the Canucks retaining half of Higgins' salary would provide more salary cap benefit than simply waiving Higgins and sending him to AHL Utica.