Canucks face Coyotes in first home game since December
After a four-day break, the Vancouver Canucks (20-21-4) return to action tonight when they host the Arizona Coyotes (18-21-3). Jeff Paterson has more. With Vancouver playing host to the World Juniors late last month and into early January, the Canucks have not played a home game since Dec. 22.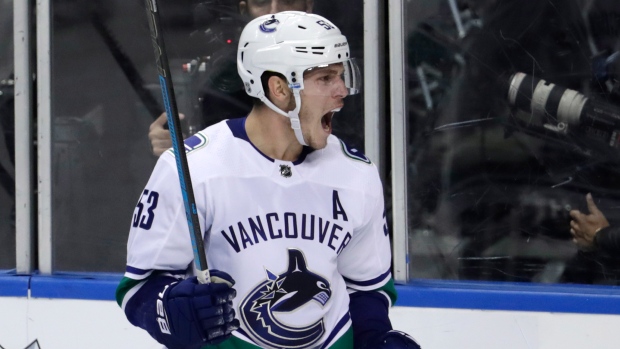 VANCOUVER -- After a four day break, the Vancouver Canucks (20-21-4) return to action Thursday night when they host the visiting Arizona Coyotes (18-21-3).
With Rogers Arena playing host to the World Juniors late last month and into early January, the Canucks have not played a home game since Dec. 22. Tonight's contest is the opener of a six-game homestand that will take the Canucks to the NHL All-Star break.
The Canucks will be without leading scorer Elias Pettersson (knee) for a second straight game after he was injured against the Canadiens in Montreal a week ago. Josh Leivo (back spasms) is also out and will miss a third consecutive contest. The team has been shut out in its past two games and has gone 120 minutes without scoring since Pettersson capped his first NHL hat trick in overtime against the Senators in Ottawa on Jan. 2.
Since then, the Canucks were unable to score against Carey Price in Montreal last Thursday and Michael Hutchinson in Toronto last Saturday. The Canucks have been held off the scoresheet in three of their last four games and four of the past seven. Sven Baertschi will be the only Canucks player in uniform tonight to score so far in 2019.
Without Pettersson this season, the Canucks are 3-4 and have scored 11 goals in those seven games, and just nine in regulation.
In Toronto, the Canucks trailed 2-0 after two periods before the Maple Leafs scored three third period goals in a 5-0 win. Jacob Markstrom made 29 saves and surrendered more than three goals in a game for the first time since Nov. 29. Markstrom is 9-3 in his past 12 games and will get the start again tonight.
On Tuesday, the Canucks recalled centre Adam Gaudette from Utica of the AHL. He had two goals and an assist in three games in the minors since being re-assigned on Dec. 29. In 31 NHL games this season, he has scored two goals and added four assists. Gaudette will centre a line with Baertschi and Jake Virtanen tonight.
Bo Horvat has gone seven games without a goal, his longest dry spell of the season. Horvat, Virtanen, and Loui Eriksson have all gone seven games without scoring.
The Coyotes are here after a 5-0 home ice win over the New York Rangers on Sunday. Rookie Conor Garland scored twice and Darcy Kuemper made 23 saves for his first shutout of the season. The win snapped a three-game losing skid and was just the Coyotes' second regulation victory in the team's past 16 games (5-10-1).
Clayton Keller scored on Sunday and leads the Coyotes with nine goals and 21 assists for 30 points while captain Oliver Ekman-Larsson is second in scoring with five goals and 18 assists. Former Canuck Brad Richardson leads the Coyotes with 11 goals followed by Christian Fischer with 10. Garland has scored in three goals in his past two games and now has five goals in his first 15 NHL games.
The Coyotes are 29th in the NHL in offence with 106 goals this season and have scored 49 of their goals in 20 road games. Only the two Southern California teams have scored fewer goals than Arizona this season.
While putting pucks in the net has been an issue, keeping them out has not been. Only three teams in the league have surrendered fewer than the 117 goals the Coyotes have allowed this season. They are the league's best penalty-killing team (88.4 percentage) and a serious threat to score while shorthanded. Their 11 goals while down a man are second only to the Calgary Flames' 14. For context, Arizona has allowed 15 power play goals and scored 11 times while shorthanded. And for comparison, the Canucks have given up 33 power play goals so far this season.
Michael Grabner, who is tied for the league-lead with four shorthanded goals, is out of the lineup indefinitely with an eye injury. Recently acquired Nick Schmaltz is done for the season with a lower-body injury after playing just 17 games for Arizona after being dealt from the Chicago Blackhawks. He had five goals and nine assists for the Coyotes with four of his goals coming on the power play. Defenceman Jason Demers suffered a season-ending lower-body injury in November and goalie Antti Raanta's season is over as well due to a lower-body injury.
The Coyotes beat the Canucks 4-1 in Glendale on Oct. 25 with Darren Archibald scoring the lone Vancouver goal. These teams will finish their four-game regular season series with a pair of games in the final week of February.
Possible Canucks lineup
Goldobin-Horvat-Boeser
Baertschi-Gaudette-Virtanen
Roussel-Sutter-Granlund
Eriksson-Beagle-Motte
Edler-Tanev
Hutton-Gudbranson
Pouliot-Stecher
Markstrom
Possible Coyotes lineup
Keller-Stepan-Fischer
Panik-Richardson-Hinostroza
Galchenyuk-Cousins-Garland
Crouse-Kempe-Dauphin
Ekman-Larsson-Hjalmarsson
Chychrun-Lyubushkin
Oesterle-Goligoski
Kuemper