Canucks' Gaudette marvels at fellow rookie Pettersson's production
Jeff Paterson writes that more than anyone on the Vancouver Canucks roster, Adam Gaudette may be poised to offer the best perspective on what Elias Pettersson has done in his first 10 games in the National Hockey League.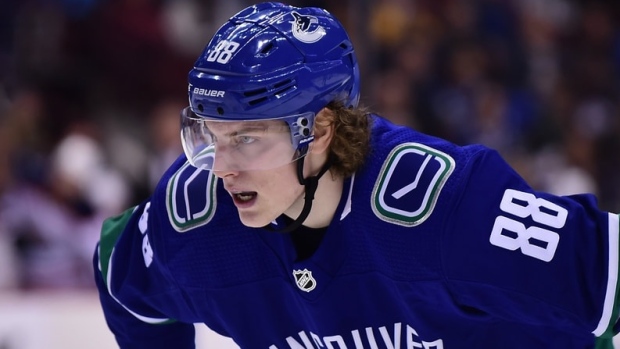 BOSTON – More than anyone on the Vancouver Canucks roster, Adam Gaudette may be poised to offer the best perspective on what Elias Pettersson has done in his first 10 games in the National Hockey League. Gaudette is a highly-touted rookie who came to the Canucks with incredible credentials after winning the Hobey Baker award as the top player in NCAA hockey last season. Like Pettersson, he has played 10 games this season – to go along with five late last season when he turned professional after his third year at Northeastern University. But Gaudette is still looking for his first NHL goal while Pettersson has 10 of them in his first 10 games in the league.
It's not supposed to go like that. Gaudette's path is the norm for young players trying to find their way in the best league in the world. It's all about steady and slow progress, soaking things in and learning the on the job at hockey's highest level. The Braintree, Massachusetts native didn't look out of place when he made the jump from college late last season and has played well in measured minutes since being recalled from Utica last month after being a late cut at the end of training camp.
With injuries down the middle to Brandon Sutter and Jay Beagle, Gaudette has become a fixture in the Canucks line-up and he's making the most of his opportunity. Tuesday night in Detroit, Gaudette won a puck battle deep in Red Wings territory and got the puck back to Erik Gudbranson at the right point. He then fed defense partner Ben Hutton who fired a shot through traffic to give the Canucks a 2-0 lead. It was Gaudette's second point of the season and example of the tenacity he can bring to the forecheck.
He's done everything the Canucks have asked of him – expect put a puck in the net. Which makes Pettersson's production in the early going all the more incredible. And count Gaudette among those who have been impressed with what the Swedish teenager has done in his first few weeks in the NHL.
"It's impressive for sure," Gaudette said Thursday morning at TD Garden where he'll have family and friends in attendance when the Canucks face the Bruins. "It's really cool to see on the bench. Some of the goals he scores, you only see those on the highlight reel and on Sportscenter, but to see that up close and in person it's very special. And to see somebody do that on your team and breaking through the league right away, it's really cool and I'm happy to have him as a teammate and a friend. I'm excited to see how he develops through the league."
Gaudette knows his time will come, too. He'd love nothing more than to score his first NHL goal in his first NHL game in his hometown tonight. But even if he doesn't score against the Bruins he just wants to continue to refine his game so that when the Canucks get some of their injured bodies back, he'll make it tough on the coaching staff to make him the easy choice to return to the minors.
In his 10 games this season, Gaudette has averaged 10:28 of ice, registering eight shots on goal, 10 hits and three blocked shots while holding his own in the face-off circle winning 47.2 per cent of his draws. In terms of shot shares, the Canucks have controlled 52.4 per cent of all even strength shot attempts with the 22-year-old on the ice. And the Canucks have scored three goals and given up three at evens when Gaudette's been out there.
While the measured minutes are far cry from the role he was used to Northeastern last season, Gaudette knows that every shift in the NHL is an opportunity to learn and grow as a hockey player. And even though he's not playing as much as he has in the past, he's still putting plenty of pressure on himself to perform.
"You have to take even more advantage of your opportunity out there and you have to make sure you're on point every shift and play every shift like it's your last," he says of his mindset these days. "It's something I expected. Obviously, you want to score every game, but it's something I expected in transitioning to the league. I don't really look at it as a negative or get frustrated about it. I'm playing well and getting my chances. You can't let that stuff get to you. There's a lot more to my game that I need to focus on like face-offs and being hard to play against and doing my job out there. If I focus on those things, I know the points will come. They're starting to trickle in little by little and hopefully I'll get that first one soon and build off it."
On Thursday, Gaudette will centre the Canucks fourth line between Darren Archibald and Brendan Leipsic and he may get a shot as the net-front presence on the power play, too. As the visitors, the Canucks won't have the benefit of last change which may mean Gaudette will likely find himself staring across the face-off circle at veterans Patrice Bergeron, David Krejci or David Backes on occasion. Certainly none of those will present an easy match-up for Gaudette, but he's excited to test himself against a team like the Bruins.
Travis Green likes to hard match opponents when possible, so Gaudette may get caught in a chess game of sorts between the coaches as the Bruins look to exploit the rookie and the Canucks seek to shelter him. But there will surely be some shifts where he's out against key veterans on the other side and Green is prepared to have Gaudette test himself in those situations.
"He gives an effort every night and I never have to worry about that with him," Green says. "We get his best as far as the work ethic is concerned. You tend to lean to those kinds of guys. He's finding a way to get better and we need him continue that path and as long as he's doing that, I'm comfortable with him playing. I like that his game is progressing and he's playing enough minutes that he's getting better."
Gaudette is doing what almost all rookies do. He's gaining experience and building his confidence. Eventually, his offense will come. While he doesn't have the numbers to show for his efforts, Gaudette has still been a good news story in the first six weeks of the Canucks season. He's just been overshadowed by a fellow freshman who is playing at a freakishly high level this early in his NHL career. Elias Pettersson is making things look ridiculously easy and Adam Gaudette knows it simply isn't so.