Canucks, Leafs prepare for Saturday clash
TSN Toronto reporter Mark Masters checks in with news and notes from Maple Leafs practices and game-day skates. On Friday the Leafs and Vancouver Canucks skated at MasterCard Centre ahead of Saturday's game.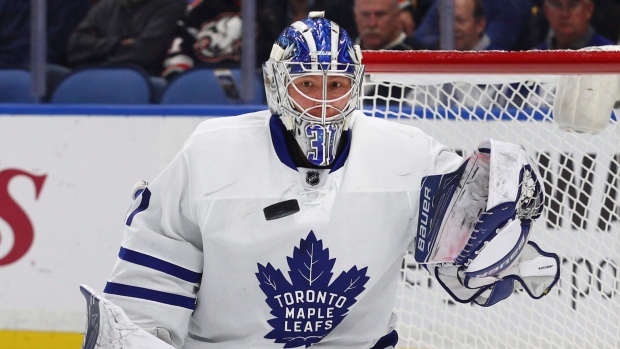 TSN Toronto reporter Mark Masters checks in with news and notes from Maple Leafs practices and game-day skates. On Friday the Leafs and Vancouver Canucks skated at MasterCard Centre ahead of Saturday's game.
The Leafs had three goalies at practice on Friday as Karri Ramo shared a net with Frederik Andersen. "He was out on the ice today with us, because we didn't want Andy to have a whole bunch of shots," Mike Babcock explained. "Nice to have an extra guy so we didn't have to watch our goalie coach, Steve Briere, get lit up." Andersen faced 43 shots in Thursday's win in Buffalo. The Leafs' head coach noted that GM Lou Lamoriello has a relationship with Ramo's agent (Todd Diamond) so the team has been helping him rehab a left knee injury sustained with the Flames last season. Will Ramo, an unrestricted free agent, skate with the Leafs in the future? "Yeah, that's a good question," is all Babcock would say. The Leafs media relations staff said Ramo, who was given a stall and nameplate in Toronto's dressing room, was not available for interviews. Ramo should be medically cleared to play again within the next month.
Andersen has posted a 3-1-0 record and .954 save percentage since getting shelled by the Tampa Bay Lightning on Oct. 25. After that game the goalie had a conversation with Babcock and pushed the reset button. "We had a good chat and I tried to think about what's really important and do the work," Andersen said. "It has been going good since then." Babcock wasn't sure if the pep talk sparked the turnaround, but he's happy with the results. "You see the goalie we traded for and the kind of goalie he is and for whatever reason he got off kilter and put too much pressure on himself and wasn't able to be who he was so he got himself under control." Andersen now has a better understanding of what the Toronto market is like and has learned what to avoid. "Well, I think it's whatever websites you go to on your computer. I think that's the biggest issue. If you can stay away from the hockey ones, I think you're fine. Obviously a lot of people are going to talk about hockey, but people are polite here in the city and everyone supports us so you can still go outside in the city and enjoy yourself." Babcock told Andersen to find something away from hockey to take his mind off things and the goalie said he's been using Netflix as an escape.
The Leafs have relied on their goalie too much lately, according to Babcock. "The last two games we feel we've given up too many shots (89). A lot have been goalie-type shots from the outside, but last night Andy had to make four bell-ringers and we don't like to have the happen." Babcock believes that too often his young team has played a "prevent defence" when they take the lead rather than continuing with the game plan.
The Canucks, meanwhile, are happy with the number of opportunities they are producing. Head coach Willie Desjardins said his team created 35 scoring chances in the last two games despite being shut out in both. "One out of five usually goes (in) if they're legit scoring chances so, you know, it's time that they started to go," the coach said before acknowledging, "It's never just bad luck. You got to take ownership on the game. We talked about making it happen. Don't hope it happens. You got to make it happen." Daniel Sedin and Henrik Sedin say the responsibility to end Vancouver's drought – two goals in five games – rests with them. "I think our line has to step up, me and Hank, that's what we're here to do so that's on us," Daniel said. "You should look nowhere else. It's up to us to get things going."
The lack of scoring dominated the Canucks' media availability on Friday. "It's something you think about all day, every day, to get something going," Henrik said. Although the Canucks captain cautioned against any knee-jerk moves. "We're not going to change the way we play," he said. "We're playing well defensively, really well and we know goals are going to come. This is the right way to play and we can't start opening things up and then we get into last year's feeling when we're scoring goals, but we're not winning games." Henrik certainly doesn't think he and his brother should be put on different lines. "I don't think that's the right way to go about it," he said. "For me, that's not an option, but I'm not the coach or anything. But, it's up to us to get something going."
Lines at Friday's Leafs practice:
Hyman - Matthews - Nylander
van Riemsdyk - Bozak - Marner
Komarov - Kadri - Brown
Martin - Smith - Soshnikov
Holland, Griffith
Rielly - Zaitsev
Marincin - Carrick
Gardiner - Polak
Prust - Corrado
Andersen/Ramo
Enroth