Canucks pleased with progress reports on Boeser & Pettersson injuries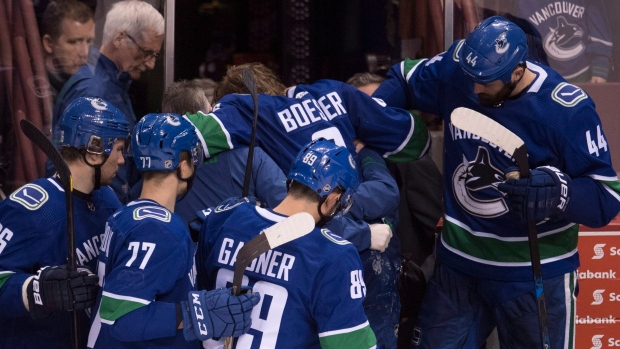 VANCOUVER – In Jim Benning's world, no news is good news when it comes to off-season reports on injured players. The Vancouver Canucks general manager says he usually only hears from his medical staff in the summer months if there have been setbacks to players on the mend. With budding stars Brock Boeser and Elias Pettersson both recovering from late-season injuries, Benning tells tsn1040.ca that it's his understanding both players are progressing as expected.
Boeser's season ended when he suffered a non-displaced fracture of his lower back late in a March 5th home game against the New York Islanders. The 21-year-old, who led the team with 29 goals and 55 points, also suffered a wrist injury in a February game in Tampa Bay. Boeser played through significant pain over the final month of his season before undergoing a non-surgical procedure in early April to help speed the wrist recovery.
"My understanding is the cast was taken off a week ago," Benning said in a Wednesday morning interview." I haven't talk to Brock about it, but I believe the cast had to be on a month. The doctor that he went back to see in Minnesota is the Vikings hand specialist and that's the doctor that did Brock's surgery two years ago. We were able to get an appointment for him and we wanted to get him in there and have the doctor have a look at him. The worst-case scenario was that he would require another surgery, but he didn't need to do that."
Benning says he gets general updates on a regular basis from the team's medical and training personnel and all reports on Boeser have been positive. And until he hears otherwise, he's fully confident that the rookie sniper will make a full recovery from both injuries.
In the meantime, Benning says the Canucks are handling Boeser's situation like they would any other player who heads into the off-season with an injury.
"Rick Celebrini heads up that department for us and I don't know if he has daily conversations or every a few days with the player and the therapists working with the player in that region and they keep up with the day to day recovery and stay on top of that," Benning explains. "I only hear about it if a player has a new injury or something crops up along the way. That's when they let me know. If everything is going well, I don't hear from those guys. They're just doing their work getting the player back where he needs to be."
Benning says if the healing continues, he doesn't expect Boeser to have to return to Vancouver at any point over the summer.
"We can monitor him remotely now until he shows up for camp," the general manager says. "I don't know what his schedule is right now. My understanding is he'll be one-hundred percent for training camp."
Benning says it's much the same for Elias Pettersson who is on the mend after suffering a broken left thumb at the world hockey championship in Denmark last week. Pettersson returned to Sweden to have the thumb surgically repaired and Benning says the Canucks are pleased with the progress he's making.
"Our medical staff took a look at the X-rays and the surgery he needed was a pretty straightforward surgery," he says. "They did it over there and everything went well. As far as any physical therapy is concerned, we'll be in constant contact with his therapists over there to make sure everything is on schedule."
The 19-year-old Swedish Hockey League scoring leader is expected to be in a cast for a month but should be able to resume summer workouts to prepare for next season. Benning says the Canucks are doing everything they can to sign last year's first round draft pick to an entry level contract but didn't want to discuss where the two sides were in the process.
Benning did reveal that it's uncertain whether Pettersson will make an appearance at the Canucks annual summer prospects camp slated for early July at Rogers Arena. He gave Canuck fans a glimpse of his potential at last year's event just weeks after being selected at the draft in Chicago, but Pettersson may not be back for an encore.
"We're just going through that right now and deciding who is going to be here and who isn't," Benning says. "We haven't decided that 100 per cent yet. If he's not here, it's because he's going to be back home training with his group getting ready for next season. This has nothing to do with the contract. He came to development camp last year and he may come in this year. We're in conversations with his agent to figure out what's best for his training so he shows up at camp ready to go."
Benning says he was pleased with the format of last year's prospects camp which was open to the public and expects this year's event to use the same blueprint. Full details are expected to be released by the end of June. Benning also says after modifications were made to accommodate the team's pre-season trip to China last September, he expects this year's main training camp to have a more traditional look and feel. Benning refused to speculate on where camp will be held.
CH-CH-CHANGES: There may still be changes coming to the Canucks coaching staff for next season. Benning was asked if Travis Green's entire staff would return intact next fall: 'I don't want to comment on that. We're working on that right now. We're talking to Travis to figure out his staff. Once we get that figured out, we'll share that with everybody."
SET THEM FREE: Benning confirmed earlier reports that the Canucks had informed veteran Jussi Jokinen's agent that the team would not be offering him a contract for next season. The general manager would not comment on the team's plans for its other pending unrestricted free agents including Darren Archibald, Nic Dowd and Utica farmhands Patrick Wiercioch, Joe LaBate, Jayson Megna and Richard Bachman
ON THE ROAD: Benning also says it's too soon to know the full impact of Vancouver hosting the 2019 World Junior Championship next December and January. With the event taking over Rogers Arena, the Canucks will be forced out on the road prior to Christmas and again for 10 days after Christmas and into early January: "We're in the process of doing the scheduling for next season now. We'll be out of the building for that period of time, so we'll be on the road. The league does the schedule, we've instructed them about the dates we need to be out on the road and we'll let them figure that out for us. I haven't seen anything concrete yet, but I know the league is working on that now."