Canucks set to face Pettersson's top competition for the Calder Trophy
Rasmus Dahlin and the Buffalo Sabres are in Vancouver, but the star Swedish rookies won't get the chance to go head-to-head again, Frank Seravalli writes.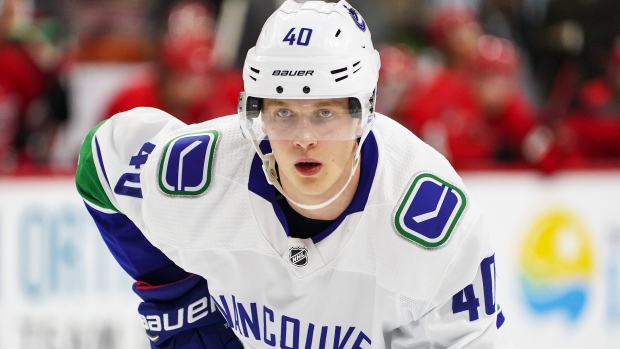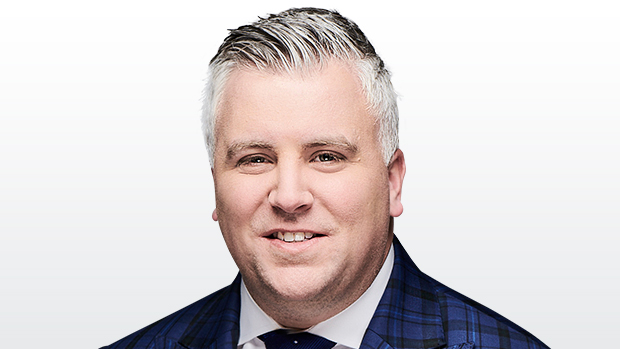 The Alien is on final approach for landing in the Lower Mainland once again.
When Elias Pettersson, who earned that extraterrestrial nickname from teammates in Sweden last year with his out-of-this-world skill, returns to the Vancouver lineup this time he'll be looking to take the Canucks to a galaxy they haven't seen since 2015: the Stanley Cup playoffs.
Pettersson has missed the last four games with a knee injury and the Canucks said he isn't expected to play on Friday night against the Buffalo Sabres.
But he'll be back soon enough – the Canucks have two more home games before an eight-day combined All-Star/bye week break.
"I felt I could push it more and skate 100 per cent out there," Pettersson told reporters Thursday. "It's not stress for me to come back. I'd rather rest one day extra to come back 100 per cent. I need to get in game shape."
Aside from the fact that the Canucks could use the boost, the real shame of Pettersson not returning is he won't go head-to-head again with Rasmus Dahlin, his best competition for the Calder Trophy.
Pettersson, 19, will likely run away with the Rookie of the Year vote in the Professional Hockey Writers Association's Midseason Awards tabulation next week. He's a no-brainer.
Heck, the case could be made that Pettersson should be in the race for the Hart Trophy.
He is unquestionably the Canucks' most valuable player, the man who has breathed life into a passionate but dormant market and dragged his team into a dogfight for the final wild-card spot in the Western Conference. The Canucks are six points better than they were on this day last year, but with help from the slumping Ducks and Wild, that's been enough to hang in the race.
Pettersson's numbers validate his claim to value. With 20 goals and 42 points, Pettersson has factored into 36 per cent of the goals the Canucks have scored in the 38 games he's played this season.
That puts him in the top 10 in goal share in the NHL, with names like Connor McDavid (53 per cent of Oilers goals), Mikko Rantanen (45 per cent), Johnny Gaudreau (40 per cent) and Nikita Kucherov (40 per cent) – also known as the other Hart Trophy candidates.
Pettersson acknowledged he got mocked for saying earlier in the season that McDavid was a top-five player in the league.
"Most of the guys would say he's the best guy in the league and I would say the same," Pettersson said with a smile on Thursday. "He's so good. The things he does on the ice, it's just incredible. He's a really fun player to watch and a really fun player to play against.
"It would be fun if I were as fast as him. I'll have to work on that."
Pettersson may not be as quick – no one in the history of the game skates like McDavid – but Pettersson has beaten teams with his mind. His poise, creativity and consistency have earned him a five-point cushion on the Canucks' scoring lead even though he's played 10 fewer games than Bo Horvat, who sits in second.
Games played are seemingly the only thing that can derail Pettersson's candidacy for the Calder. He can play a maximum of 73 games if he returns on Sunday afternoon against Detroit. The only skater in the last three decades to win the Calder playing in fewer than 78 games is, coincidentally, Pavel Bure, the only Vancouver Canuck to take home the hardware.
Fellow Swede Dahlin has played in all 47 Sabres games this season, averaging 20:37 per night as he's helped push Buffalo to the brink of the playoffs in the East. He leads all rookie defencemen in scoring with five goals and 26 points and has really just begun to spread his wings in recent weeks, flashing in and out of the play as an active leader of the rush.
Dahlin can break an NHL record for point streak by an 18-year-old defenceman with a point in his sixth straight game on Friday, a record held by his head coach, Phil Housley, Bobby Orr and Aaron Ekblad.
"For the record, I hope he breaks it tomorrow," Housley told reporters Thursday. "He's been playing really good, solid hockey lately – especially these past five games. [He's contributing in all areas, whether it's in the D zone, making that breakout pass, joining the rush, adding to the rush or leading the rush."
Dahlin had two assists while Pettersson was kept scoreless in their first meeting on Nov. 10 in Buffalo. They played against each other in the Swedish Hockey League last season.
Both Dahlin and Pettersson have scored a point against 18 of the NHL's other 30 teams. One is an 18-year-old defenceman, the other is a 19-year-old centre that has missed eight games.
Both have certainly lived up the hype.
Despite his concerns about game shape, Pettersson has shown that when he returns he can make an immediate impact.
Pettersson missed five games in late October. His next five games back? Five goals, four assists for nine points.
He has been, well, other worldly.
Contact Frank Seravalli on Twitter: @frank_seravalli