Canucks vs. Avalanche - Game Day Preview
Jeff Paterson previews the Canucks' next game as they open the month of November against the Colorado Avalanche at Rogers Arena looking for their third straight victory.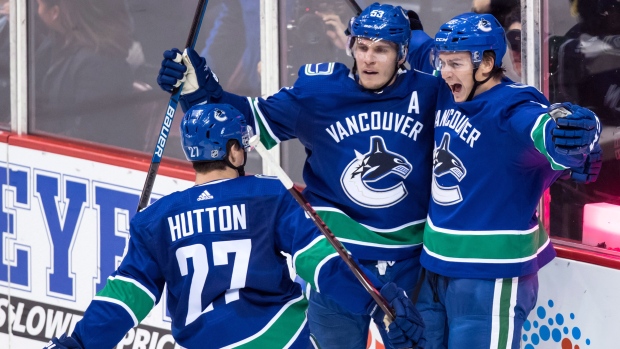 VANCOUVER – The Vancouver Canucks (8-6) open the month of November looking for a third straight victory when they host the Colorado Avalanche (7-4-2) tonight at Rogers Arena.
On the strength of a pair of Jake Virtanen goals, the Canucks beat Chicago 4-2 on Wednesday. Virtanen has now scored in back to back games and has five goals in his first 14 games this season. Brendan Gaunce and Antoine Roussel had the other Canuck goals.
Jacob Markstrom stopped 24 of the 26 shots he faced posting his fourth win in five outings. In those four victories, Markstrom has allowed just seven goals. Tonight he'll make his fourth straight start in goal – his longest stretch of consecutive starts so far this season. Markstrom needs three wins to move past Cory Schneider into sixth all time in victories by a Canucks goaltender.
The Canucks will go with the same line-up they used in Wednesday's win against the Blackhawks. That means Brendan Leipsic, Darren Archibald and Utica recall Jalen Chatfield will be the odd men out.
This is the team's final home game until November 17th when Montreal is in town. After tonight, the Canucks open a six-game road trip in Detroit on Tuesday.
The Avalanche rolls into town after a third period meltdown in a 6-5 loss in Calgary last night. Colorado took a 4-1 lead to the final frame before surrendering five straight Flames goals. Gabriel Landeskog scored a late power play goal pull his team within one, but that's where the Avs comeback stalled.
League-scoring leader Mikko Rantanen was held off the scoresheet for just the second time this season. He enters the night with 5+16=21 including a pair of four-point nights already this season. Landeskog leads his team and has a share of the league-lead with 11 goals on the season. Nathan MacKinnon has 9+9=18. Combined, the MacKinnon-Landeskog-Rantanen line has produced 25+31=56 points in the team's first 13 games.
As a team, the Avs are tied for second overall with 46 goals this season – just one back of Calgary. Vladislav Kamenev and Sheldon Dries each scored the first goals of their NHL careers last night.
Defenseman Tyson Barrie is T-9th in scoring among blueliners with 0+10=10, but is the only one in the top 30 without a goal.
Semyon Varlomov went the distance in goal last night which means Philipp Grubauer is expected to get the call tonight. Grubauer is 3-1 with a 2.76 GAA and a 91.6% save percentage.
With a game last night, the Avs took the morning off and had no presence at the rink.
Colorado took two of three meetings against the Canucks last season. They split their two games in Vancouver with both games decided in overtime. In the Avs February 20th win, they went five for six on the power play. In all, seven of the 11 goals Colorado scored against the Canucks last season came with the man-advantage (7/15 on PP -- 46.7 per cent).
Possible Canucks lines:
Schaller-Horvat-Boeser
Goldobin-Pettersson-Eriksson
Granlund-Gaudette-Virtanen
Roussel-Gaunce-Motte
Hutton-Gudbranson
Pouliot-Stecher
MDZ-Biega
Markstrom
Extras: Leipsic, Archibald & Chatfield