Canucks vs Devils Game Day Preview
The Canucks play an early one at home today versus the New Jersey Devils at 1 o'clock! Jeff Paterson has your game day preview.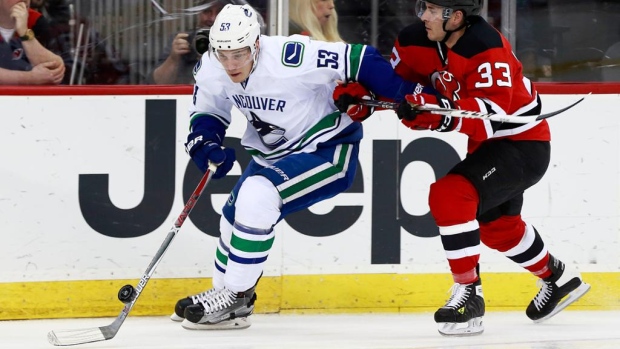 VANCOUVER – After playing nine of their last 12 games on the road, the Vancouver Canucks (9-5-3) open a four game homestand this afternoon against the New Jersey Devils (4-7-4). It's the second National Hockey League meeting of the Hughes brothers with Jack scoring his first NHL goal – the game's only goal as it turned out – in a 1-0 win over Quinn and the Canucks in Newark on October 19th. This game is a homecoming of sorts for Jack who was the first overall selection in the 2019 NHL Draft at Rogers Arena last June.
The Canucks are looking to get back on track after dropping consecutive games in regulation for the first time since their first two games of the season. They fell 5-2 in Chicago on Thursday night and came up short in a 4-1 decision in Winnipeg on Friday. JT Miller had the team's lone goal. He's now scored in back to back games and has the club's outright goal lead with eight on the season.
After a spectacular 9-1-3 stretch, the Canucks now find themselves winless in three (0-2-1) and with just one win in their last five games (1-2-2). And more than that, they have managed just 10 goals in those games – with five of them coming in a 5-2 victory in San Jose on November 2nd. In three of their past five games, the Canucks have been held to just one goal. Miller (with a pair) and Jake Virtanen are the lone forwards to score in the team's past three games.
Tanner Pearson has gone 13 games without a goal and has just two assists over that stretch. Since his hattrick in Detroit on October 23rd, Bo Horvat has one goal in his past eight games and since his three-goal outburst in LA on October 30th, Brock Boeser has gone five games without scoring.
The Canucks have been very good at home this season going 4-0-2 in their first six games at Rogers Arena. Boston is the only other team in the league without a regulation loss on home ice. The Canucks have outscored their opponents 28-14 at home so far this season.
Somewhat surprisingly, the Devils have owned the Canucks in recent years winning 10 straight head to head match-ups dating back to February of 2015. Along with their 1-0 win in October, the Devils have blanked the Canucks in three of their last five meetings. MacKenzie Blackwood made 25 saves in the game earlier this season and also kept the Canucks off the scoreboard last New Year's Eve. He is 3-0 lifetime against the Canucks with a pair of shutouts. In those games, he has a 0.65 GAA with a 97.4% save percentage.
It is, however, the Devils who were victims of a shutout in their last game on Friday in Edmonton where they fell 4-0 to the Oilers. Former Canuck Cory Schneider stopped 28 of the 32 shots he faced. The Devs have dropped two straight as they arrive on the West Coast and have scored three goals in their past three games. The Devils are tied with Detroit for the fewest goals scored this season (39).
Kyle Palmieri leads the team with six goals while Taylor Hall is the club's leading scorer with 2+12=14. Jack Hughes has 4+5=9 through his first 15 NHL games with three of his four goals coming on the power play.
While they were tight defensively against the Canucks in October, the Devils have struggled defensively for the most part this season. Only Detroit and Los Angeles have given up more goals per game than New Jersey (3.80).
POSSIBLE CANUCKS LINE-UP
Miller-Pettersson-Boeser
Baertschi-Horvat-Virtanen
Pearson-Sutter-Leivo
Schaller-Beagle-Gaudette
Edler-Myers
Benn-Tanev
Hughes-Stecher
Markstrom
POSSIBLE DEVILS LINE-UP
Hall-Hischier-Palmieri
Boqvist-Hughes-Bratt
Coleman-Zacha-Gusev
Wood-Zajac-Simmonds
Severson-Subban
Greene-Vatanen
Mueller-Butcher
Blackwood