Cap crunch forces Saad trade
The Columbus Blue Jackets acquired forward Brandon Saad from the Chicago Blackhawks in a seven player swap on Tuesday and as TSN Senior Hockey Reporter Frank Seravalli writes, they have until noon on Wednesday to work out a new contract with the restricted free agent coming off a career season and a Stanley Cup.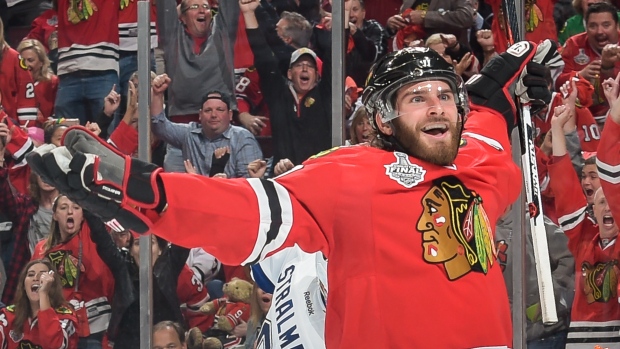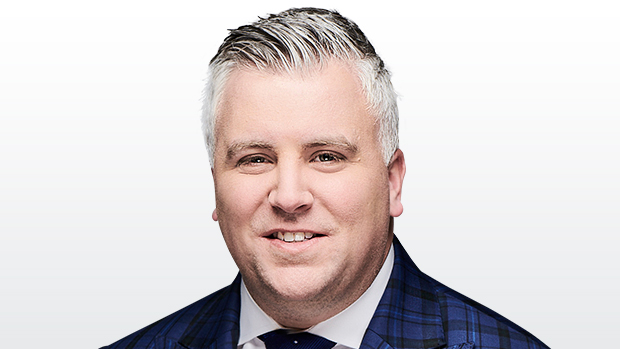 No matter how much Stan Bowman wanted to keep Brandon Saad, there was always going to be a limit on how much the Chicago Blackhawks could spend. There is no blank chequebook in the salary cap world.
Saad, a rising star and 22-year-old restricted free agent, was reportedly seeking a long-term deal in the $6.5 million per year neighbourhood after helping the Blackhawks to a second Stanley Cup in his third full NHL season.
Bowman vowed to get a deal done. But at that price, Saad bought his way out of Chicago.
The Blackhawks traded Saad's rights on Tuesday, along with prospects Mike Paliotta and Alex Broadhurst, to Columbus in exchange for Artem Anisimov, Marko Dano, Jeremy Morin, Corey Tropp and a 2016 fourth-round pick.
"We both tried hard to make it work," Blackhawks GM Stan Bowman said. "It just wasn't going to work in this scenario. I don't think we ever came close on a contract."
Everyone knew there would be another round of cap casualties to depart Chicago after another Stanley Cup parade. Since 2010, the Blackhawks have said goodbye to players like Andrew Ladd, Dustin Byfuglien, Brian Campbell, Antti Niemi, Michael Frolik and Nick Leddy, among others.
It's just that no one was quite expecting Saad to join that list. He was affectionately called "Man Child" by his teammates.
"It's always tough when you lose teammates," Chicago defenceman Brent Seabrook said on TSN Radio 1040 Vancouver after hearing the news. "We went through a huge change in 2010. It's tough, you battle with these guys, and you're close with their families and things like that. It's a tough process - especially with the salary cap. Teams that are successful, you're going to find some guys leaving your team."
Bowman said sullenly: "You can never look backwards. You've got to look forward."
Now, the heat previously on Bowman is squarely on Kekalainen. The Blue Jackets have until noon on Wednesday to work out a new contract with Saad or he will be subjected to offer sheets from the 29 other clubs.
Kekalainen vowed in a conference call with reporters that he would match any offer sheet presented to Saad. Columbus has more than enough cap space - and Kekalainen was already working on a new deal with Saad's agent, Lewis Gross, but anticipated it would take a little time.
Kekalainen said the Blue Jackets would not have presented an offer sheet for Saad on Wednesday, but the prospect of one - coupled with Saad's demands - likely sprung the trade into action. Chicago was more interested in a short-term stopgap contract; Saad wanted long-term security.
If Saad kept progressing, into what Joel Quenneville believed would be one of the top power forwards in the game, the Blackhawks were going to need to pay dearly either way.
Tuesday's trade represents a culture shift in the NHL. Young players like Saad and Dougie Hamilton, who are the same age, aren't normally traded. The move represents a changing of guard for both the modern day "bridge contract" and for teams clearly setting financial boundaries.
"When you get good players that you have to pay top dollar to, you have to face that situation," Kekalainen said. "I think we'll probably face that same situation with our group; we have some good young talent growing and if they keep developing as we hope and expect them to, we're probably going to have to part ways with some of our young talent to fit everybody in."
Kekalainen said the Blue Jackets' brass kicked around his name on Monday and then the deal was pieced together rather quickly. He was "heartbroken" to include first-round pick Marko Dano, 20, who posted 21 points in 35 games for Columbus last season.
Columbus also received some much needed help on defence in return. Defenceman Mike Paliotta, who starred for four years at the University of Vermont, is a 22-year-old with an NHL body who can step right into the lineup. He was a "black ace" for the Blackhawks in the playoffs and hoisted the Cup when Chicago won on home ice.
Make no mistake: Saad was far and away the centrepiece, a commodity hard to come by in today's game. He finished fourth on the Blackhawks last season in scoring, setting career highs with 23 goals and 52 points. He chipped in with another 11 points in 23 playoff games, including one game-winner.
Kekalainen spoke highly of the fact Saad is a "proven winner," a key contributor on two different Stanley Cup teams at such a young age.
The bonus is Saad is intimately familiar with the Ohio area. He played junior hockey in Youngstown and grew up on the other side of the Pennsylvania border near Pittsburgh.
"I think when you have patience and a little bit of luck, and the timing is right, then the right deal can be done. Those things came together today," Kekalainen said. "This is not going to be the end and now we're going to go golfing. We're here to strengthen our team."
Frank Seravalli can be reached at frank.seravalli@bellmedia.ca.