Capitals acquire Shattenkirk from Blues
The Washington Capitals have acquired defenceman Kevin Shattenkirk from the St. Louis Blues. Shattenkirk is expected to be in the Capitals' lineup tomorrow in New York against the Rangers.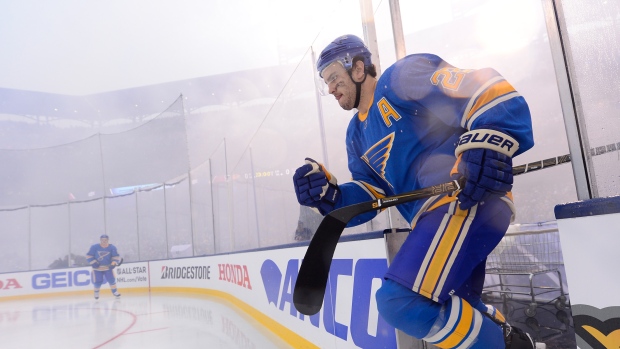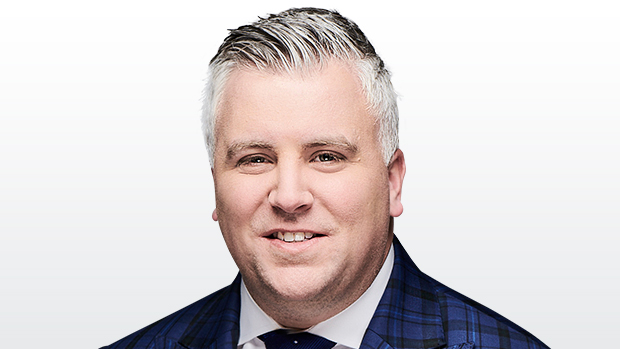 Kevin Shattenkirk will arrive in Manhattan on Tuesday morning and zig-zag his way to Madison Square Garden with his gear - exactly how everyone envisioned it would play out after he dangled for 16 months on the market.
Except, Shattenkirk will veer to the left of the Rangers' locker room and join the Washington Capitals.
Brian MacLellan flipped the script. The Capitals' GM said a few days ago he planned to deal on the fringes this trade deadline.
He went right down the middle. MacLellan acquired the top rental player on the market in Shattenkirk on Monday night in perhaps the biggest pre-deadline trade in Capitals franchise history.
When the trade call was finally completed just prior to midnight - with labyrinthine conditions on draft picks - the Capitals acquired Shattenkirk and goaltender Pheonix Copley from St. Louis in exchange for forwards Zach Sanford and Brian Malone, the Capitals' 2017 first-round pick and conditional 2019 draft pick.
Just like that, the No. 1 player on TSN's Trade Bait list was gone.
By keeping Shattenkirk away from both the Penguins and Rangers - the two teams who booted Washington from their last four playoff appearances - MacLellan sent an unmistakable message to his Capitals and the NHL.
This is the year.
With 10 players set to become free agents at the end of this season, this was always going to be the year for the Capitals. But there are no excuses now.
A team with few holes now has zero. MacLellan was even able to shore up his third goaltender in Copley, a position he mentioned as a priority last week.
Washington's dearth of draft picks symbolizes their chips pushed to the middle. The Capitals now do not have a pick in any of the first three rounds in June's draft. If MacLellan has his way, their first selection will be 121st overall.
The NHL's best team, which leads the league in goals-per-game (3.31), goals-against (2.10) and ranks in the top five in power play (21.8 per cent), added one of the NHL's best power play quarterbacks in Shattenkirk. John Carlson, Matt Niskanen and Shattenkirk are Washington's one-two-three punch on the right side of the blue line.
They will have three United States Olympians on their backend once Brooks Orpik returns from injury, possibly in New York on Tuesday night.
Not bad.
Shattenkirk, 28, ranks third among all defencemen with 20 power play points this season. He has 11 goals and 31 assists, on-pace for 56 points in what has been a contract year full of distractions, including the firing of head coach Ken Hitchcock and constant trade rumours.
The Blues gave Shattenkirk's camp permission to negotiate a contract extension with at least three different potential suitors, as early as last summer with Edmonton. In other words, Shattenkirk has known since last summer that his days in St. Louis were numbered.
He held up his end up the bargain. One more point this season will give Shattenkirk at least 43 points in all six of his full NHL seasons.
"Couldn't be more excited," Capitals forward T.J. Oshie told the St. Louis Post-Dispatch about being reunited with Shattenkirk.
In St. Louis, Shattenkirk played second fiddle on the right side to Alex Pietrangelo, in both minutes and opportunities.
With Colton Parayko ready to step into Shattenkirk's role, the cap-strapped Blues were in no position to keep him moving forward. They were also in no position to enter the playoff chase, no matter their chances, without at least recouping something for him in return - not after David Backes and Troy Brouwer walked last summer as free agents.
Shattenkirk could command as much as $50 million over seven years on July 1. It almost surely won't be in Washington, a fact MacLellan likely well knows.
That is a worry for another day. For now, the Capitals just put the rest of the NHL on notice.
With Shattenkirk off the board, who's left? Here is TSN Hockey's latest Trade Bait board with 40 players potentially on the move between now and Wednesday's 3 p.m. ET deadline:
NTC - No Trade Clause NMC - No Movement Clause
| PLAYER | POS | AGE | CAP HIT | GP | G | PTS | PAST 2016-17 | CLAUSE |
| --- | --- | --- | --- | --- | --- | --- | --- | --- |
| 1. Matt Duchene, COL | C | 26 | $6M | 55 | 16 | 36 | 2 years | |
| 2. Thomas Vanek, DET | RW | 33 | $2.6M | 47 | 15 | 38 | UFA | |
| 3. Dimitry Kulikov, BUF | D | 26 | $4.33M | 36 | 1 | 2 | UFA | |
| 4. Radim Vrbata, ARI | RW | 35 | $1M | 61 | 15 | 46 | UFA | |
| 5. Jannik Hansen, VAN | RW | 30 | $2.5M | 28 | 6 | 13 | 1 year | NTC |
| 6. Gabriel Landeskog, COL | LW | 24 | $5.57M | 50 | 13 | 26 | 4 years | |
| 7. Anthony Duclair, ARI | LW | 21 | $773K | 41 | 3 | 9 | RFA | |
| 8. Mikhail Grigorenko, COL | C | 22 | $1.3M | 57 | 7 | 19 | RFA | |
| 9. Kyle Quincey, NJ | D | 31 | $1.25M | 53 | 4 | 12 | UFA | |
| 10. Brendan Smith, DET | D | 28 | $2.75M | 33 | 2 | 5 | UFA | |
| 11. Curtis Lazar, OTT | RW | 22 | $894K | 33 | 0 | 1 | RFA | |
| 12. Marc-Andre Fleury, PIT | G | 32 | $5.75M | 30 | 3.16 | 0.906 | 2 years | NMC |
| 13. Johnny Oduya, DAL | D | 35 | $3.75M | 37 | 1 | 7 | UFA | NTC |
| 14. Riley Sheahan, DET | C | 25 | $2.075M | 58 | 0 | 9 | 1 year | |
| 15. Evander Kane, BUF | LW | 25 | $5.25M | 50 | 21 | 32 | 1 year | |
| 16. Drew Stafford, WPG | RW | 31 | $4.35M | 39 | 4 | 12 | UFA | |
| 17. Shane Doan, ARI | RW | 40 | $3.876M | 61 | 5 | 20 | UFA | |
| 18. Vladimir Sobotka, STL | LW | 29 | $2.7M | - | - | - | 1 year | |
| 19. Eric Fehr, PIT | RW | 31 | $2M | 51 | 6 | 11 | 1 year | |
| 20. Valtteri Filppula, TB | C | 32 | $5M | 58 | 7 | 34 | 1 year | |
| 21. Cody Franson, BUF | D | 29 | $3.325M | 55 | 3 | 16 | UFA | |
| 22. Mathieu Perreault, WPG | LW | 29 | $3M | 46 | 6 | 23 | 4 years | |
| 23. Brandon Pirri, NYR | LW | 25 | $1.1M | 51 | 8 | 17 | RFA | |
| 24. Mark Streit, PHI | D | 39 | $5.25M | 48 | 5 | 20 | UFA | NTC |
| 25. Craig Smith, NSH | RW | 27 | $4.3M | 60 | 9 | 17 | 3 years | |
| 26. Brandon Davidson, EDM | D | 25 | $1.4M | 28 | 0 | 1 | 1 year | |
| 27. Jarome Iginla, COL | RW | 39 | $5.33M | 60 | 8 | 18 | UFA | NMC |
| 28. Jiri Hudler, DAL | LW | 33 | $2M | 26 | 3 | 10 | UFA | |
| 29. Marion Gaborik, LA | RW | 35 | $4.875M | 38 | 6 | 13 | 4 years | |
| 30. Patrick Sharp, DAL | RW | 35 | $5.9M | 36 | 7 | 15 | UFA | NMC |
| 31. Michael Del Zotto, PHI | D | 26 | $3.875M | 32 | 4 | 10 | UFA | |
| 32. P-A Parenteau, NJ | LW | 33 | $1.3M | 59 | 13 | 27 | UFA | |
| 33. Scottie Upshall, STL | LW | 33 | $900K | 54 | 6 | 11 | UFA | |
| 34. Patrick Wiercioch, COL | D | 26 | $800K | 51 | 4 | 12 | RFA | |
| 35. Jay McClement, CAR | C | 33 | $1.2M | 56 | 4 | 6 | UFA | |
| 36. Jhonas Enroth, ANA | G | 28 | $750K | 6 | 3.94 | 0.872 | UFA | |
| 37. Steve Ott, DET | LW | 34 | $800K | 42 | 3 | 6 | UFA | |
| 38. David Desharnais, MTL | C | 30 | $3.5M | 30 | 4 | 10 | UFA | |
| 39. Michal Neuvirth, PHI | G | 28 | $1.625M | 24 | 2.9 | 0.887 | UFA | |
| 40. Jaroslav Halak, NYI | G | 31 | $4.5M | 21 | 3.23 | 0.904 | 1 year | |
Contact Frank Seravalli on Twitter: @frank_seravalli