Capitals edge Golden Knights to win first Cup
Presented by:

The Washington Capitals laid to rest their well-earned reputation as the NHL's ultimate losers and captured the franchise's first Stanley Cup by knocking off the expansion Vegas Golden Knights with a 4-3 victory in a wild Game 5 at T-Mobile Arena on Thursday night, TSN Senior Hockey Reporter Frank Seravalli writes.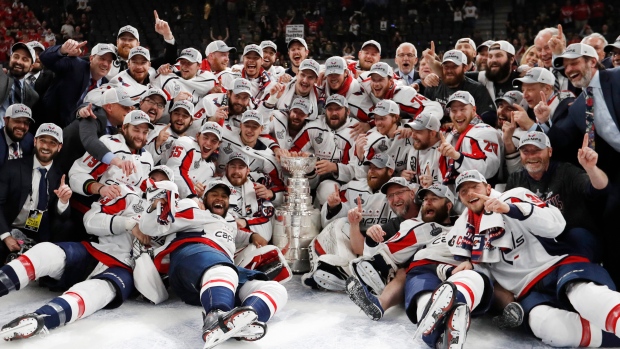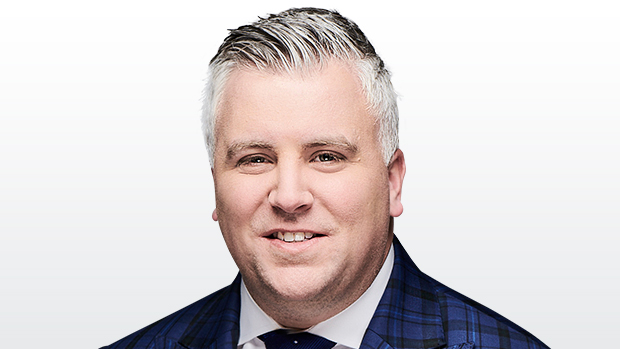 LAS VEGAS — Just before Gary Bettman handed him the Stanley Cup, Alex Ovechkin put his hands on his head in disbelief.
It was a face, one of the many faces, for the face of the franchise than will forever be frozen in time.
He then let out a roar, one that bellowed equal parts ecstasy and relief, as he reached the silver finish line of a chase 13 years long.
"It meant everything," Ovechkin said. "This is even better. I think it's just like a dream."
After racking up 24 individual honours - including three Hart trophies and three Ted Lindsay Awards - during one of hockey's greatest careers, Ovechkin has tasted the ultimate team honour: champagne out of Stanley.
At long last.
When he picked it up, 44 years and 3,701 games worth of heartbreak crumpled under the weight of 34.5 pounds of silver. The first-ever Russian-born captain to claim the Cup didn't want to give it up, keeping a hand on the bowl for part of Nicklas Backstrom's turn.
"I think he could've taken a couple more laps with it," Matt Niskanen said. "I don't think anyone would've complained, either."
Ovechkin and the Washington Capitals laid to rest their well-earned reputation as the NHL's ultimate losers and captured the franchise's first Stanley Cup by knocking off the expansion Vegas Golden Knights with a 4-3 victory in Game 5 at T-Mobile Arena on Thursday night.
Ovechkin was voted winner of the 2018 Conn Smythe Trophy as playoff MVP by members of the Professional Hockey Writers Association. He edged out linemate Evgeny Kuznetsov, who paced the playoffs with 32 points.
"He deserves the Conn Smythe," Capitals GM Brian MacLellan said of Ovechkin. "He matured this year. I don't know where it came from, but all of the sudden he took charge and basically led us this far."
After blowing leads of 1-0 and 2-1, Devante Smith-Pelly scored the tying goal for the Caps and Lars Eller netted the game-winning marker with 7:37 remaining in one of the wildest Cup clinchers in recent memory. The longest seven minutes in hockey felt even longer with a major clock malfunction in the waning moments.
"The seconds were drunk on the scoreboard," Tom Wilson said.
Midnight came quickly for Sin-derella as the Golden Knights surrendered three wins short of a storybook ending that even Disney would've rejected. The best expansion team ever in pro sports fell to the franchise that began with the worst season in NHL history.
"We had an outstanding year," Vegas coach Gerard Gallant said. "But it doesn't feel like that right now."
Back in Washington, thousands of red-clad fans flooded the streets around a jam-packed Capital One Arena to see the District's first professional sports title in 91 seasons. It was hard to imagine this was the same place where a "Save the Caps" campaign happened in 1982 to keep NHL hockey in America's capital.
They were even dancing in Moscow. Ovechkin was a man on a mission.
"Alex has been through a lot," Niskanen said. "He's taken some heat in the past, so man that feels good for him to go up there and reach the pinnacle. I'm really happy for him. He was a stud this spring. He led the charge, he produced, he played hard, blocked shots, ran people over.
"He played like a champion."
Once the Capitals slayed Sidney Crosby and the Penguins in the second round and overcame that first round scare against the Columbus Blue Jackets, Ovechkin was not to be denied. T.J. Oshie said: "You could tell. We wanted this thing. 'Ovie' just as much as the rest of us."
The Caps received a few fortuitous bounces along the way - think of Braden Holtby's series-changing "The Save" in Game 2 of the Stanley Cup Final - but they earned everything they got.
Ovechkin helped drag them across the finish line.
"It doesn't come easy," said Holtby, who began the playoffs as Washington's backup. "It took years. Years of heartbreak. Years of breaking things down and trying again. This group never gave up and we finally did it."
When Ovechkin scored from his spot - where else? - on a second period power play, he etched his name on another Capitals record with his franchise-best 15th goal of the spring, passing John Druce's mark (14) set in 1990.
The Great Eight's trophy case is full now.
He may still be chasing Crosby in Cups, but Ovechkin now has one more overall trophy than Crosby with the addition of the Conn Smythe - since Ovechkin edged Crosby in the 2005 Calder race for rookie of the year.
Ovechkin and Crosby are now the only two players since 2005 with 15 playoff goals in a single spring. Everyone can now agree though that both Ovechkin and Crosby are two of the best ever - and both are winners.
"I think this moment, we waited a long, long time," Ovechkin said. "Since Day 1. It's a funny story."
Ovechkin said he went to Capitals owner Ted Leonsis' house for a barbecue shortly after the draft in 2004 and met the rest of the Leonsis family.
"We were swimming in the pool," Ovechkin recalled. "He told me 'One day, we're going to win it.' That was the first year. I don't even know what the team is. I knew he wanted it so bad. This organization want it so bad … It was tough time, but we fight through it and get result."
Leonsis said he "never doubted" the core of Ovechkin and Backstrom. Still, it's so hard to figure that this was the year the Capitals would break through. The window appeared to be closing after three President's Trophies in eight years.
Washington said goodbye to Kevin Shattenkirk, Karl Alzner, Mr. Game 7 in Justin Williams and traded away Marcus Johansson last summer. Trotz, the man with the most wins in NHL history without a Cup, wasn't given a contract extension because the belief was he couldn't get over the hump. They did. All of them, together.
"It was sort of a real special moment because we've sort of lived the same life a little bit," Trotz said of Ovechkin lifting the Cup. Neither man had made it past the second round.
Few saw this coming. MacLellan spoke bluntly in training camp about the sins of their past, admitting the hangover from back-to-back losses to the Penguins still hovered.
"I thought we'd be fine, but training camp wasn't good," MacLellan said. "The first 20 games weren't that good. Then we kind of found it, lost it, and seemed to find it again at the end. We peaked at the right time. A lot of things were overcome this year."
There is no way to explain it - other than sports being the world's best reality show. MacLellan figured maybe the Caps just "played a lot freer" without expectations. Maybe it was just their time.
Or, maybe there was just too much goal scoring greatness engraved for Lord Stanley to handle at one time.
Because it's only fitting that as Rocket Richard's name is removed from the Stanley Cup to make way for the next generation of champions, the NHL's greatest scorer since Richard will be etched into a fresh band.
Ovechkin, the seven-time winner of the Rocket's Trophy, will be engraved on hockey's holy grail for eternity.

"I'm so happy for that group, for all the stuff that they had to endure, all of the things said about them, 'Ovi' in particular," Trotz said. "We were down in every series. They checked off every box. To me, they changed all the narratives."
Contact Frank Seravalli on Twitter: @frank_seravalli​