Caps' Wilson not changing play style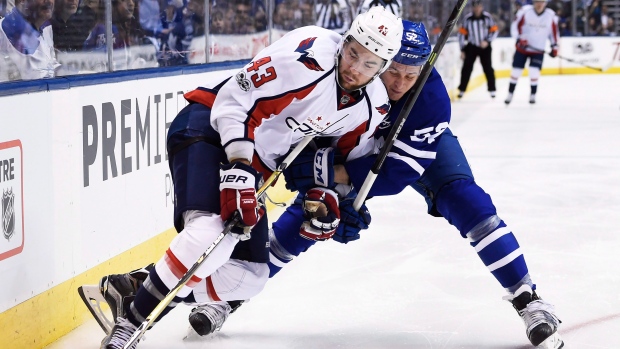 Suspended Washington Capitals forward Tom Wilson said he isn't going to change the way he plays because of his suspension.
"I take pride in the physical nature of my game. I take pride in my bodychecks. This is my fifth season, and I've made a lot of bodychecks — very clean, hard hits. So I trust myself. Maybe it was a second late or whatever, but I'm going to learn from it and I'm going to continue to play my game, my hard-natured hockey," Wilson told the Washington Post Monday.
Wilson, a native of Toronto drafted 16th overall in the 2012 NHL entry draft, was suspended two preseason games for his hit on forward Robert Thomas of the St. Louis Blues. He will sit out Wednesday's game against the New Jersey Devils and Friday's contest with the Carolina Hurricanes.
During the third period of last Friday's game, Wilson cut across the ice and delivered a crushing blow to Thomas in front of the Blues' bench. While he didn't forfeit any salary, he will now be considered a repeat offender for future hits that could bring harsher discipline.
Caps head coach Barry Trotz said the he was "a little surprised" at the league's decision to suspend the 23-year-old.
Wilson is known for his physical play. Over the past two seasons, he is fourth in the league in hits at 492. Trotz expects that to continue despite the suspension.
"He doesn't want to take that all out of his game. He just wants to understand his parameters and what the league is calling and looking for. But he's got a smaller window," Trotz told the Post.
In 82 games last season, Wilson had seven goals and 12 assists.