Carlyle benching Montour a 'coach's decision'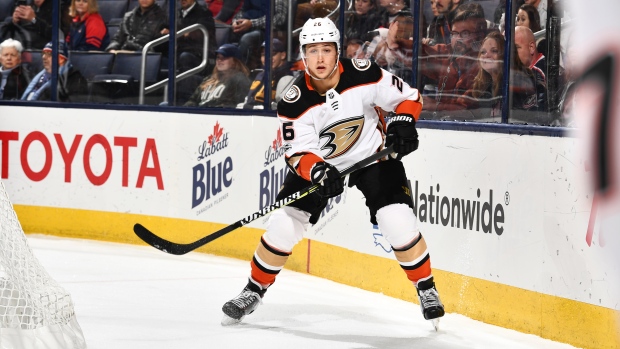 Anaheim Ducks head coach Randy Carlyle benched Brandon Montour on Tuesday, citing the offensive defenceman must improve in his own zone.
Montour leads all Ducks defencemen with six goals and 16 points in 33 games this season, but Carlyle said the 23-year-old's performance against the New Jersey Devils on Monday warranted a wake-up call.
"A coach's decision is based upon what are your expectations of the player," Carlyle told the Orange County Register. "A minus-3 (Monday) night in New Jersey. I've instructed him that I don't expect him to be a perfect hockey player. But I expect that he has to play defence first. And we need people that are going to commit to the system.
"I felt there was some areas that he needed to shore up. I told him so and that's what goes into a coach's decision. He's a good player and he's going to continue to be a good player. We believe that. This is a learning curve for a young player where you can't just play the rover game."
Montour, who is averaging 20:26 of ice time per game this season, is plus-6 on the season. He watched from the press box as the Ducks fell 4-1 to the New York Rangers in their third straight loss on Tuesday night.