Carlyle facing significant question marks in return to Anaheim
Veteran coach has to prove he can adapt to an NHL that emphasizes speed and quick puck movement above all else, Travis Yost writes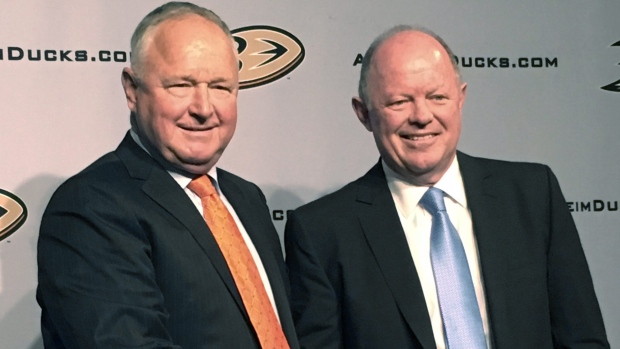 At the time of Anaheim's firing of head coach Bruce Boudreau, I wrote that I though the move was, in a word, unconscionable.
Boudreau's coaching record speaks for itself. He's won with multiple teams across multiple environments, leading a star-laden Washington Capitals club and a top-heavy, retooling Anaheim Ducks team to fantastic season after fantastic season. It's no surprise that just days after Boudreau lost his job due to a first-round playoff exit, the Minnesota Wild picked up the phone and offered him the world.
Anaheim's position is that Boudreau just wasn't the right fit to get the team to a Stanley Cup, but general manager Bob Murray and other team executives mentioned on multiple occasions that part of the player core was to blame for his firing.
I suspected Anaheim would take a step back after the coaching carousel came to a stop. Only a handful coaches have been more successful than Boudreau during his time behind an NHL bench, and none of those names were available when the Ducks job came open. There was the possibility that Anaheim would steal some unknown wunderkind from the AHL, or take a chance on one of the fantastic assistant's around the league, but those options felt like best-case scenarios more than anything else.
Then they hired Randy Carlyle.
Carlyle is the same head coach the Ducks fired in 2011 when he was struggling to squeeze anything out of their roster. He's the same head coach who was at the helm of the 2013-14 Toronto Maple Leafs – a historically bad team by almost any statistical measurement, with a coaching staff and front office totally unwilling to embrace the structural and systemic changes needed to turn the ship around.
We have access to a significant pile of data on the teams coached by Carlyle and Boudreau. Even cognizant of potential talent disparities, it's hard to believe we don't have some indication of what type of impact the coach had (or didn't have) on his roster.
Let's look at how these teams performed under the two coaches. We'll start back in 2007, when Carlyle was in his third season with Anaheim, and run it through present day. What kind of impact did he have on Anaheim? What kind of impact did he have on Toronto?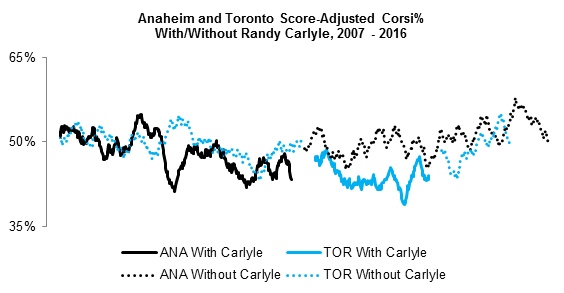 Let's start by looking at Carlyle's first go-around with the Ducks. It's not difficult to see why Carlyle was fired by a team that had incredible expectations following their championship in the 2006-07 season. Anaheim, which kind of wavered back-and-forth with being an average team at 5-on-5, had hit the skids during the end of Carlyle's run. That Ducks roster was getting out-shot about 56-44, which is about as problematic as it can get for a team in today's NHL.
The rest is history. Boudreau took over and made the Ducks a consistently great 5-on-5 team, in some cases venturing well above the 50 per cent break-even line. It's the reason the Ducks won the division in every season from 2012 to 2016.
Now, let's examine Carlyle's run in Toronto. This has been bludgeoned to death at this point, but it's impossible to ignore. Toronto wasn't exactly a great team at the time Carlyle took over, breaking even at 5-on-5 under former coach Ron Wilson. Carlyle took the team over and immediately drilled the Maple Leafs' Corsi% into the low 40s (at times, expansion-level bad), an area they stayed in until he was shown the door in January of 2015.
We saw the same change in Toronto that we saw in Anaheim. A really good coach took the reigns over from Carlyle and immediately made the team competitive at 5-on-5, frequently getting an excess of 50 per cent of the 5-on-5 shots. The wins didn't exactly materialize in year one of the Mike Babcock era, but that was mostly driven by PDO and management's goal of stripping the roster to rebuild through draft picks and prospects. ---
Why are we focusing so much on pure shot differentials in this piece? The answer is simple: It's the area that always been Carlyle's problem. No matter how much he talked about it, his teams were always underwater (in most cases significantly so). When that happens, we know how the story goes. Volume always wins out, and these teams find themselves on the outside looking in.
It is certainly possible that Carlyle can change, and that his methodologies will adapt to an NHL that emphasizes speed and lightning-quick puck movement above all else. But that's a gigantic question mark.
What we do know is that Carlyle's "modern era" teams have never been a credible threat, and if that continues, Anaheim is going to take a pretty emphatic step backward this season.