Svechnikov at practice, but out tonight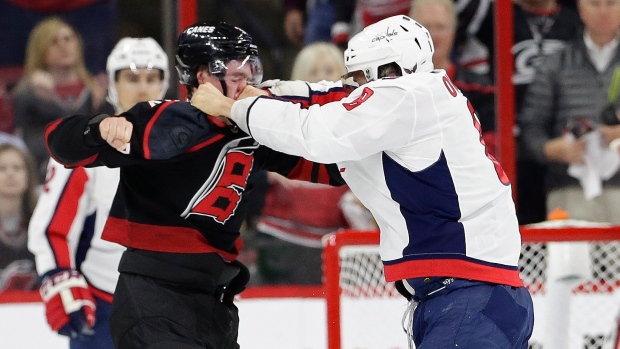 Carolina Hurricanes rookie Andrei Svechnikov returned to practice on Thursday wearing a full cage, while head coach Rod Brind'Amour said it's unclear whether he was concussed in his fight with Washington Capitals captain Alex Ovechkin.
"That's a better question for other people," Brind'Amour said, per NHL.com. "Obviously, you take all the precautions and you go through whatever happens, so we're just following what the protocol is. So, I don't know if he has a concussion, if he was diagnosed."
The 19-year-old was placed in the concussion protocol after his fight with Ovechkin in Game 3 and Brind'Amour said Wednesday he would miss Game 4 on Thursday.
Svechnikov dropped the gloves with Ovechkin in the first period of the Hurricanes 5-0 win on Monday and dropped to the ice when the Capitals captain landed a right hook to his face. Svechnikov needed assistance from a trainer to leave the ice. He was evaluated at a hospital, though Brind'Amour said Wednesday he "looks normal and said he feels great."
The second overall pick in the 2018 NHL Draft, Svechnikov posted 20 goals and 37 points in 82 games during the regular season. He has two goals and three points in three playoff contests.