Carter Hart: Canada's creature of habit
Team Canada goaltender opens up about the unique routine that has taken centre stage at the World Juniors, TSN Senior Hockey Reporter Frank Seravalli writes.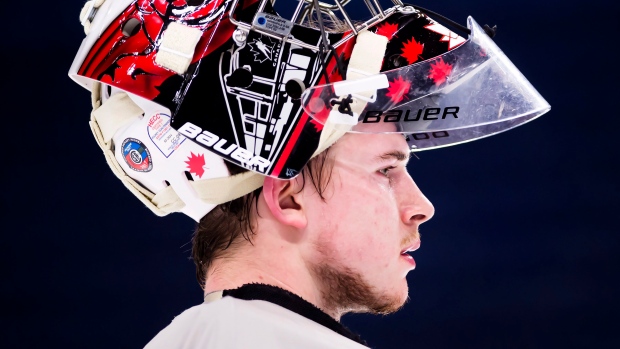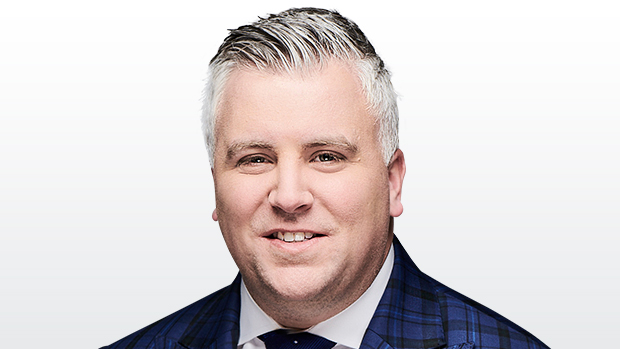 BUFFALO, N.Y. - Three eggs, two pieces of toast and a glass of chocolate milk.
That's what Carter Hart says he has eaten for breakfast "every single day for the past four years," whether he's at home, on the road or here for Team Canada at the World Junior Championship.
"Yeah, I get sick of it," Hart said, smiling.
It may drive Hart's billet, Parker Fowlds, a little crazy, but at least he isn't guessing what to buy at the supermarket in Everett, Wash.
"He always says, 'Do you want anything else? Pancakes? French toast?' Nope," Hart said. "It's just what I do now. It's my routine."
The breakfast drill is just one small peek into Hart's routine, which has taken centre stage in Team Canada's quest for gold. His battle of wills to be last player off the ice with Team Switzerland backup Matteo Ritz in Tuesday's quarterfinal was more dramatic than the game.
"It's just kind of what I do," Hart said, shrugging.
Hart, 19, knows he is different. Some things just seemed fated, so it makes sense that he is a Philadelphia Flyers draft pick. Philadelphia has been home to some of hockey's most eccentric netminders over the years, from Ilya Bryzgalov to Roman Cechmanek to Robert Esche.
Even Flyers GM Ron Hextall, who drafted Hart 48th overall in 2016, clanged his stick off his posts in a specific order during his playing career.
Goaltenders have been different since the beginning of time, it's just that most don't offer a glimpse into their world.
But Hart is an open book. He called his breakfast habit "weird." The truth is he has been so routine-focused, working with a sports psychologist since he was 10, that it doesn't seem strange to him anymore.
"I've had those things for a long time," Hart said. "It's just part of who I am."
It's a routine that Team Canada coach Dominique Ducharme doesn't pretend to understand. He doesn't wear a "lucky tie" on the bench.
"They're all red, so I'm okay," Ducharme said, laughing.
Ducharme has given his most important player license to do whatever is necessary so long as "he's ready to play and stops the puck." Ducharme knows how important Hart's routine is to Team Canada's overall success. Because it isn't a stretch to say Canada's gold-medal hopes rest on Hart's shoulders.
The construction of this Canada team is different than most – ones usually built on star power up front.
Instead, with a balanced attack and deep defence, the star of Team Canada is in net. Hart is perhaps Team Canada's best goaltender in two decades. Vezina winner Carey Price and Calder winner Steve Mason didn't have near the .961 save percentage Hart posted in 1,000 minutes with WHL Everett this season.
So far, Hart has delivered. Team Canada has the best save percentage (.933) in this year's tournament. Backup Colton Point blanked Slovakia in his only start.
Like his breakfast, Hart won't be changing his routine as the stakes get higher. He said he is ready for whatever the Czech Republic throws at him – even if they try to keep their backup goaltender on the ice for as long as possible to try to throw him off.
"Sure," Hart said. "If they want to, then I'll just do what I did [against Switzerland]."
Hart said no one had ever gone to that length to frustrate him until Finland started the trend on Boxing Day.
"I've had one standoff in my life before this tournament," Hart said. "Now I've had two in this tournament."
Hart's teammates didn't even notice his quirks until they saw it against Finland. To them, whatever Hart does is only weird if it doesn't work.
"I think it's funny," captain Dillon Dube said. "When he came in the dressing room [against Switzerland], we were laughing. Obviously they were trying to do that. He's not too worried about it. I think it's just a routine, it's not a superstition. It's not going to get him off his game."
Hart didn't go into the exact specifics of his daily routine – it may take too long – but just about every moment leading up to a game is regimented. His ritual is all based on time.
It reaches a crescendo when Hart raises his arms above his head just before stepping on the ice.
"I just take a deep breath," Hart explained.
For Hart, the purpose of the routine is to keep his mind busy so that he isn't focusing on the pressure, the stage or the stakes. When he was barely facing any rubber against Switzerland, for example, Hart said he tried to focus on something else. So he said he scanned the ice to find which hand Switzerland's shooters were.
"It's to help with my focus and block out other distractions, really," Hart said.
He is far from the first athlete to be so routine oriented. Sidney Crosby puts his equipment on in the same order every time. Baseball Hall of Famer Wade Boggs would go for a run at exactly 7:17 before a 7:35 game. He said his 80 to 100-step routine "makes the day go by."
A scoreboard operator in Toronto once flipped the clock from 7:16 to 7:18 in an attempt to knock Boggs through a loop. It didn't work.
"If you try to upset my routine, then sorry," Boggs told reporters. "If you can't respect that, then I feel sorry for the person trying to upset the routine."
Hart knows Switzerland won't be the last team to try. Hart promised he won't be off-kilter if the Czech Republic ­– or anyone else – gets in the way of his routine.
After all, Hart ate chicken and rice every day for lunch for three years. He eventually changed it up, swapping rice for potatoes, and survived.
Just don't ask him about dinner.
Contact Frank Seravalli on Twitter: @frank_seravalli​