Casey: Raps want 'fairness and consistency'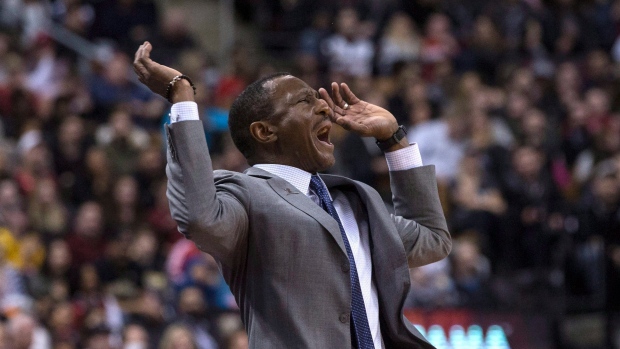 After a heated 132-125 loss to the Oklahoma City Thunder that saw the Toronto Raptors' 11-game win streak snapped and DeMar DeRozan and Serge Ibaka ejected, a frustrated Dwane Casey asked for fairness from NBA officials.
"All we want to ask for is fairness and consistency - in all the league," said Casey, who was ejected himself in the game's final seconds. "I've watched every game the past couple of nights and we're going to complain the proper way, how the game got out of hand at the end."
Casey's postgame remarks didn't carry with them the heat of Alvin Gentry's following the New Orleans Pelicans' 107-101 loss to the Houston Rockets on Saturday. Gentry was fined $15,000 for his remarks on Sunday. Casey is unlikely face similar censure.
Casey wants to use "the proper way" to voice his displeasure.
"We're going to do it the proper way," Casey said. "I'm not going to criticize officials because we made enough mistakes down the stretch also. We shot ourselves in the foot, we missed some easy shots - layups, free throws, turnovers. And [Oklahoma City] is a good team. But we'll complain in the right, proper way on how the game is called. Again, officials are going to miss calls, but at the juncture of the game that some of the calls were made, we gotta get it right around the league - not just this game, but the entire league."