Ceci bridge deal makes perfect sense for Sens
Ottawa defenceman still needs to prove he's a first-pairing talent who deserves a long-term commitment, Travis Yost writes.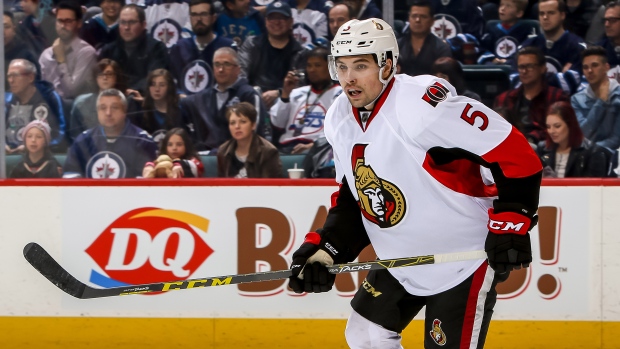 Bridge contracts have become popular in the NHL under the new collective bargaining agreement, primarily as a tool for general managers to squeeze restricted free agents into more team-friendly deals.
There is certainly a risk/reward trade-off with bridge contracts. A player who plays well during a bridge deal has the opportunity to cripple a team in the next negotiating go-around by adding two seasons of proven NHL production to his resume that could be worth millions of dollars.
That's the chance a team may have to take in exchange for additional evaluation time, which is not an insignificant piece of the equation. In many instances, younger players haven't had the type of success that would drive a team to consider a long-term deal, and teams become more willing to accept a poison pill down the road if they can buy more time to assess the player.
The Ottawa Senators had to wrestle with this issue this summer with restricted free agent defenceman Cody Ceci. Ultimately, I think the team made the right decision. The team and player settled on a two-year, $5.6 million contract after Ceci's three seasons of NHL service – a perfect example of a team choosing to punt on a long-term decision in exchange for more information, more analysis, and really, more time.
The Senators did well here – not just in the team-friendly $2.8 million per year contract, but also on the choice to bridge this player.
There needs to be some consideration given to Ceci's age and the time he's spent in the NHL. Ceci – like many young defenders around the league – is given a bit of additional leeway because he entered the league as a teenager. But this isn't a super green player anymore. Ceci turns 23 this season, with 211 games of NHL experience. I'd endorse the argument that his best years are still ahead of him, but we are not void of meaningful player data.
So, how does Ceci grade out relative to his peers? And how does he grade out relative to what we would expect from regular league defencemen? One way we can measure this is by looking at some of our most important and measurable criteria – how a defender impacts shot differentials (for/against), how a defender impacts goal differentials (for/against), how active he is in the offensive zone, et al.
The below graph shows two comparisons: direct against players of his calibre and age group, and direct against a league average defender. To this end, a player grading out at 0 per cent in a metric would mean he's not better than any other defender in the league (and for the purposes of our review, replacement level), 50 per cent would indicate he's better than about half of the players in the league, and 100 per cent would indicate he's the top performer league-wide.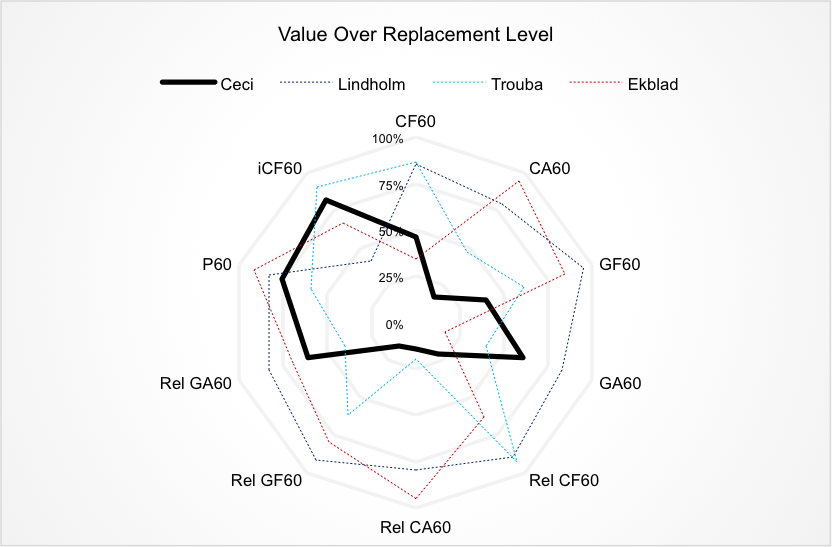 When compared against three really strong defenders in his age group, you can see that Ceci is a bit underwhelming. And that's totally fine! I think it's important to benchmark against the types of players who, at least for the sake of this argument, would be the kind of players a team is more likely to commit to long-term as opposed to bridging into their next contract.
Take Anaheim's Hampus Lindholm for example. Here is a player that's vastly out-performing the majority of the league in most key metrics – he is an unbelievable defensive scorer, has significant raw and relative shot impacts for his team in the defensive zone, and drives goal differentials at a significant volume.
Ceci, on the other hand, has his strengths and weaknesses. Individually, Ceci's added value in the offensive zone – his personal shot rates and scoring rates are very strong when benchmarked against comparables or league averages. On the other hand, he has had a tremendously poor impact on shot rates against for Ottawa, and the Senators really seem to struggle to score as a team when he's manning the point. In both instances, he's not only well below comparables, but well below your league average player.
I think that's the most important thing to keep in mind here for Ottawa. Ceci isn't unique in the sense that he's a former first-round pick who has translated as an NHL talent, but the guidance as to what he'll actually become remains unclear. The more of an unknown a player brings (or doesn't bring) to the table, the more it makes sense to bridge a player and wait for a more compelling story.
As it stands right now, we know Ceci can play in the NHL, and we know he can log second-pairing minutes. But is he truly a first-pairing talent? Does he deserve a long-term commitment? I'd be very hesitant to answer that question in the affirmative. And I think Ottawa, understandably so, has the same mindset.