Ceci would gladly be part of a rebuild in Ottawa
Sens defenceman gets a ringing endorsement from general manager Pierre Dorion as he adjusts to life without usual blueline partner Dion Phaneuf, Ian Mendes writes.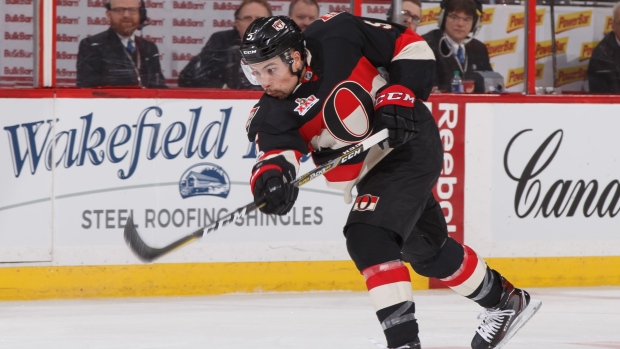 When he met with the media on Wednesday afternoon to discuss the Dion Phaneuf trade, Ottawa Senators general manager Pierre Dorion was not in the mood to chat about the future of his captain.
"Today is not about Erik," Dorion said flatly. "Our first and foremost priority is to sign Erik Karlsson."
You could hardly blame Dorion for not wanting to turn every media availability into a question-and-answer session about Karlsson. The next inquiry was about Cody Ceci and Dorion suddenly seemed a lot more relaxed and comfortable talking about a defenceman on his roster.
"I'm a big Cody Ceci fan," Dorion said. "Cody is one player – and I know a lot of the pundits out there might disagree with it – I'd like to have as a Senator for a long, long time."
Ceci, who is set to become a restricted free agent this summer, was quite pleased to hear the ringing endorsement from his general manager.
"There are a lot of rumblings going on around the league and a lot of distractions that can throw you off and it's always in the back of your mind. So to hear that from the GM, that's always nice to hear," Ceci told reporters on Thursday. "They think I can help the team out. I guess we're trying to rebuild a little bit around certain pieces and if I'm one of those pieces, I would be happy to be that guy."
Ceci admitted on Thursday that he and the team have not engaged in any meaningful contract discussions.
"We haven't started," he said. "We're just going to wait until the summer and let it unfold then."
The Senators could go with another bridge contract for Ceci – he's currently in the second year of a contract that carries a $2.8 million cap hit. But based on the glowing endorsements from Dorion and head coach Guy Boucher, one couldn't rule out a longer-term deal with the club.
The final third of this regular season could give the Senators a better picture of what Ceci is – especially since he will have a different partner on the blueline.
For the better part of the past two years, Ceci has been paired with Dion Phaneuf. The pairing was tagged with the responsibility of serving as Ottawa's shutdown duo, often facing the opposition's top offensive players. As a result, the Ceci-Phaneuf pairing would log a lot of minutes – north of 20 per night – but would see a lot of action in their own end.
They became a polarizing combination amongst Ottawa fans, serving as a lightning rod in the seemingly never-ending debate between analytics and the eyeball test.
"I think when you play against the other team's top lines on a night in and night out basis, you play those hard minutes," explained Dorion.
The Ceci-Phaneuf pairing was a staple for Boucher as the club played 19 playoff games last spring, averaging more than 23 minutes. But their underlying numbers weren't as impressive as their ice time, with their possession metrics hovering well below 50 per cent.
Ceci admits it will be a little strange to look across the ice tonight and not see the familiar No. 2 alongside him.
"It's tough and we made it that far together last year," Ceci said. "I learned so much from him on the ice and off the ice. I think we're going to miss him in the room."
Now with Phaneuf in Los Angeles, the focus shifts to Ceci's role moving forward. Will he still be used in a shutdown role, or will be cast with a different job now that he isn't anchored to the hard-nosed Phaneuf?
It appears Boucher will keep Ceci in that same role. On Thursday against Buffalo, Ben Harpur will be paired with Ceci, the first glimpse into what the post-Phaneuf era might look like. Boucher has played the Harpur-Ceci combination at times in the past and liked the way they looked together when the team was overseas to face the Colorado Avalanche in Sweden back in November.
"They have the look of a shutdown pair," Boucher said Thursday.
There is a chance Ceci could be paired with Mark Borowiecki or Frederick Claesson at some point down the road, but for now it looks like the club's top preference is to start him with Harpur – who just recently signed a two-year contract extension with the club.
"They'll try us out together and see how it goes," said Ceci. "I think we're going to be put in a similar role, especially if I'm with Harps. With guys like [Thomas] Chabot, he's a good offensive player, so he'll see more of the offensive side and me and Harps will be in the other role."
While Boucher seems keen on keeping Ceci in a more defensively oriented role, he does want Ceci to have the ability to jump into the offensive zone when he sees fit. Ceci has scored five goals this season – up from his total of two last year.
"You can see the jump in the offence. You can see the freedom he has in the offensive zone," explained Boucher. "If you look at him from the beginning of last year to now, he's taken a big step."
Dorion would also like to see Ceci take a big step off the ice, filling the leadership void left by the departure of Phaneuf.
"I think Dion was great for Cody and I think Cody will be the first to tell you that Dion was great for his career," added Dorion. "But now Cody is probably ready to take someone under his wing."