CFL Draft: Five intriguing prospects
Ahead of Sunday night's 2017 CFL Draft, TSN's Duane Forde gives his thoughts on three intriguing prospects and two others with something to prove.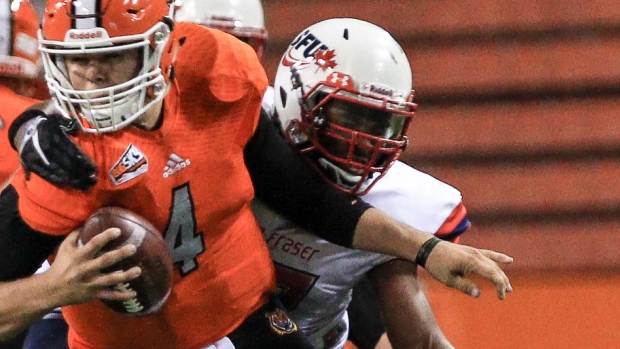 Ahead of Sunday night's 2017 CFL Draft, TSN's Duane Forde gives his thoughts on three intriguing prospects and two others with something to prove.
--
THREE MOST INTRIGUING PROSPECTS
3. Kay Okafor (DL, St. Francis Xavier) – In 2012, he was a 6'3", 235 lbs., 19-year old student from Nigeria, who found himself playing football at Holland College in Prince Edward Island, mostly because he had been cut from the UPEI basketball team. Five years and forty pounds later, he has established himself as one of the best prospects in a very deep defensive line group. His speed, strength, and long arms, combined with his relatively limited experience, lead some to believe that he has the most upside in the class.
2. Randy Colling (DT, Gannon) – Three players (Alex Singleton, Vaughn Martin, and Wayne Smith) in CFL history have been drafted into the league after attending NFL training camps. On Sunday, the 26-year old former Division 2 All-American will break new ground by becoming the first player to be selected in the CFL Draft after having played in the Arena Football League. Not only has he played in the AFL for the last four years, Colling was also named to the All-Arena Defensive First Team in 2016. Obviously, at 26, he'll be closer to his ceiling than other members of this draft class but, given his experience, he should also be expected to make a more immediate contribution to whichever team drafts him.
1. Cameron Judge (LB, UCLA) – When you compare his Pro Day numbers to the testing results posted at the CFL's National Combine, it's impossible to ignore the fact that, at 220 lbs., the Bruins linebacker recorded the best broad jump and 3-cone time, tied for the highest vertical jump, and had a Top 5 time in the 20-yard shuttle. He's arguably the most explosive athlete in the draft and has played in one of the NCAA's most competitive conferences. It seems to be a given that he'll have an immediate impact on special teams, as he captained that unit in college. The question is whether he can develop into the CFL draft's version of a unicorn – a starting Canadian linebacker.
--
TWO GUYS WITH SOMETHING TO PROVE
Jordan Herdman (LB, Simon Fraser): He set tackling records in college and was just the second player ever from a Canadian school to be invited to play in the prestigious Senior Bowl. He has attracted enough NFL attention to garner a place in the Kansas City Chiefs mini-camp. He has perhaps the most impressive collegiate résumé in the entire Class of 2017. However, for all of his accolades and accomplishments, Herdman is viewed by most as a late round CFL pick as best, due to a lack of footspeed.
Kwaku Boateng (DE, Wilfrid Laurier): He began the 2016 season as the #2 ranked prospect in the Canadian Scouting Bureau rankings, and lived up to that billing by recording 6.5 sacks and 9.5 tackles for lass in eight OUA games. That was enough to earn him a place as a Second Team All-Canadian for the second consecutive year, and an invitation to the Chicago Bears mini-camp. However, at the National Combine, he measured in at 6'0", 233 lbs. and didn't stand out in testing. It will be interesting to see where teams have him pegged.
--
This week in Quebec City, the Laval Rouge et Or will serve as the host team for the 2017 U Sports East West Bowl, a mini-camp, combine, and game that will feature many of the top prospects for the 2018 CFL Draft. Best of luck to all the players involved, and thank you to the many U Sports coaches who generously give their time every year to help me prepare for the CFL Draft.