CFL Draft: Five things (other than talent) that matter
Ahead of Sunday night's 2017 CFL Draft, TSN's Duane Forde takes a look at five things other than talent that teams consider when drafting a player.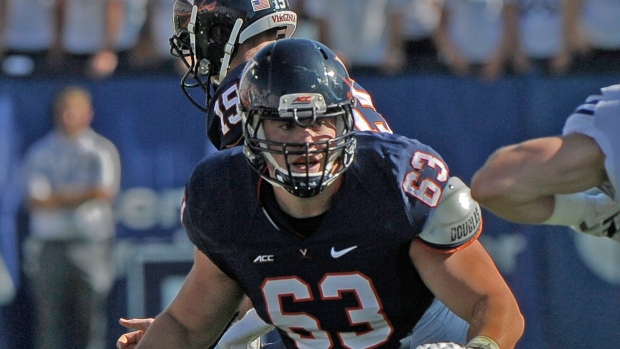 Ahead of Sunday night's 2017 CFL Draft, TSN's Duane Forde takes a look at five things other than talent that teams consider when drafting a player.
--
FIT: "How will he make our team?" This is a question GMs, coaches and scouts will ponder more and more with each passing round of the draft. Can he compete for a starting spot? If he's not a starter, does he possess the mindset and physicality to contribute on special teams? Do his skill set and physical abilities match with the needs of our offensive or defensive system? Can he handle the complexity of our schemes? Do we already have a logjam at his position? There's no point drafting the most talented player available if he has no shot of making your team. There has to be a fit.
SUPPLY AND DEMAND: This was one of the first concepts presented in my Economics 020 class at Western and, almost thirty years later, it's still serving me well in my analysis of CFL drafts. Simply put, a player's relative draft value will be determined by a combination of the number of similar players available (supply) and the number of teams seeking a player with his skill set and physical abilities (demand). It's most easily illustrated by comparing the general draft value of offensive linemen versus that of defensive backs. For all intents and purposes, the supply is the same at both positions, as every U Sports team has five starters at OL and five starters at DB. However, in the CFL, the demand is historically much greater for Canadian offensive linemen than it is for Canadian defensive backs because there are far more starting jobs and roster positions available for the hogs. Thus, a good O-Line prospect is more likely to be picked in the first round than an equally talented DB prospect is.
GEOGRAPHY: The CFL's free agency system is flawed in that players are completely unrestricted free agents anytime their contracts expire, regardless of their salary and years of service. Most young Canadians don't approach their ceiling until their third or fourth year in the league, which typically coincides with the expiration of their rookie contracts. If they choose to sign elsewhere, the team that drafted them will have invested two or three years on developing a player just to have another organization reap the benefits of the finished product. This reality forces teams to consider where a player ultimately wants to settle as part of their evaluation of him. The result is that teams are more likely than ever to draft prospects with ties to their market on the premise that they'll be more likely to be able to retain his services beyond his rookie contract.
AVAILABILITY: The CFL Draft is the one of the few drafts in North American pro sports where teams have to consider the possibility that top prospects might elect to do something other than play for the team that selects them. The NFL seems to evaluate more and more Canadians every year, but that's just part of the problem. The other issue is that, in the CFL, where rookie salaries are limited and most draftees are at least close to being university graduates, teams always have to gauge how committed a prospect is to playing in the league as opposed to pursuing other career options.
SIZE: Ben Cahoon was one of the most prolific receivers in Canadian football history, but if he were coming out of college in 2017 instead of 1998, he might not have been given the same opportunity to develop from rookie Canadian backup to bona fide CFL star. In football, conventional wisdom has always suggested that, all things being equal, "bigger is better." In this day and age, though, the emphasis on physical size is such that a player like Cahoon would've been labeled as a matchup liability on special teams, which would've made it difficult for him to crack a roster unless he was a starter. Continuing to use the receiver position as an example, look for players like Saskatchewan's Julan Lynch (6'2", 225 lbs.) and UBC's Alex Morrison (6'4", 215 lbs.) to benefit from the "size matters" mindset.
--
This week in Quebec City, the Laval Rouge et Or will serve as the host team for the 2017 U Sports East West Bowl, a mini-camp, combine and game that will feature many of the top prospects for the 2018 CFL Draft. Best of luck to all the players involved, and thank you to the many U Sports coaches who generously give their time every year to help me prepare for the CFL Draft.