CFL Fantasy: Argos' Wilder busts out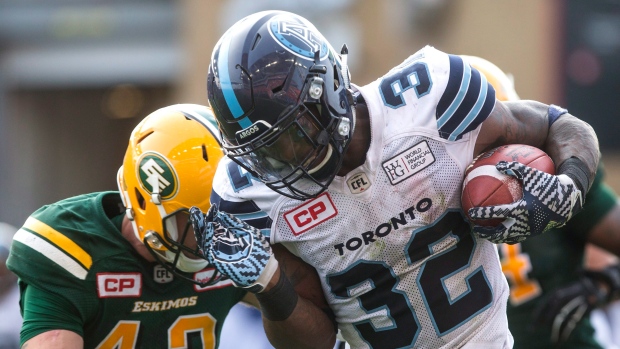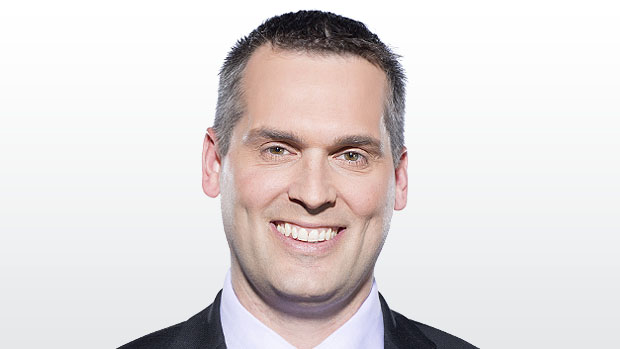 Toronto Argonauts rookie running back James Wilder busted out with a spectacular game in Week 13.
Here are the best and worst of CFL Fantasy performances from Week 13:
HEROES
James Wilder, RB, Toronto – It was the James Wilder Show against Edmonton, as the rookie running back played for an injured Brandon Whitaker and piled up 257 yards and a touchdown on 18 touches, easily the best game of his career. Fantasy Points: 31.7
Brandon Bridge, QB, Saskatchewan – It's not every day that a Canadian quarterback gets a chance to play and Bridge made the most of his chance at Toronto, passing for 231 yards and three touchdowns. Fantasy Points: 21.9
Mike Reilly, QB, Edmonton – Even in a losing effort, the Eskimos quarterback continued to put up big numbers, throwing for 323 yards and two touchdowns as well as gaining 31 yards on the ground. Fantasy Points: 21.5
Jalen Saunders, WR, Hamilton – The Ticats receiver had the second 100-yard game of his career, putting up 10 catches for 138 yards and a touchdown against Saskatchewan. Fantasy Points: 19.8
Diontae Spencer, WR/RET, Ottawa – Not only did Spencer lead Ottawa receivers with six catches for 52 yards, he added 170 yards and a touchdown in the return game. Fantasy Points: 17.9
Martese Jackson, RB/RET, Toronto – Jackson had 11 yards on three touches from scrimmage, but his touchdown return off a missed field goal made for a productive week. Fantasy Points: 15.9
Marken Michel, WR, Calgary – With injuries decimating the Stampeders' receiving corps, Michel stepped up with five catches for 95 yards and a touchdown against B.C. Fantasy Points: 15.5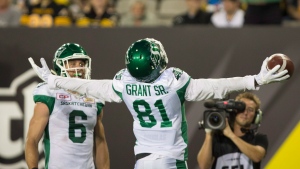 Bakari Grant, WR, Saskatchewan – The veteran receiver contributed six catches for 71 yards and a touchdown at Hamilton. Fantasy Points: 13.1
Naaman Roosevelt, WR, Saskatchewan – The Roughriders receiver had five receptions for 66 yards and, for the fourth straight game, scored a touchdown. Fantasy Points: 12.6
Armanti Edwards, WR, Toronto – There wasn't a lot going on in the Argos' passing game against Edmonton, but Edwards did have five catches for 56 yards and a touchdown. Fantasy Points: 11.6
ZEROES
Darian Durant, QB, Montreal – Inconsistency has been an issue, to be sure, but who could have expected Durant would throw six incompletions to start the game and get replaced by backup Drew Willy? Fantasy Points: 0.0
Jonathon Jennings, QB, B.C. – The quarterback struggles continued for B.C., as Jennings connected on 15 of 29 passes for 167 yards and three interceptions. Fantasy Points: 2.5
Adarius Bowman, SB, Edmonton – The Eskimos star receiver had just two catches for 29 yards at Toronto. Fantasy Points: 2.9
Emmanuel Arceneaux, SB, B.C. – The Lions' struggles in the passing game caught up with Areceneaux, who had one catch for 25 yards at Calgary. Fantasy Points: 2.5
INJURIES
Roughriders WR Duron Carter suffered a sprained ankle against Toronto, ending his six-game touchdown streak…Stampeders RB Jerome Messam, the league's leading rusher, suffered an injury against B.C. and was forced to leave the game…Redblacks QB Drew Tate, filling in for Trevor Harris, suffered a shoulder injury at Montreal and was replaced by Ryan Lindley.