CFL Fantasy: Carter gets loose against Ottawa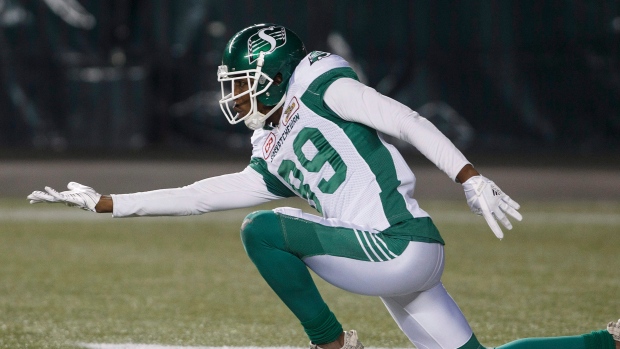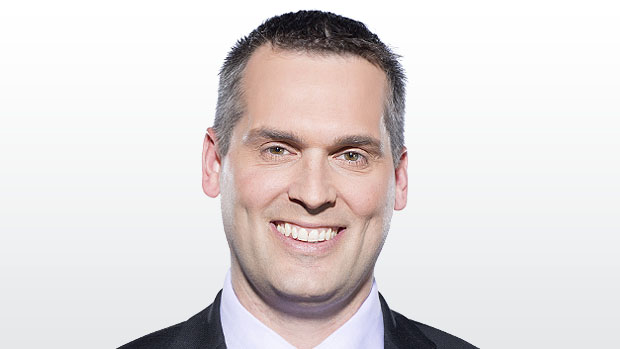 Duron Carter didn't find the end zone, but still had a huge game against Ottawa; Masoli, Gable and more.
Here are the best and worst of CFL Fantasy performances from Week 17:
HEROES
Duron Carter, WR, Saskatchewan – A big-time playmaker when he's on his game, Carter busted loose against Ottawa with 11 catches for 231 yards in a 33-32 loss to Ottawa. Fantasy Points: 23.1
Jeremiah Masoli, QB, Hamilton – In a 28-25 loss to Calgary, the Tiger-Cats' quarterback passed for 326 yards and added 29 rushing yards with a touchdown on the ground. Fantasy Points: 19.9
Kevin Glenn, QB, Saskatchewan – After three poor weeks in a row, the Roughriders veteran delivered a big game against Ottawa, passing for 387 yards and two touchdowns with two interceptions. Fantasy Points: 19.5
Ricky Ray, QB, Toronto – The Argos' veteran quarterback continues to put up numbers, and passed for 362 yards with one touchdown and one interception in a 30-27 loss at Edmonton, his third straight 300-yard passing game. Fantasy Points: 16.5
C.J. Gable, RB, Edmonton – Making his presence felt in the Eskimos' backfield, Gable put up 136 yards and a touchdown on 18 touches against Toronto. Fantasy Points: 19.6
Alex Green, RB, Hamilton – While the Tiger-Cats runner had just 51 yards on 14 touches, that total included two touchdowns and that makes for a much different fantasy story. Fantasy Points: 17.1
S.J. Green, SB, Toronto – The veteran receiver had a monster game, with 13 catches for 159 yards and a touchdown at Edmonton, his second most productive game of the season. Fantasy Points: 21.9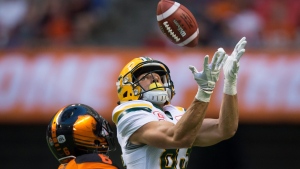 Brandon Zylstra, WR, Edmonton – The league's leading receiver caught nine passes for 147 yards against Toronto, and mixed in some return yardage for added value. It was the fifth time in his past six games that Zylstra went for more than 100 yards. Fantasy Points: 18.3
Bryan Burnham, WR, B.C. – Yardage hasn't been a big thing for the Lions receiver lately, whose last 100-yard game was in Week 12, and he had three catches for a modest 32 yards at Winnipeg, but also scored a pair of touchdowns. Fantasy Points: 15.2
Derel Walker, WR, Edmonton – A productive part of the Eskimos offence since coming back from a stint in the NFL, Walker had eight catches for 82 yards and a touchdown against Toronto. Fantasy Points: 14.2
Diontae Spencer, WR, Ottawa – The Redblacks receiver caught three passes for 71 yards and a touchdown in a 33-32 win at Saskatchewan, the fourth time in the past seven weeks that he finished with double-digit fantasy points. Fantasy Points: 14.0
Brandon Banks, WR, Hamilton – The former return specialist has become a consistent threat in the Ticats' passing attack. He had six catches for 115 yards against Calgary, his third straight 100-yard receiving game. Fantasy Points: 12.0
ZEROES
Matt Nichols, QB, Winnipeg – Surprisingly productive this season, the Bombers' quarterback had a modest 172 yards passing, with no touchdowns, against B.C. Fantasy Points: 7.2
Jerome Messam, RB, Calgary – The league's leading rusher returned to action against Hamilton, but managed just 11 yards on six carries. Fantasy Points: 1.1
Clarence Denmark, SB, Winnipeg – Even with Darvin Adams getting hurt, the veteran Blue Bombers receiver managed just one catch for nine yards against B.C. Fantasy Points: 0.9
INJURIES
Blue Bombers WR Darvin Adams suffered an upper-body injury against B.C., which could create more looks for receivers Ryan Lankford and L'Damian Washington…Blue Bombers RB Timothy Flanders has landed on the six-game injured list with a hamstring injury...Blue Bombers DB Maurice Leggett suffered a season-ending torn Achilles, a rough week of injuries for Winnipeg.
Scott Cullen can be reached at scott.cullen@bellmedia.ca