CFL Fantasy: DT, Schultz reveal their Week 20 teams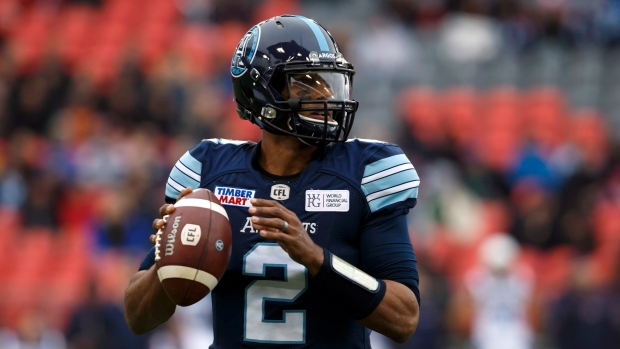 Derek Taylor & Chris Schultz share their TSN CFL Fantasy.lineups for Week 20 in the CFL.
---
Quarterback
Schultz: At quarterback, I like Travis Lulay ($6,792) going up against the Saskatchewan Roughriders because I like his leadership, but I also like Joel Figueroa in his battle with Charleston Hughes and Jovan Olafioye in his battle with Willie Jefferson. I like Lulay's price, and I also think that Lulay is experienced enough to handle whatever Saskatchewan's defence throws at him. As a mature quarterback, I think he's going to make the right decisions at the right moments.
Taylor: James Franklin of the Argonauts ($8,713) had zero passing touchdowns last week but he ran for two scores so he's on my team.
Running backs
Schultz: My running backs, the common denominator is both of them have exceptional power, in William Stanback of the Alouettes ($5,262) and Tyrell Sutton of the Lions ($6,431). Their power makes them nice options for goal-line opportunities.
Taylor: I'm taking Alex Green of the Tiger-Cats ($9,444). Green is a great option because he will get the ball between 20 and 25 times this week. June Jones is very good at keeping the running backs involved. With Brandon Banks out, the make-it or break-it for the Tiger-Cats will be the success, or failure, of Green as a running back.
Wide Receivers
Schultz: One of my receivers is Brad Sinopoli of the Redblacks ($7,831). On a positive note, he has 109 catches this season but on the negative side, he has just four touchdowns. Another receiver I'm taking is Eric Rogers of the Stampeders ($6,745). On a positive note, he has the potential to dominate a game but on the negative side, Rogers often fails to in fact dominate a game. And finally, I'm taking Darvin Adams of the Blue Bombers ($6,728). Two weeks ago, he had 72 yards and a touchdown, but, alas, Adams had just one catch that week.
Taylor: My receivers this week are Sinopoli, Markeith Ambles of the Stampeders ($2,585) and Justin Buren of the Tiger-Cats ($2,500). Buren is kind of a place holder for me because I need to see how Hamilton will fill in for Banks. Who's gonna get Banks' spot and who is going to get his targets. These to me are the biggest fantasy questions to be answered this week.
Defence
Schultz: I really didn't see any defences that I thought would dominate this week in terms of sacks and interceptions.
Taylor: I'm going with the defence of the Lions ($3,564). They're gonna to be able to create pressure and sack Zach Collaros.