CFL to host European player draft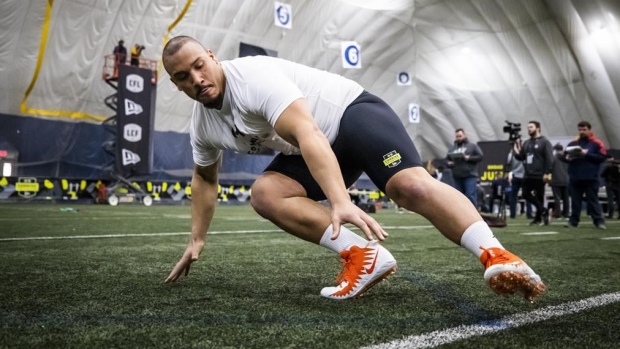 The Canadian Football League announced Thursday it will hold a one-round European player draft April 11.
The 18 European players that attended the CFL Combine in March will be eligible to be drafted.
The Hamilton Tiger-Cats have the first selection for the draft after a weighted draft with all nine clubs.
The draft order is as follows:
1.Hamilton Tiger-Cats
2. Winnipeg Blue Bombers
3. Montreal Alouettes
4. Edmonton Eskimos
5. Toronto Argonauts
6. Saskatchewan Roughriders
7. BC Lions
8. Ottawa REDBLACKS
9. Calgary Stampeders
The players eligible to be selected:
Eligible players for CFL's European player draft
| NAME | POS. | TEAM | HOMETOWN |
| --- | --- | --- | --- |
| Jordan Bouah | WR | Saddleback College Gauchos | Rome, Italy |
| Valentin Gnahoua | DL | Berlin Rebels | Le Mans, France |
| Thiadric Hansen | LB | Potsdam Royals | Flensburg, Germany |
| Marc Anthony Hor | DL | Frankfurt Universe | Mannheim, Germany |
| Kimi Linnainmaa | WR | Helsinki Roosters | Espoo, Finland |
| Mads Nielsen | DL | Copenhagen Towers | Vejle, Denmark |
| Frederik Nielsen | WR | Potsdam Royals | Aalborg, Denmark |
| Okko Outinen | DE | Helsinki Roosters | Hämeenlinna, Finland |
| Benjamin Plu | WR | Thonon-les-Bains Black Panthers | Le Mans, France |
| Asnnel Robo | RB | University de Montreal | Cayenne, France |
| Maxime Rouyer | LB | McGill | Troyes, France |
| Roni Salonen | LB | Braunschweig New Yorker Lions | Vantaa, Finland |
| Hendrik Schwarz | WR | Marburg Mercenaries | Marburg, Germany |
| Arttu Tennberg | OL | Porvoo Butchers | Helsinki, Finland |
| Alessandro Vergani | OL | Schwäbisch Hall Unicorns | Monza, Italy |
| Sonny Weishaupt | QB | Grenoble Centaures | Aschaffenburg, Germany |
| Max Earvin Zimmermann | WR | Potsdam Royals | Berlin, Germany |
| Johannes Zirngibl | DE | Straubing Spiders | Landau, Germany |