Channel Maker wins Breeders' Stakes in photo finish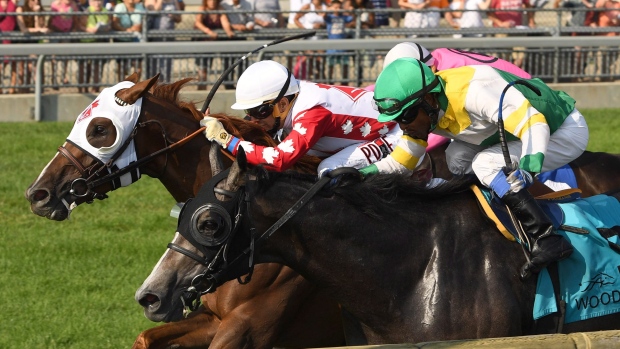 TORONTO — Rafael Hernandez and Channel Maker spoiled Luis Contreras's second run at Canadian horse-racing history Sunday.
Hernandez rode 8/5 favourite Channel Maker to a photo-finish victory in the $400,000 Breeders' Stakes at Woodbine Racetrack. That spoiled the day for Contreras, who was attempting to win a personal Triple Crown for the second time since 2011 aboard Cool Catomine.
Contreras had Cool Catomine second for much of the 1 1/2-mile race, the horse's first-ever on turf. But Cool Catomine faded badly down the stretch, finishing last in the 10-horse field.
Contreras won the $1-million Queen's Plate with Holy Helena before riding Cool Catomine to a stirring win in the $500,000 Prince of Wales Stakes as a 14/1 longshot. In 2011, Contreras became the first jockey to capture all three Triple Crown races with different horses, securing the Plate with Inglorious before claiming the Prince of Wales and Breeders' Stakes titles with Pender Harbour.
Hernandez had Channel Maker ninth through a mile before taking the lead down the stretch. He and Channel Maker ran neck-and-neck with Patrick Husbands and Final Copy to the finish line, securing the win by a nose courtesy of a late head bob.
But Hernandez couldn't celebrate immediately as stewards addressed three separate inquiries, including two on the winner from the riders of Glencairn and Seeking Albert regarding separate incidents of alleged interference. After some anxious moments, all three were disallowed, preserving Channel Maker's win on a firm E.P. Taylor turf course in 2:29.70.
"I know I tried to keep my horse straight," Hernandez said. "He's a difficult horse to ride.
"But thank God, nothing happened. He finished good, I like the way he finished."
Channel Maker didn't make it easy for his rider. Hernandez said when the chestnut gelding runs he sometimes does so with his head high, making it harder on the jockey to maintain his mount's focus and keep him running straight.
"He's weird," Hernandez said. "He turns for home he goes straight up and puts the head high.
"Thank God everything worked good."
Final Copy remained second ahead of King and His Court. The remainder of the field, in order of finish, was: Seeking Albert; Woodbridge; Lookin at Bravo; Conquest Lemonrid; Major Eclipse; Glencairn; and Cool Catomine.
Ironically, Hernandez rode Final Copy to three straight wins before moving to Channel Maker for the Breeders' Stakes. Hernandez said he wasn't surprised to see his former mount, the 9/2 second pick, charging hard beside him heading to the finish line.
"The longer he goes he'll be better and he did it today," Hernandez said. "He had a nice race, a nice run."
Husbands was happy with Final Copy's run, especially his late kick.
"He really fought back hard," said Husbands, who earned Canada's last Triple Crown win in '03 aboard Wando. "The last jump and a half, I thought he was going to catch (Channel Maker)."
Gary Boulanger, the jockey aboard King and His Court, also praised his horse.
"He tried really hard," Boulanger said. "The last 100 yards he got a little flat on me but it was a big effort."
But neither Final Copy nor King and His Court could stop Hernandez from earning his second straight Breeders' win. Last year, he rode 26-1 longshot Camp Creek to victory for trainer Rachel Halden, who also saddled Channel Maker on Sunday on behalf of trainer Bill Mott who was at Saratoga.
"As soon as I saw (Halden) in the paddock I said, 'Whoa, that's good,'" Hernandez said with a chuckle. "That's lucky."
Channel Maker, running for the first time since a fourth-place finish in the Plate, paid $5.50, $3.40 and $2.70. Final Copy returned $5.20 and $3.60 while King and His Court paid $6.10.
Channel Maker earned his first win in six starts this year and just the second in 10 career races. It's also his first victory on turf in seven attempts while the $240,000 winner's share boosted Channel Maker's career total over $420,000.