Chemistry between Matthews, Nylander reaches next level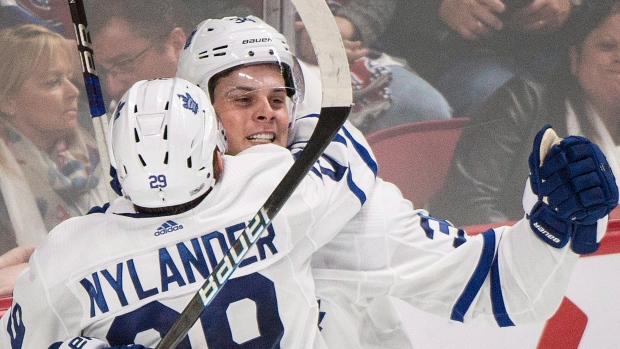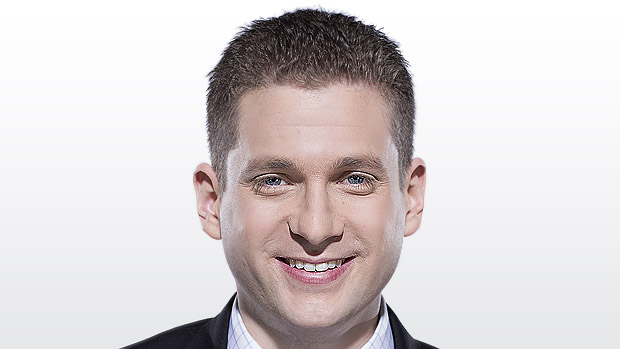 TSN Toronto reporter Mark Masters checks in daily with news and notes from Maple Leafs practices and game-day skates. The Leafs held an optional skate at the Air Canada Centre on Wednesday morning. ​
Auston Matthews and William Nylander have always had good chemistry, but lately it's reached a new level.
"Last year you saw the chemistry they had down the stretch and in the playoffs and now, more than ever, it's two elite players kind of knowing where they'll be most of the time and finding each other in those small, little areas," said Jake Gardiner.
"They've elevated," agreed Nazem Kadri, "and we're going to look for more of that."
The dynamic duo was in on three goals in Monday's win against the Lightning.
"I mean, let's just go back to the last game," said Gardiner when asked which plays stand out the most, "when I shot that puck and it hit off [Tyler] Johnson's stick, it wasn't a set play or anything and then, all of a sudden, Mats almost looked like he knew exactly where Willie was going to be and then Willie made a heck of a shot. So there are just certain plays like that where a lot of other players wouldn't make that play."
Then there was the second goal on Saturday night against the Senators when Nylander set up Matthews.
"When Willie gave him the behind-the-back pass, that was kind of something cool," said Zach Hyman, the third tenor on the line. "He drew a couple guys and then Auston was in the clear."
When the pair has the puck it can, at times, turn into a game of keep away.
"They kind of read off each other in the offensive zone," said Kadri. "A lot of give-and-go plays that really messes up the opposition. I know that's tough to play against."
Coming up the ice, in the neutral zone, they're also a handful.
"Willie usually pushes out and Mats knows he's got speed and he usually just lays it out in front of him," said Kadri.
Part of this is pure talent, but a big part is work ethic.
"I see them every day in practice working on little plays all the time and little pop plays [when they flip the puck into open space]," said Mitch Marner. "They've been playing together for the last two years now, so they know each other really well and what each other is going to do."
The experience factor is important as well. Early in their rookie season, Mike Babcock wasn't convinced the pair would thrive considering how much each likes to have the puck. But they were attached at the hip down the stretch and now most of this season.
"Being together all year certainly helps in just kind of generating that chemistry," said Kadri, who also pointed out that Matthews and Nylander play on the same power-play unit. "Whether they're scoring every game or not I think it's important to keep linemates together in order to just create that conversation and that chemistry to be able to take things to the next step maybe later on in the season."
The numbers suggest Matthews and Nylander have indeed taken the next step. Since Jan. 22, the Leafs have played 10 games and in that stretch Nylander leads the NHL in even-strength points with 13. In second place? Matthews with 12.
----
"It's our job, as a team, to put as much pressure as we can on [general manager] Lou [Lamoriello] to help us," Babcock said on Jan. 31. "The better you play and the​ more you look like you got a chance, the more opportunity you have for your GM to help you."
Since then, the Leafs have won six of seven including victories over top contenders like Tampa Bay and Nashville. So, does Babcock think his team has applied pressure on Lamoriello?
"If you think anything we're doing is affecting the way Lou sleeps, it's not, unless we don't play well without the puck," Babcock said. "He's just going to go about his job. If there's a deal there that's going to help us, we're going to make the deal. If there's not a deal it doesn't matter. Some people think t​here's a tree and you go, 'Oh yeah, I need a No. 1 centre,' and you just grab them off the tree. It's not quite like that. It doesn't work like that."
While Babcock is hoping for a trade to bolster his lineup – "Hey, you always can use help," he said back in January, "Never been on a team that didn't need more" – the coach stressed Wednesday that the big-picture view remains the most important one.
"No one has lost sight of anything going on and the standings don't affect our plan. Our plan is to build a product here that we can be proud of, to give ourselves a chance to knock on the door every year so when you arrive for training camp you know you're in the playoffs. We're not at that stage yet."
Babcock also said he didn't feel the trade deadline was having a big impact on his players.
"Well, it's certainly not the same mood as it was five, six years ago when guys were walking on eggshells," said Kadri with a smile. "It's a much better feeling to be involved with, knowing we could make a push."
----
On Tuesday, the Leafs held their annual open practice for fans. It was a dress-and-drive situation with the players using their locker room at the Air Canada Centre before travelling to the Mattamy Athletic Centre.
That meant the group spent some time in their home building on a day when the Raptors had a game. The basketball court was installed and ready to go so some players – Kadri, Marner, Matthews, Leo Komarov, Frederik Andersen, Nikita Soshnikov, Josh Leivo and Matt Martin – took the opportunity to shoot some hoops.
"It showed how much we really suck at the game," said Marner, who's listed by the Leafs as 6-feet. "I mean, damn, it's pretty crazy to see. Obviously, the average height [in the NBA] is around 6-foot-2, 6-foot-3 and when those guys are going up against guys who are 7-feet at the rim, it's pretty nuts to kind of put that in your perspective."
Who was the best Leaf? Who was the worst?
"Naz was probably the worst," Marner said without hesitation. "Called himself the best [and] when you call yourself the best the whole time and then go out and start shooting air balls and all rim it doesn't really put a good perspective on it. The best? I don't think anyone was going too hard, but Mats played basketball I think for a couple years in Arizona so he was spinning under the hoop and putting guys in spin cycles."
Some of the video from the Leafs shootaround made it on to the Raptors broadcast Tuesday night including a made Marner free throw off the backboard.
"I'm a bank guy," he said. "Anyone who knows me, that I played basketball with, they know I'm a big bank guy and the bank was open yesterday."
The made shot was followed by an elaborate celebration, which Marner said was inspired by Cleveland's J.R. Smith.
Kadri spoke to reporters before Marner had his say and painted a much different picture.
"There are some pretty good players," he said. "Marty's pretty good. Mats is good. Leivo's pretty good so we got some natural athletes on the team, which could certainly make for some interesting summer games."
Best natural athlete on the Leafs?
"I think Mats is pretty good. He's pretty gifted, obviously. Bozak's pretty talented. I'd like to throw myself into that category [smile], but I'm not sure how they'd feel about that."
One guy not in that conversation is Komarov, who posted a video of him missing a shot badly on social media.
"I have no idea why he posted that on his Instagram story," Kadri said with a laugh. "In fact, it was a little bit embarrassing for him. I feel for the guy. I know he's just a one-sport athlete so it's tough for him to get around the basketball court, but we figured we'd let him try."
----
The Leafs are red hot and just knocked off the NHL's top team on Monday night. The Blue Jackets, meanwhile, have gone 4-7-1 since Jan. 11, sliding out of a playoff spot.
Columbus played last night so fatigue could play a role against the Leafs. But Babcock has warned his players that the Jackets will be a desperate bunch.
"I just checked the standings, they're right there," said Babcock. "They're going to be all-in, you can count on it. We have to be all-in as well. We're trying to get better and we're pursuing teams ahead of us and we're trying to take a step. The step is to play each and every day. Complacency sets in for all people, it's the success disease – we all know that. If you've got enough grinders it doesn't set in as fast."
The Jackets will be looking to sweep the season series against the Leafs having already posted two wins over Toronto, 3-2 in overtime on Jan. 8 and 4-2 on Dec. 20.
"We haven't beat Columbus this year ... they smacked us around a couple of times," Babcock noted. "And they've had 50 shots the last two games."