Cheveldayoff willing to move Jets' first-round pick
A year after taking Patrik Laine with the second overall pick in the National Hockey League Entry Draft, Winnipeg Jets general manager Kevin Cheveldayoff admits to TSN Hockey Insider Pierre LeBrun that the team could move this year's top pick - the 13th overall selection - if the circumstances were right.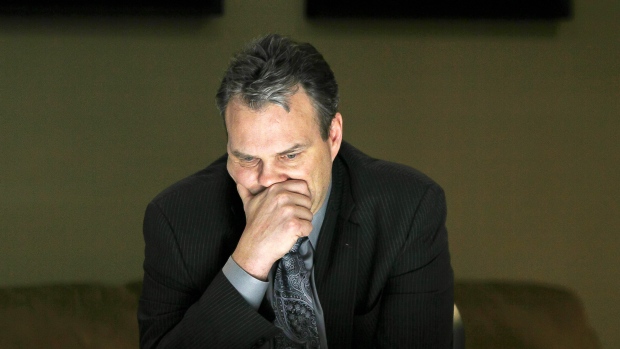 Last year, it would have been unthinkable for the Winnipeg Jets to trade their first-round pick in the NHL Entry Draft and with good reason.
That second overall pick became Patrik Laine, who went on to score 36 goals and is a Calder Trophy nominee.
This year, with the Jets sitting at 13th, general manager Kevin Cheveldayoff could be persuaded to part with the pick.
"In this situation here and moving forward, we're open to anything and if the right situation's there, we'll look at it," Cheveldayoff told TSN Hockey Insider Pierre LeBrun. "We've drafted four players in the first round in the last two years, so we had [Logan] Stanley and Laine and [Kyle] Connor and [Jack] Roslovic. So if there is the right situation that can help us, whether it's a piece or pieces, we'll certainly look at it."
What changed between this year and last was the lottery. In 2016, the Jets moved up from the sixth spot into the second, while this season, Winnipeg dropped from 12th into 13th.
"You take it as it is," Cheveldayoff said of the changed circumstances. "You don't set out with an agenda and try to say, 'I'm gonna pick X' or 'I'm gonna pick here' or whatever. Last year, we were picking sixth and you didn't know how the lottery balls were going to fall. This year, I don't know if my expression was more shocked than it was last year when we won, but I think it just shows that in this game now, you don't try and plan for any kind of pick because it can come back and bite you."
Still, Cheveldayoff likes where his team stands because he believes the lack of consensus past the first couple of picks creates possibilities for teams in the Jets' position.
"This draft, I think, if you're going to have a pick in the 'teens, this might be the draft to have it because I think there's going to be some things a lot of teams will like about some players and other teams won't," Cheveldayoff explaine. "It's truly going to be about trying to find that player that fits what you're looking for."
Aside from trading its first-round pick, Cheveldayoff admits the team could deal from its forward depth to accrue assets elsewhere - if the situation were right.
"If there's the right mix, then yes – certainly not ones outside of situations that stare you right in the face," Cheveldayoff said. "You're not getting [Nikolaj] Ehlers, you're not getting Laine, those type of players that are contributing and still very young on their entry-level deals."
Any potential move, Cheveldayoff says, would be guided by two factors.
"You want to make sure that the pipeline that you have of young players does keep coming," Cheveldayoff explained. "You don't ever want that pipeline to run dry. You look at, for example, what Pittsburgh's doing, what Chicago's doing. You have to have it. But the other side of it is, that second side of it, is that you've got to get there. It is that balance and if you have the assets to use them, then you certainly can see if there's a fit. But there truly has to be a fit."
Making a "change of scenery trade" or one for the sake of it won't cut it.
"There has to be something on the other side that makes sense, as well," Cheveldayoff said. "Just to trade a young player to take a stab at something that doesn't necessarily fit what you're looking for doesn't make sense, either. It's a unique year, obviously, with Vegas coming in and the talent pool is going to be spread around a little bit over this year and over the course of time, so there's some different opportunities."
Among those different opportunities could be help in net.
Connor Hellebuyck is a restricted free agent, while Ondrej Pavelec is unrestricted and expected to move on from Winnipeg. Cheveldayoff says he's happy with where Hellebuyck's game is, but the team will look at what's available outside of the organization.
"Connor had the opportunity, two years, ago to play 20-something games – I think it was 24 – and he played very well," Cheveldayoff said. "We knew that fast-forwarding a year from now – back then – that we were going to be sitting there with either Connor having played the entire year in the American Hockey League or having one year of National Hockey League experience. But in both situations, he's either going to be subject to waivers or the situation we're at hand [with] here with Pavelec's contract done and we're gonna say, 'Well, can he be a number one?' We made that choice consciously last year with what we were going to do.
"He finished 15th, I think, in the league in wins with 26. He had four shutouts, I think, which was 10th. So his numbers for a young goaltender are very good. As an organization, I think there could be an opportunity here if there is the right mix to continue to add to the goaltending. We'll look at anything that is available to us. Truly, we have to look at all of those different aspects because what's available to us is sometimes a nebulous thing."
The NHL Entry Draft is set for June 23 from Chicago.