Chiarelli: 'I do feel the heat and justifiably'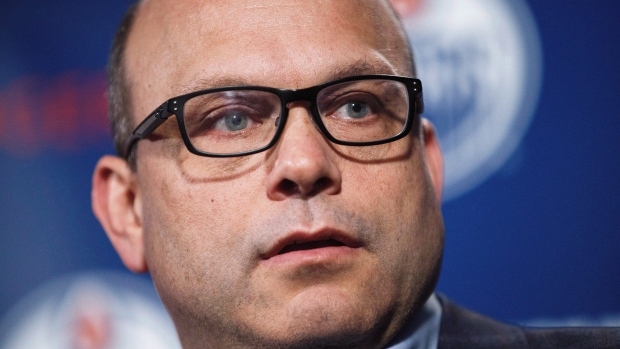 Edmonton Oilers president of hockey operations and general manager Peter Chiarelli admitted Monday that his team's struggles this season have him feeling the heat.
After Connor McDavid led the team to the playoffs for the first time since 2006 last season, the future seemed bright. However, it's been a season of major disappointment for the Oilers, who sit sixth in the Pacific Division with an 18-22-3 record.
"I do feel the heat and justifiably," Chiarelli told TSN's Ryan Rishaug. "Our fans deserve better, our owner deserves better. Our owner feels a commitment to the fans. We saw a level that we reached last year and it would be hard to expect anything but that this year at the very least, and going in that's what we had expected."
Despite the team's struggles, Chiarelli said he stands by head coach Todd McLellan and his staff.
"I'm looking at the staff as a collective whole. I know there's been clamouring for a change and I can understand those concerns. I believe there's an element of continuity and stability that's required here. I believe in working with our staff," Chiarelli said.
"…We identified someone like Todd and his staff. We hired them and put them in place and we want to do everything we can to allow these people to succeed…It doesn't mean we won't make a change at some point, but we're working through it and I'm not going to fire Todd McLellan. I believe in him. I believe in what he stands for. He's part of what the solution is here and we're going to go forward based on that."
Chiarelli, who was hired as president of hockey operations and general manager on April 24, 2015, is aware fans want to see changes made, but said his focus is on continuing to look at the big picture.
"My job is a big-picture job and I have to be careful about reacting rashly. I have to be careful about tunnel vision on certain things," he explained. "It's hard because your instincts based on when it's going like this is I've got to make a change, I've got to make a change. That's your instinct and there has to be a level of resistance to that because you have to take a step back and look at the bigger picture. So that's what we're going through right now. Yes, I'm feeling heat and when you're in this chair you expect to feel that, so that's what we're going through right now."
Chiarelli hopes the club can begin to right the ship, but he knows the clock is ticking toward the trade deadline on Feb. 26. How the team plays in the three games this week before its five-day league-mandated break will go a long way toward determining Chiarelli's plan of attack.
"I'm going to wait a little bit. We've got our pro meetings coming up next week, so we've got a few games left here before that and then we're going to have to make a decision. We'll see where we are going into the break," he said.
"…If we're not significantly back to where we should be in that time, and I know it's a short period of time, but there is an element of margins here. I've seen teams rally. It's rare from where we are for a team to rally into a [playoff] spot, but we'll have to make that decision in a week's time when we're on the break."
The Oilers will try to snap a two-game losing streak and start making their way back to .500 tomorrow on the road against the Nashville Predators.