Chiarelli's successor facing NHL's most challenging fix
The next Oilers general manager inherits a team in salary-cap jail with very few top-end prospects who could be flipped for an immediately impactful return, TSN Senior Hockey Reporter Frank Seravalli writes.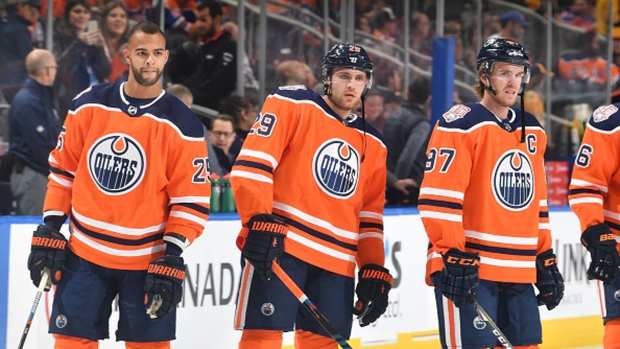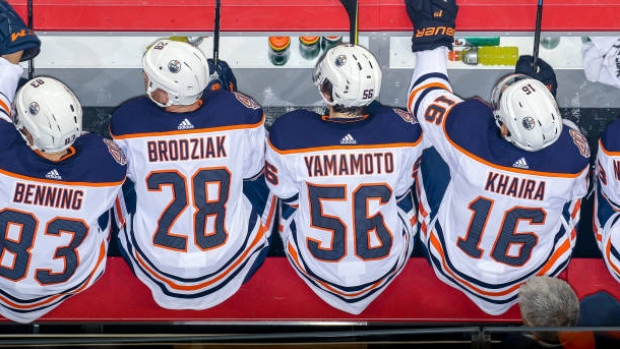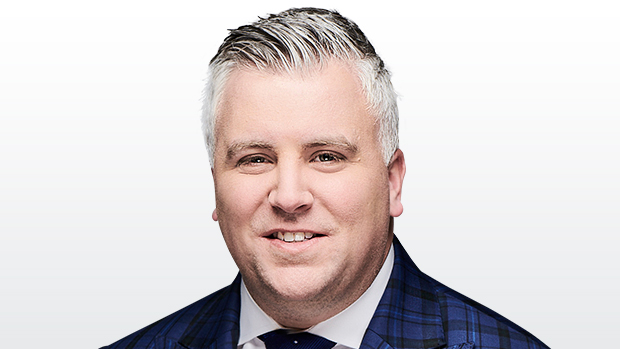 On the day he was hired in 2015, Peter Chiarelli stood at the podium and used the word "heavy" an astonishing 23 times to describe his vision for the Edmonton Oilers.
His outlook flew in the face of the new NHL, one that was morphing in front of everyone's eyes, hurtling toward an era of red-line speed and high-end skill like never before.
But Chiarelli went to Harvard and heavy is what won him a Stanley Cup in Boston in 2011.
Hedging a big bet on a contrarian blueprint meant that there were only two outcomes for Chiarelli's tenure as the Edmonton Oilers' general manager: absolute genius or abject failure.
Less than four years later, the answer is clear.
Chiarelli was fired by the Oilers late Tuesday night after almost every bet he made – right from his first transaction acquiring Griffin Reinhart – turned out to be the wrong one.
Chiarelli, 54, joined Philadelphia's Ron Hextall as the second GM fired this season. The in-season body count is now up to seven, including five head coaches jettisoned since Nov. 4.
The situation in Edmonton had become so toxic, turning one of the most passionate fan bases in the NHL into an apathetic one, that the Oilers had little choice but to remove Chiarelli from the controls one month before the trade deadline with the team just three points out of a historically weak playoff chase.
The man tasked with eradicating the dysfunction in the Oilers' front office only created more.
"There's something in the water here in Edmonton that we don't have right," Oilers CEO Bob Nicholson told reporters Wednesday, not mentioning that leftover brass from regimes past Craig MacTavish, Kevin Lowe and Scott Howson remain on the payroll.
Assistant GM Keith Gretzky, younger brother of Oilers vice chair Wayne Gretzky and Chiarelli's cohort from Boston, will assume part of Chiarelli's duties on an interim basis until a permanent replacement is found.
There will be no shortage of interested candidates. The problem for whoever inherits Chiarelli's chair is that there is no quick fix.
One of the most frustrating tenures in league history has now paved way for one of the most challenging fix-it jobs in league history – but not because of the obvious flaws.
Many GMs over the years have inherited bigger messes.
But none have taken on the job of providing a platform for the most highly evolved player of his time to shine.
That carries an enormous responsibility that is above the pressure to perform in a passionate market. Chiarelli dropped the ball on that awesome responsibility. He degraded the Oilers' skill to the point that it left McDavid on an island with Leon Draisaitl nightly. That was his ultimate undoing in Edmonton.
You know something's amiss when a league-leading 108-point season from McDavid can't get your team within 17 points of the playoffs. Yes, the Oilers are statistically the best team in the league when McDavid is on the ice and the worst when he is off of it.
Coach Ken Hitchcock said it all after Tuesday night's crushing loss to 31st place Detroit when asked if he had enough on his roster to compete.
"The other team can sit back against one line and defend," Hitchcock said.
One line. What makes Oiler fans nauseous is that Chiarelli inherited more than just a one-line team in 2015. That he traded away Edmonton's jewels, top picks Taylor Hall and Jordan Eberle who came only as a result of years of pain, only added insult to injury.
Hall had his character assassinated on the way out of town and went on to win the Hart Trophy last season. Eberle was dealt after a career-worst shooting percentage season.
Now, the Oilers are in salary-cap jail. They are hog-tied by "heavy" Milan Lucic's near buyout-proof contract which is laden with signing bonuses and a no-move clause. The new boss will inherit unproven netminder Mikko Koskinen's $13.5 million deal, signed 30 hours before Chiarelli's departure.
There are no Oilers in TSN's Top 50 ranking of affiliated prospects, very few top-end youngsters who could be flipped for an immediately impactful return. Jesse Puljujarvi, the fourth-overall pick in Chiarelli's second draft in 2016, is viewed league-wide as a project and not a weighty trade chip.
On the back end, the Oilers were so crippled by the loss of defenceman Oscar Klefbom – who is not viewed as a No. 1 blueliner in league circles – that they limped into the all-star break on a 6-12-1 skid without him. A well-constructed roster should not crumble in the absence of one player.
Roster construction was almost as much of a flaw as asset management. In 19 months, Eberle became Ryan Strome, who became Ryan Spooner, who became waiver fodder. Even the little transactions, like acquiring defenceman Brandon Manning, all went to hell for Chiarelli. Manning was a healthy scratch for four of his first seven games after the trade on an already depleted blueline.
The argument could be made that if Chiarelli never picked up the phone as GM, the Oilers would likely be in a better spot than they are now.
It's tough to argue against that. On track to miss the playoffs for the 12th time in 13 seasons, they are back at square one nearly a quarter of the way through McDavid's career.
Hard to believe. All of it.
Contact Frank Seravalli on Twitter: @frank_seravalli