Chiefs still on top of NFL Power Rankings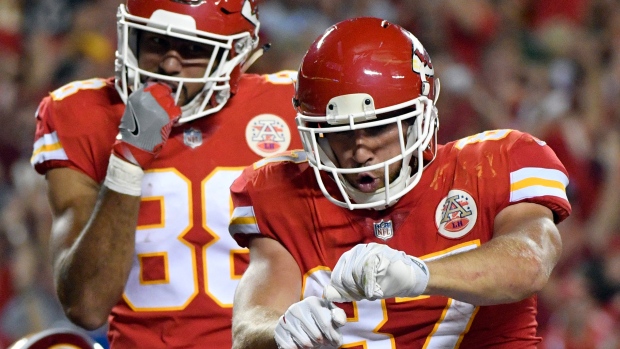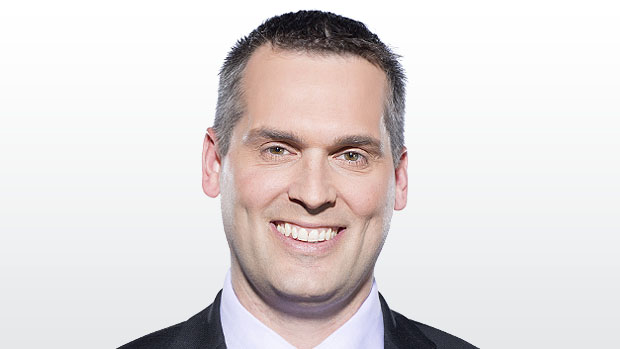 The Kansas City Chiefs remain at the top of the TSN.ca NFL Power Rankings, ahead of the Pittsburgh Steelers and Atlanta Falcons.
The Los Angeles Rams, Philadelphia Eagles, Carolina Panthers, and Houston Texans are among the teams climbing this week.
Headed down the rankings are the Oakland Raiders, Jacksonville Jaguars and the Tennessee Titans.
KANSAS CITY CHIEFS
THIS WEEK: 1 LAST WEEK: 1 RECORD: 4-0
Not only did the Chiefs manage a late score to take the lead against Washington on Monday, a defensive touchdown on the ensuing lateral silliness gave Kansas City an epic cover of the seven-point spread.
Key Injuries: RB Spencer Ware (knee), FS Eric Berry (Achilles), C Mitch Morse (foot), G Parker Ehringer (knee).
PITTSBURGH STEELERS
THIS WEEK: 2 LAST WEEK: 4 RECORD: 3-1
Went into Baltimore and ran it down their throat, with Le'Veon Bell getting 39 touches out of 72 total offensive plays.
Key Injuries: OLB Bud Dupree (shoulder).
ATLANTA FALCONS
THIS WEEK: 3 LAST WEEK: 2 RECORD: 3-1
Nearly rallied late against Buffalo, but ended up losing 23-17 with a depleted receiving corps. The good news for the Falcons is that WR Julio Jones shouldn't miss any game action.
Key Injuries: WR Mohamed Sanu (hamstring).
NEW ENGLAND PATRIOTS
THIS WEEK: 4 LAST WEEK: 3 RECORD: 2-2
New England's inability to defend is going to make them exciting, to be sure, but it's hard to imagine that after a career built on strong defence, that head coach Bill Belichick can't figure this out.
Key Injuries: WR Julian Edelman (knee), RT Marcus Cannon (ankl/concussion), LB Dont'a Hightower (knee).
GREEN BAY PACKERS
THIS WEEK: 5 LAST WEEK: 5 RECORD: 3-1
The Packers made easy work of the Bears in a 35-14 win, but WR Davante Adams took a devastating head shot and RB Ty Montgomery suffered broken ribs. Potentially offsetting those injuries, the Packers might have their starting tackles ready to go this week.
Key Injuries: RT Bryan Bulaga (ankle), LT David Bakhtiari (hamstring), DT Mike Daniels (hip), WR Davante Adams (concussion).
LOS ANGELES RAMS
THIS WEEK: 6 LAST WEEK: 14 RECORD: 3-1
It's shocking to see the Rams, and specifically QB Jared Goff, play this like, but after a road win at Dallas, they vault into the Top 10.
Key Injuries: None.
PHILADELPHIA EAGLES
THIS WEEK: 7 LAST WEEK: 12 RECORD: 3-1
Back-to-back close wins, over the winless Giants and Chargers, respectively, are good for the Eagles' place in the standings, but suggests a team that could be vulnerable.
Key Injuries: CB Ronald Darby (ankle), DT Fletcher Cox (calf), DT Tim Jernigan (heel).
DENVER BRONCOS
THIS WEEK: 8 LAST WEEK: 8 RECORD: 3-1
Won a slugfest against Oakland, and while it wasn't pretty, the Broncos can grind out wins with RB C.J. Anderson moving the chains.
Key Injuries: DE Jared Crick (back), LT Garrett Bolles (ankle).
DETROIT LIONS
THIS WEEK: 9 LAST WEEK: 9 RECORD: 3-1
It wasn't pretty, but the Lions will take a 14-7 win at Minnesota, and stay tied with the Packers at the top of the NFC North.
Key Injuries: MLB Jarrad Davis (concussion), OLB Paul Worrilow (knee).
MINNESOTA VIKINGS
THIS WEEK: 10 LAST WEEK: 6 RECORD: 2-2
Losing to Detroit isn't nearly as bad as losing rookie RB Dalvin Cook to a torn ACL. Latavius Murray and Jerick McKinnon are capable backups, but there is clearly a drop-off from what Cook had already shown he could provide for Minnesota.
Key Injuries: QB Sam Bradford (knee), RB Dalvin Cook (knee).
CAROLINA PANTHERS
THIS WEEK: 11 LAST WEEK: 16 RECORD: 3-1
The Panthers surprised the Patriots, and QB Cam Newton played a great game, before sticking his foot in the mouth this week.
Key Injuries: TE Greg Olsen (foot), C Ryan Kalil (neck), S Kurt Coleman (knee).
BUFFALO BILLS
THIS WEEK: 12 LAST WEEK: 19 RECORD: 3-1
After a few early wins, the Bills were cute, a plucky bunch of underdogs, but after a win at Atlanta, maybe they're going to have to be taken a little more seriously.
Key Injuries: WR Jordan Matthews (thumb), OLB Ramon Humber (thumb).
TAMPA BAY BUCCANEERS
THIS WEEK: 13 LAST WEEK: 18 RECORD: 2-1
Eking out a win over the Giants isn't worthy of great praise and the Bucs defence is taking some big hits on the injury front, but they gain ground this week before hosting the Patriots on Thursday night.
Key Injuries: OLB Lavonte David (ankle), S T.J. Ward (hip), MLB Kwon Alexander (hamstring).
SEATTLE SEAHAWKS
THIS WEEK: 14 LAST WEEK: 22 RECORD: 2-2
Tearing through the Colts in a 46-18 win is a positive, but beating up on bad teams isn't enough of an indication about the Seahawks' real value.
Key Injuries: RB Chris Carson (knee), WR Doug Baldwin (groin), DE Cliff Avril (neck).
HOUSTON TEXANS
THIS WEEK: 15 LAST WEEK: 24 RECORD: 2-2
The Texans have become a much more dangerous team with rookie QB Deshaun Watson making a ton of plays and contributing four passing and one rushing touchdown in a rout over Tennessee.
Key Injuries: WR Will Fuller (collarbone), TE C.J. Fiedorowicz (concussion), RG Jeff Allen (ankle), ILB Brian Cushing (suspension), CB Kevin Johnson (knee).
TENNESSEE TITANS
THIS WEEK: 16 LAST WEEK: 10 RECORD: 2-2
It's tough to have much faith in the Titans after a 57-14 loss in Houston, and it will be much worse if QB Marcus Mariota, dealing with a hamstring injury, isn't able to go this week.
Key Injuries: SS Jonathan Cyprien (hamstring), WR Corey Davis (hamstring).
ARIZONA CARDINALS
THIS WEEK: 17 LAST WEEK: 23 RECORD: 2-2
A narrow escape against San Francisco isn't great, but good enough to get the Cardinals back to .500 and RB Andre Ellington is giving them some value as a receiver out of the backfield.
Key Injuries: RB David Johnson (wrist), WR John Brown (quadriceps), OLB Markus Golden (knee), ILB Deone Buccanon (ankle).
DALLAS COWBOYS
THIS WEEK: 18 LAST WEEK: 13 RECORD: 2-2
The Cowboys obviously have talent, but giving up 35 points at home, after giving up 42 points in Denver a couple of weeks before, raises concerns about the defence.
Key Injuries: MLB Anthony Hitchens (knee), CB Nolan Carroll (concussion), OLB Sean Lee (hamstring).
WASHINGTON
THIS WEEK: 19 LAST WEEK: 11 RECORD: 2-2
Gave the Chiefs a challenge at Arrowhead, before losing it late, and Washington was in it right until the end despite having the ball for less than 23 minutes.
Key Injuries: MLB Mason Foster (shoulder), TE Jordan Reed (chest).
NEW ORLEANS SAINTS
THIS WEEK: 20 LAST WEEK: 21 RECORD: 2-2
A shutout win over Miami, in London, serves as both a reason for optimism in New Orleans and a major red flag for the Dolphins.
Key Injuries: LT Terron Armstead (shoulder).
JACKSONVILLE JAGUARS
THIS WEEK: 21 LAST WEEK: 15 RECORD: 2-2
It's hard to fathom a team that can beat the Ravens 44-7 then lose to the Jets, but welcome back to North America, Jaguars!
Key Injuries: WR Allen Robinson (knee).
OAKLAND RAIDERS
THIS WEEK: 22 LAST WEEK: 7 RECORD: 2-2
Losing 16-10 at Denver isn't the end of the world but, in the short term, losing QB Derek Carr could be a big deal. Can E.J. Manuel keep the Raiders on track for the next 2-6 weeks?
Key Injuries: WR Michael Crabtree (chest), QB Derek Carr (back), CB David Amerson (concussion).
BALTIMORE RAVENS
THIS WEEK: 23 LAST WEEK: 17 RECORD: 2-2
After two weeks, the Ravens were looking good, but after lopsided losses to Jacksonville and Pittsburgh, suddenly they might be in trouble.
Key Injuries: RB Danny Woodhead (hamstring), RG Marshal Yanda (ankle), DE Brent Urban (foot), TE Benjamin Watson (calf).
NEW YORK JETS
THIS WEEK: 24 LAST WEEK: 29 RECORD: 2-2
It's bizarre that the Jets have won as many games as the Patriots through four weeks, but that doesn't mean they are of equivalent value.
Key Injuries: RB Matt Forte (toe).
CINCINNATI BENGALS
THIS WEEK: 25 LAST WEEK: 31 RECORD: 1-3
Apparently a trip to Cleveland was all the Bengals needed to get over the doom and gloom of a 0-3 start.
Key Injuries: TE Tyler Eifert (back).
MIAMI DOLPHINS
THIS WEEK: 26 LAST WEEK: 20 RECORD: 1-2
Following up a loss to the Jets by getting shut out against New Orleans is a bad sign.
Key Injuries: QB Ryan Tannehill (knee).
INDIANAPOLIS COLTS
THIS WEEK: 27 LAST WEEK: 25 RECORD: 1-3
In two road games, the Colts have given up 92 points. At home this week against San Francisco, they're (slightly) favoured.
Key Injuries: QB Andrew Luck (shoulder).
CHICAGO BEARS
THIS WEEK: 28 LAST WEEK: 26 RECORD: 1-3
It didn't take long but, after a loss at Green Bay, the Bears made the decision to go with rookie QB Mitch Trubisky.
Key Injuries: WR Cameron Meredith (knee), WR Kevin White (collarbone), ILB Jerrell Freeman (pectoral, concussion), RG Kyle Long (ankle), CB Prince Amukamara (ankle).
L.A. CHARGERS
THIS WEEK: 29 LAST WEEK: 27 RECORD: 0-4
This is a team better than their record. They have on loss to Kansas City and the other three are by a total of seven points.
Key Injuries: WR Mike Williams (back).
NEW YORK GIANTS
THIS WEEK: 30 LAST WEEK: 28 RECORD: 0-4
The Giants might deserve better than 0-4, but now they're in that hole and dealing with some injuries as they get ready to face the Chargers. One team has to win, don't they?
Key Injuries: RB Orleans Darkwa (back), DE Jason Pierre-Paul (knee, shoulder), Olivier Vernon (ankle).
SAN FRANCISCO 49ERS
THIS WEEK: 31 LAST WEEK: 32 RECORD: 0-4
The Niners have lost the last three games by a total of eight points, so maybe they aren't too far away from that first win.
Key Injuries: OLB Reuben Foster (ankle).
CLEVELAND BROWNS
THIS WEEK: 32 LAST WEEK: 30 RECORD: 0-4
It's hard to know just how much of the Browns' offensive struggles fall on rookie QB DeShone Kizer, or is it the miserable receiving corps? How about a little from Column A and a little from Column B?
Key Injuries: DE Myles Garrett (ankle), WR Corey Coleman (hand).
Scott Cullen can be reached at scott.cullen@bellmedia.ca