Chiefs take top spot in NFL Power Rankings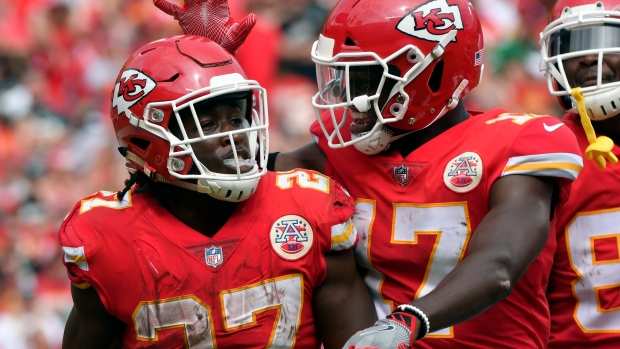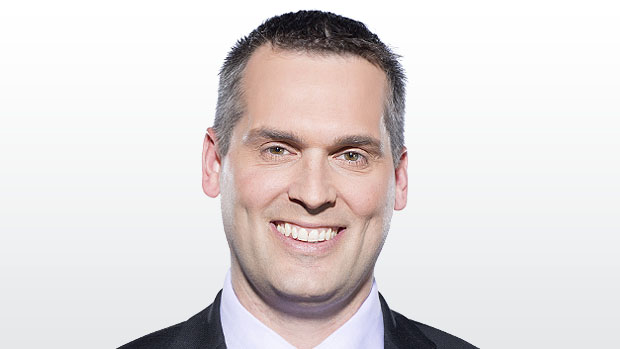 The Kansas City Chiefs are now No. 1 in the TSN.ca NFL Power Rankings, jumping past the Atlanta Falcons.
Behind the only two unbeaten teams, the New England Patriots, Pittsburgh Steelers and Green Bay Packers round out the top five.
Moving up this week, Washington moves from 18 to 11 after a big win against the Raiders. The Los Angeles Rams climb from 19 to 14 and the Jacksonville Jaguars rise from 24 to 15 after a big win in London.
Heading in the other direction, the Carolina Panthers drop from 10 to 16, and the Ravens, after losing to Jacksonville, slide from 11 to 17. The Miami Dolphins, Seattle Seahawks and Los Angeles Chargers are all falling too.
KANSAS CITY CHIEFS
THIS WEEK: 1 LAST WEEK: 2 RECORD: 3-0
Rookie RB Kareem Hunt keeps putting up silly numbers – he has 538 yards and six touchdowns in his first three NFL games – and that makes the game easier for QB Alex Smith.
Key Injuries: RB Spencer Ware (knee), FS Eric Berry (Achilles), C Mitch Morse (foot), G Parker Ehringer (knee).
ATLANTA FALCONS
THIS WEEK: 2 LAST WEEK: 4 RECORD: 3-0
A narrow escape at Detroit still leaves the Falcons unbeaten through three weeks, but QB Matt Ryan threw three picks against the Lions, after throwing seven in all of 2016.
Key Injuries: LB Vic Beasley (hamstring).
NEW ENGLAND PATRIOTS
THIS WEEK: 3 LAST WEEK: 3 RECORD: 2-1
Nearly lost to Houston at home, but QB Tom Brady engineered a game-winning touchdown drive, tossing his fifth of the game, only the second time since 2009 that he passed for at least five touchdowns in a game.
Key Injuries: WR Julian Edelman (knee), RT Marcus Cannon (ankl/concussion), LB Dont'a Hightower (knee).
PITTSBURGH STEELERS
THIS WEEK: 4 LAST WEEK: 4 RECORD: 2-1
An overtime loss at Chicago is troubling, especially when the Bears had a one-dimensional attack centered on their running backs, but the Steelers' offence struggled to move the ball and that was unexpected.
Key Injuries: OLB Bud Dupree (shoulder).
GREEN BAY PACKERS
THIS WEEK: 5 LAST WEEK: 6 RECORD: 2-1
The Packers scrambled to earn an overtime win against Cincinnati, with second-year WR Geronimo Allison busting out for six catches and 122 yards.
Key Injuries: RT Bryan Bulaga (ankle), LT David Bakhtiari (hamstring), DT Mike Daniels (hip).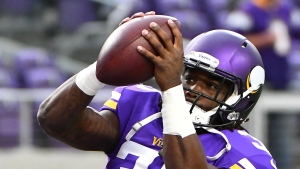 MINNESOTA VIKINGS
THIS WEEK: 6 LAST WEEK: 7 RECORD: 2-1
QB Case Keenum was outstanding, throwing for 369 yards and three touchdowns, in a surprisingly easy win over the Buccaneers. He had support, too, from rookie RB Dalvin Cook, who gained 169 yards from scrimmage and WR Stefon Diggs, who put up 173 receiving yards.
Key Injuries: QB Sam Bradford (knee).
OAKLAND RAIDERS
THIS WEEK: 7 LAST WEEK: 5 RECORD: 2-1
Shockingly ineffective in a 27-10 loss at Washington, the Raiders don't have much defence for that performance, but it's not worth overreacting to one bad game.
Key Injuries: None.
DENVER BRONCOS
THIS WEEK: 8 LAST WEEK: 8 RECORD: 2-1
The Broncos lost by 10 at Buffalo, and QB Trevor Siemian, who had been stellar in the first two weeks, was not as sharp, throwing two interceptions and no touchdown passes.
Key Injuries: RB Devontae Booker (wrist), DE Jared Crick (back), LT Garrett Bolles (ankle).
DETROIT LIONS
THIS WEEK: 9 LAST WEEK: 9 RECORD: 2-1
Very nearly knocked off the Falcons, but a close loss to one of the league's top teams still affirms the notion that the Lions are looking like a pretty dangerous team this year.
Key Injuries: MLB Jarrad Davis (concussion).
TENNESSEE TITANS
THIS WEEK: 10 LAST WEEK: 13 RECORD: 2-1
After Week Two, veteran RB DeMarco Murray was practically getting buried – and injured older back getting usurped by a younger, more punishing runner, Derrick Henry – but Murray returned to run for 115 yards and a touchdown on 14 carries in a 33-27 win over Seattle.
Key Injuries: SS Jonathan Cyprien (hamstring), WR Corey Davis (hamstring).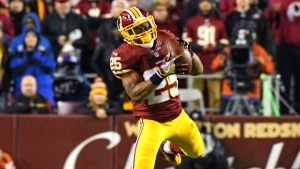 WASHINGTON
THIS WEEK: 11 LAST WEEK: 18 RECORD: 2-1
Had a shockingly easy time against the Raiders, with RB Chris Thompson putting up 188 yards on just 14 touches, while QB Kirk Cousins completed 25 of 30 passes for 365 yards and three touchdowns. You like that?!
Key Injuries: MLB Mason Foster (shoulder), TE Jordan Reed (chest).
PHILADELPHIA EAGLES
THIS WEEK: 12 LAST WEEK: 12 RECORD: 2-1
The Eagles needed a 61-yard field goal to get away with a 27-24 win. Felt a lot better about the Eagles through three quarters, before they had surrendered 24 points to the Giants.
Key Injuries: CB Ronald Darby (ankle).
DALLAS COWBOYS
THIS WEEK: 13 LAST WEEK: 14 RECORD: 2-1
A solid bounce-back effort to win at Arizona, especially after getting crushed by Denver the week before, but the Cowboys also managed a modest 273 yards in total offence. DE DeMarcus Lawrence led the Dallas pass rush with three sacks.
Key Injuries: MLB Anthony Hitchens (knee), CB Nolan Carroll (concussion).
LOS ANGELES RAMS
THIS WEEK: 14 LAST WEEK: 19 RECORD: 2-1
Nearly blew a 15-point fourth-quarter lead at San Francisco in what was, incidentally, one of the most entertaining Thursday night games ever, and while that causes some concern, the Rams' ability to move the ball appears to be promising.
Key Injuries: None.
JACKSONVILLE JAGUARS
THIS WEEK: 15 LAST WEEK: 24 RECORD: 2-1
In a stunning development, the Jaguars obliterated the Ravens in London, by a 44-7 score. QB Blake Bortles had four touchdown passes, three to 33-year-old TE Marcedes Lewis.
Key Injuries: WR Allen Robinson (knee).
CAROLINA PANTHERS
THIS WEEK: 16 LAST WEEK: 10 RECORD: 2-1
Losing by 21 points at home to New Orleans is a troubling result, with another injury to a key offensive performer and QB Cam Newton throwing three interceptions in the loss.
Key Injuries: TE Greg Olsen (foot), C Ryan Kalil (neck), WR Kelvin Benjamin (knee).
BALTIMORE RAVENS
THIS WEEK: 17 LAST WEEK: 11 RECORD: 2-1
Getting destroyed by Jacksonville in London was an alarming result, yet surely not indicative of this team's value going forward. A faint silver lining is that RB Alex Collins has rushed for 124 yards on 16 carries over the past two weeks.
Key Injuries: RB Danny Woodhead (hamstring), RG Marshal Yanda (ankle), DE Brent Urban (foot).
TAMPA BAY BUCCANEERS
THIS WEEK: 18 LAST WEEK: 16 RECORD: 1-1
The Bucs were shockingly ineffective at Minnesota, both offensively, where QB Jameis Winston threw three interceptions, and defensively, where they were picked apart by QB Case Keenum and allowed 494 yards in total offence.
Key Injuries: OLB Lavonte David (ankle).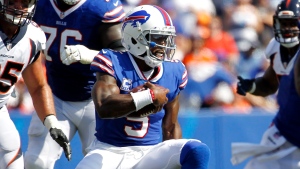 BUFFALO BILLS
THIS WEEK: 19 LAST WEEK: 20 RECORD: 2-1
QB Tyrod Taylor doesn't necessarily put up huge numbers, but he's completing 67% of his passes and has thrown one interception in 79 attempts.
Key Injuries: None.
MIAMI DOLPHINS
THIS WEEK: 20 LAST WEEK: 15 RECORD: 1-1
Losing by 14 points to the hapless Jets is a real slap in the face. The Dolphins are better than that, but every team is better than to expect losing by two touchdowns to the Jets!
Key Injuries: QB Ryan Tannehill (knee).
NEW ORLEANS SAINTS
THIS WEEK: 21 LAST WEEK: 23 RECORD: 1-2
Took advantage of three Carolina turnovers to win 34-13; good enough for New Orleans' first win of the season. Still much room to improve, but that win was needed.
Key Injuries: LT Terron Armstead (shoulder).
SEATTLE SEAHAWKS
THIS WEEK: 22 LAST WEEK: 17 RECORD: 1-2
Needed some late scores to get close, and QB Russell Wilson did throw for 373 yards and four touchdowns, but the Seahawks were not strong defensively, and that's supposed to be the side of the ball in which they hold an advantage.
Key Injuries: WR Doug Baldwin (groin).
ARIZONA CARDINALS
THIS WEEK: 23 LAST WEEK: 22 RECORD: 1-2
Got beat on the line of scrimmage against Dallas, surrendering six sacks and Arizona's running backs rushed for 42 yards on 18 carries (2.3 ypc).
Key Injuries: RB David Johnson (wrist), WR John Brown (quadriceps), TE Jermaine Gresham (ribs), ILB Deone Buccanon (ankle).
HOUSTON TEXANS
THIS WEEK: 24 LAST WEEK: 26 RECORD: 1-2
The Texans ultimately lost at New England, but QB Deshaun Watson opened some eyes and, if he can keep playing like that, does give Houston some chance to be competitive.
Key Injuries: WR Will Fuller (collarbone), TE C.J. Fiedorowicz (concussion), RG Jeff Allen (ankle), ILB Brian Cushing (suspension), CB Kevin Johnson (knee).
INDIANAPOLIS COLTS
THIS WEEK: 25 LAST WEEK: 30 RECORD: 1-2
A home win over Cleveland isn't worthy of huge praise, but following an overtime loss to Arizona the week before, it's a little bit of competitiveness over the past couple of weeks since turning to QB Jacoby Brissett.
Key Injuries: QB Andrew Luck (shoulder).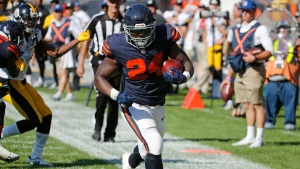 CHICAGO BEARS
THIS WEEK: 26 LAST WEEK: 27 RECORD: 1-2
QB Mike Glennon threw for just 101 yards, but the Bears put the Steelers game in the hands of running backs Jordan Howard and Tarik Cohen, and it ultimately worked.
Key Injuries: WR Cameron Meredith (knee), WR Kevin White (collarbone), ILB Jerrell Freeman (pectoral, concussion), RG Kyle Long (ankle), CB Prince Amukamara (ankle).
L.A. CHARGERS
THIS WEEK: 27 LAST WEEK: 21 RECORD: 0-3
The Chargers should be better than this, but having lost all three of their games, they need to find a way into the win column before the season gets away from them (if it hasn't already).
Key Injuries: WR Mike Williams (back).
NEW YORK GIANTS
THIS WEEK: 28 LAST WEEK: 25 RECORD: 0-3
Rallied from a deficit to challenge the Eagles in the fourth quarter, yet another loss leaves head coach Ben McAdoo on the hot seat. So is WR Odell Beckham Jr., for taking a penalty after one of his two touchdowns.
Key Injuries: RB Orleans Darkwa (back).
NEW YORK JETS
THIS WEEK: 29 LAST WEEK: 31 RECORD: 1-2
The Jets were supposed to be so bad that a winless season was possible, and here they just cruised to an easy win over Miami.
Key Injuries: RB Matt Forte (toe).
CLEVELAND BROWNS
THIS WEEK: 30 LAST WEEK: 28 RECORD: 0-3
Rookie QB DeShone Kizer is having a hard time finding reliable targets – Kenny Britt was targeted a team-high 10 times at Indy, but caught just three passes – so RB Duke Johnson made a big contribution, gaining 104 yards and scoring a touchdown on eight touches.
Key Injuries: DE Myles Garrett (ankle), WR Corey Coleman (hand).
CINCINNATI BENGALS
THIS WEEK: 31 LAST WEEK: 29 RECORD: 0-3
Surrendered a fourth-quarter lead at Green Bay, and the season is getting away from a Bengals team that may not be great, but is better than this.
Key Injuries: TE Tyler Eifert (back).

SAN FRANCISCO 49ERS
THIS WEEK: 32 LAST WEEK: 32 RECORD: 0-3
While they still lost last Thursday, at least the 49ers found a way to move the ball and score some points. Veteran WR Pierre Garcon led the way with seven catches for 142 yards on 10 touches.
Key Injuries: OLB Reuben Foster (ankle).
Scott Cullen can be reached at scott.cullen@bellmedia.ca