Chris Phillips: The ultimate stay-at-home defenceman
Ottawa Senators fans have watched a number of star players walk out the door over the years, but blueliner Chris Phillips loved Ottawa too much to leave. He never tested unrestricted free agency because he fell in love with the city, writes Ian Mendes.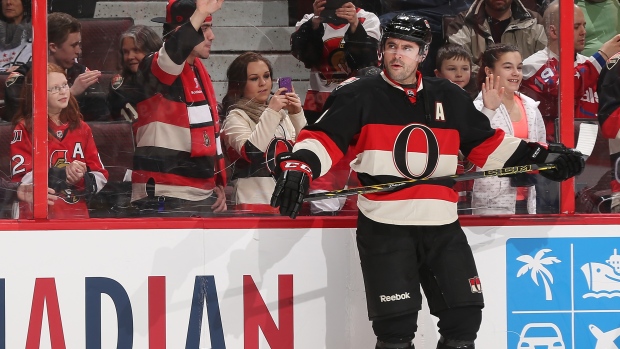 OTTAWA - After the Ottawa Senators played their final home game of the 2015-16 campaign, Chris Phillips quietly snuck onto the ice with his teammates during the post-game festivities.
The usual end-of-season tradition in Ottawa sees all the players line up at the end of the game and hand over their sticks or jerseys to season ticket holders. When Phillips' name was called, he skated down the ice and gave a one-armed salute – his signature goal celebration – one last time for the home crowd at Canadian Tire Centre. The resulting applause from the fans was genuine and warm, but somewhat awkward and muted because nobody knew for certain if this was indeed the end of the line for Phillips.
But as he stepped off the ice that night and embraced longtime teammate Chris Neil, it became obvious that this was the last time we would see Phillips on the ice in a Sens jersey. In many ways, that understated farewell moment perfectly encapsulated Phillips' career in Ottawa; he was quiet, steady and never one to draw attention to himself.
For a franchise that watched so many star players walk out the door for various reasons over the years – Yashin, Heatley, Spezza, Chara, Hossa, Alfredsson – Phillips was the ultimate stay-at-home defenceman. His name was often bandied about at trade deadline time, but he never wanted to leave. He never tested unrestricted free agency because he fell in love with this city.
He becomes the first player in franchise history to start and finish his career with the Ottawa Senators – a significant fact when you consider the list of aforementioned players who left town.
But it's not just in Ottawa where Phillips' career can be considered a rarity. Phillips joins a very exclusive club – one that only includes Hall of Famers Denis Potvin and Gilbert Perreault – as No. 1 overall draft picks who played 1,000 NHL games and spent their entire careers with only one franchise.
Phillips' legacy, however, has become tangled and twisted with the Senators own missteps in recent years. There are some Ottawa fans who are too bitter and jaded at the current direction of the club to celebrate one of the most successful careers in franchise history.
On a day like this, however, disgruntled Senators fans should take a hiatus from their cynicism and appreciate the impact Phillips had on his team and community. He was one half of the Senators best defensive duo ever when he paired with Zdeno Chara in the early 2000s – a time when elite NHL teams required a shutdown defensive pair. After Chara left, Phillips paired with Anton Volchenkov to form another solid defensive pairing – arguably their most consistent one – as the Sens reached the Stanley Cup Final in 2007.
In Game 5 of that Stanley Cup final series against Anaheim, Phillips accidentally scored into his own net. After the game, he stood at his locker stall inside the Honda Center and answered questions about his gaffe with the same professionalism and class he showed when he scored an overtime goal in Game 6 of the 2003 Eastern Conference final against New Jersey.
No matter what was swirling around him – coaching changes, playoff failures or his team filing for bankruptcy – Phillips maintained the same calm, cool and professional demeanour.
When he passed over not once – but twice – for the captaincy of this team following the departure of Alfredsson, Phillips never once uttered a public word of disappointment. He even attended the splashy press conference to announce that Erik Karlsson was being named captain in the fall of 2014, even though nobody would have questioned his absence if he chose that route.
Instead of pouting about being passed over as captain for a second time, Phillips decided to chart his own leadership course by inviting Curtis Lazar to live with his family to ease the teenager's transition to the NHL in his rookie campaign. Phillips always understood that leadership and responsibility was much larger than a letter on the front of his jersey.
His offensive numbers are not the least bit impressive for a No. 1 overall draft pick. However, when Phillips scored a goal, it usually meant the Senators would win the game. The team's record in the 67 regular-season games in which he scored a goal was an impressive 52-9-2 – with four ties added to the mix as well. When Phillips scored two goals in his 1,000th career NHL game against Nashville in February of 2012, his teammates joked that it took him 1,000 games to figure out he was actually an offensive defenceman.
But Phillips career can't be defined by numbers and stats, which also adds a layer of complexity to his legacy. In the months and years ahead, there will be plenty of debate as to whether or not Phillips' No. 4 jersey should be retired by the organization. These types of decisions are unique to each city in the NHL, with different thresholds existing in each market.
For Original Six cities, a modern superstar must be able to be mentioned in the same breath as legends who wore previous incarnations of the sweater. In places like New Jersey though, a player like Ken Daneyko saw his No. 3 raised to the rafters because his blue-collar work ethic made him a fan favourite for two decades.
In Ottawa, it's clear that Alfredsson's No. 11 will be the first to be raised to the rafters – an act that might be done as early as next season now that the fence has been mended between the two sides. Phillips' name is sure to be next on the list, and there is an argument to be made on both sides as to whether or not he merits the honour.
But when you consider that the Senators are a young franchise that needs to celebrate what little history it has, it seems like a foregone conclusion that Phillips jersey should be eventually retired. He holds the franchise record for games played – a mark that may never be topped, considering Phillips played 17 seasons and rarely dealt with injuries. And while he doesn't have the flashy highlight-reel goals or the lofty statistics to hang with the Alfredssons, Spezzas and Karlssons, there should absolutely be a place in the rafters for No. 4 in Ottawa.
For a fan base that has always been skittish about players being able to spend their entire careers in Ottawa, Phillips provides the example they've always needed. It is possible to start and finish your career here without a messy divorce or an awkward departure.
Phillips came to represent this city in a way that perfectly aligns with Ottawa's quiet and modest reputation. And for that reason, he should see his jersey retired in Ottawa.