Clemson's Swinney signs 10-year, $93M extension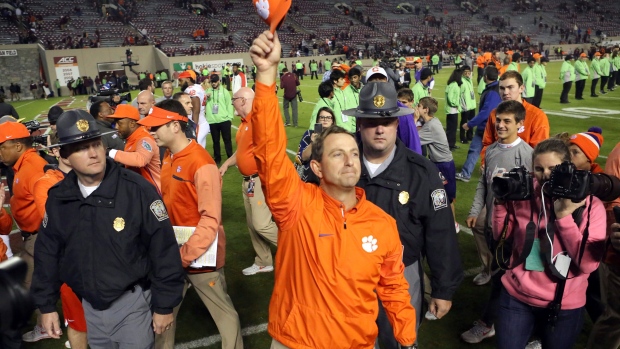 Dabo Swinney is staying in South Carolina for the long haul.
Clemson announced a 10-year extension for their head football coach on Friday worth a reported $93 million. Swinney has led the Tigers to two of the last three national titles.
"Dabo's leadership of our football program has brought value, exposure and unprecedented levels of success not only to our athletics program but to the entire university," Clemson athletic director Dan Radakovich said in a statement. "He has demonstrated the ability to consistently achieve at the highest level on and off the field, and he has done so with a commitment to integrity and core principles. This new agreement is evidence of Clemson's steadfast commitment to Dabo and to our football program, and we are thrilled that he and his family will be a part of our community for years to come."
Swinney's Tigers defeated the Alabama Crimson Tide 44-16 in January to complete the first ever 15-0 season in the modern era.
"For more than a decade, we have given our all to provide this world-class university and our incredible fans the championship football program they deserve – to live up to 'Best is the Standard,'" Swinney said in a statement. "With this contract, we make a collective statement that we intend to continue pursuing championships and developing total student-athletes for years to come. Our sustained continuity in vision, people and culture has been a key ingredient to our success, on and off the field."
A native of Birmingham, AL, Swinney joined Clemson in 2003 as its wide receivers coach and was named interim head coach in 2008 following the firing of Tommy Bowden six games into the season. The interim tag was dropped ahead of the 2009 campaign.
In his 11 years at the helm of the program, Swinney has a mark of 116-30, winning five ACC crowns and two national titles.