Cohon to step down as CFL commissioner Jan. 9
CFL commissioner Mark Cohon will be leaving his post earlier than expected. Cohon and the CFL's board of governors have mutually agreed to him leaving his position in January. CFL board chairman Jim Lawson will act as interim commissioner until Cohon's replacement is found.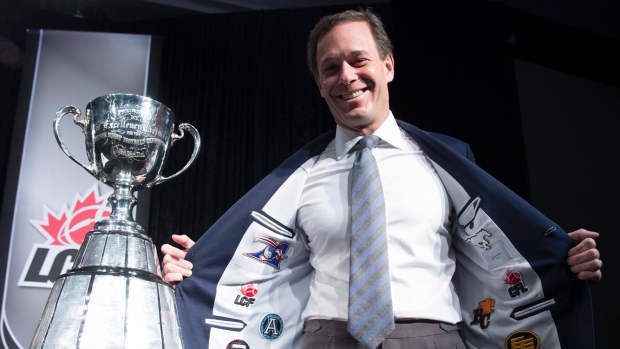 TORONTO - Life after the CFL will begin in early January for Mark Cohon.
The league announced Thursday that Cohon will step down as commissioner Jan. 9 under a mutual agreement between Cohon and the league's board of governors. Board chairman Jim Lawson will then assume the role of interim commissioner until Cohon's replacement is found.
Lawson also heads up the committee that's searching for Cohon's successor. Cohon's contract as commissioner is due to expire in April.
"Excellent candidates have come forward and while there is no firm deadline for naming the next commissioner, the process is going well," Lawson said in a statement. "I look forward to working closely with CFL president Michael Copeland, the senior staff at the CFL league office and our clubs across the country to continue our efforts to accelerate the growth of our league and plan for the 2015 season."
In August, Cohon announced he wouldn't seek a contract extension to remain on the job after his current deal ended. The 48-year-old Chicago native succeeded Tom Wright as CFL commissioner in 2007 and signed a three-year contract extension in 2012.
It's unclear if the league bought out the remainder of Cohon's contract or will continue to pay him through completion of the deal. Cohon wasn't available for comment Thursday.
During his final state-of-the-league address during Grey Cup week in Vancouver, Cohon said he plans to take his time finding a new job.
"One of the reasons why I decided not to seek a new term was I wanted the next challenge," he told reporters. "I'm going to take my time, I really am going to take my time."
Cohon will leave the CFL on stable ground. It still has four years remaining on its blockbuster television deal as well as the collective bargaining agreement with its players.
In March 2013, Cohon helped negotiate a five-year deal with TSN reportedly worth $43 million a year that was more than 2 1/2 times the previous agreement. The result was increased league payments to its teams.
But the television money made for a contentious, testy negotiation with the CFL Players' Association last spring. The players voted to go on strike and threatened to walk off the job just prior to the season before agreeing to a five-year deal at the last minute, ensuring the 2014 campaign opened on time and clubs started sharing in the extra television revenue.
The uncertainty surrounding the future of the Toronto Argonauts — the franchise continues looking for a new home with its Rogers Centre lease set to expire in '17 — and the league's labour strife highlighted what was a challenging final season for Cohon.
Injuries to proven offensive stars like quarterbacks Travis Lulay and Darian Durant, receivers Chad Owens and Any Fantuz as well as running backs Jon Cornish and C.J. Gable dramatically impacted the on-field product. Defences dominated as scoring and total offence were down — thanks in part to conservative offensive play — as B.C. Lions linebacker Solomon Elimimian became the first pure defensive performer to capture the league's outstanding player honour.
Off the field, attendance and the league's TV ratings were both down in 2014.