Cole Pearn remembers Jacob Damen at gala event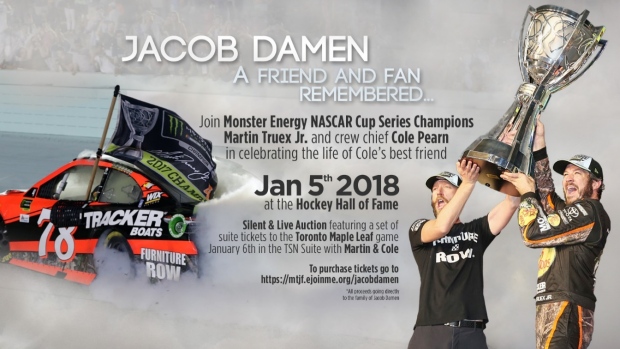 Martin Truex Jr., the 2017 Monster Energy NASCAR Cup Series Champion, and his Furniture Row Racing crew chief Cole Pearn are visiting Toronto on Jan. 5, 2018 for a special event the public is invited to attend.
In addition to the opportunity to meet both Truex and Pearn, there will be a celebration of the life of Pearn's best friend Jacob Damen, who passed away last August.
The public and the "Jacobs" in their lives are invited to join a gala event to be held at the Hockey Hall of Fame from 7-10 p.m. ET.
"We miss our buddy Jacob dearly," said Pearn. "We all have family and friends that fill a space in our hearts that is irreplaceable. Jacob filled the hearts of his wife Carolyn, his sons Lucas and Nolan, his parents Jerry and Kim Damen, twin brother Tyler, sister Julia and countless friends. We are going to celebrate his life at the perfect spot, the Hockey Hall of Fame, to support his beautiful wife Carolyn and the two boys, Lucas and Nolan. I can't wait to get home to celebrate with everyone."
Truex will be there to honor Damen as well as support Pearn.
"Cole is not only an incredible crew chief, he's an incredible human being," Truex said. "I'll do anything to support Cole, his family and friends. I can't wait to meet our Canadian race fans and celebrate the life of Cole' best friend."
For more details and to purchase tickets to the 'Jacob Damen Friend and Fan Remembered' event, Friday evening, Jan. 5th at the Hockey Hall of Fame in Toronto, click here.