Confident Koepka finally getting proper respect
Brooks Koepka has won three majors in a little under two years so his arrival at Bethpage Black this week to defend his PGA Championship title is getting plenty of attention this time around, Bob Weeks writes.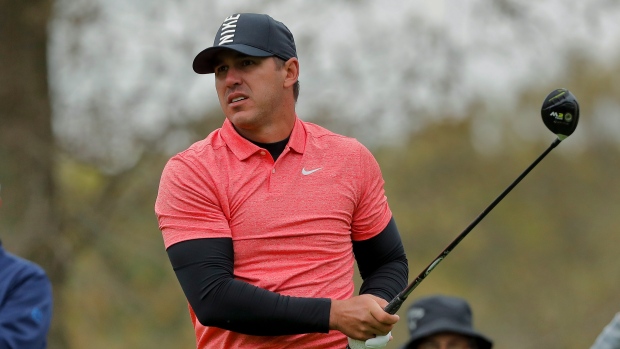 FARMINGDALE, N.Y. – After winning three of the last eight majors, there wasn't much chance that Brooks Koepka could roll out the Rodney Dangerfield persona again.
The guy who often feels he doesn't get enough respect for what he's accomplished has arrived at Bethpage Black looking to defend his PGA Championship. This time, he's getting plenty of attention.
It's about time.
If the measurement of who's best in golf comes with performance in golf's four biggest tournaments, then no one is even close to Koepka. He's won three of the last eight major championships and finished inside the top 10 eight times in his last 13 starts.
Since 2016, the 29-year-old is 55 under par in the majors, 15 strokes better than any other player.
If someone named Woods or McIlroy or Mickelson had done that, they'd be given a parade down Main Street. Koepka isn't even the betting favourite here this week.
He has every right to feel jilted and disrespected, but sometimes he's let his ego get in the way of earning proper appreciation. His brash call out of some analysts has never really made him all that popular in the press room. So he's started to deal with it in a calmer manner, realizing that his problems may have been at least partly self-inflicted.
"I think I'm doing a better job of that," he admitted, "letting you guys [the media] kind of into my life or not viewing you guys as the enemy, which I kind of did maybe earlier on in my career; where now it's 'listen, this is who I am, and I'm not going to change for anybody.' I'm just going to show you guys who I really am."
Call it being comfortable in your own skin. Or maybe accepting of the world around you. However you describe it, Koepka has arrived at a place where it's almost impossible to be overlooked any more.
He's big, strong and powerful with his driver, sitting 14th on the PGA Tour in driving distance. He's also 14th in hitting greens in regulation showing that his iron play is more than respectable. And although his play on the greens isn't great this season statistically, he considers himself one of golf's most underrated putters; when he gets on a roll on the greens, he can be close to unbeatable.
In fact, he's so confident in his game, he believes that he's just getting started in racking up major titles.
"I mean, I've got a number," he said when asked what he though was possible for his career. "I don't see why you can't get to double digits. I think you keep doing what you're supposed to do, you play good, you peak at the right times."
Having won three majors in a little under two years, Koepka seems to have these things figured out. Maybe it's because he's been so good in them that he seems to think winning one of the big four is easier than regular events, of which he only has two to his credit.
By his way of thinking, he can beat half the field simply because he's better. Of those remaining, about half won't play well that week. That leaves about 35 or so and he figures pressure is going to get to most of those, meaning he really only has to be better than a handful of golfer in the field.
"I think one of the big things that I've learned over the last few years is you don't need to win it, you don't have to try to go win it," Koepka stated. "Just hang around. If you hang around, good things are going to happen."
The course this week once again seems to favour Koepka's commanding style of golf.
Bethpage is long and soggy, and requires accuracy off the tee to avoid the rough. He'll bring out a tee shot he calls his "fairway finder," a low-flying cut that he can rely on. From there, he can use the rest of his game to once again hang around.
Should he stand on the 18th green holding the Wanamaker Trophy on Sunday evening, no one would be surprised. And Koepka would receive nothing but respect.