Countdown to TradeCentre: Blues a buyer after all?
Follow the latest trade rumours and speculation leading up to the Feb. 25 trade deadline with TSN.ca's Countdown to TradeCentre. In Monday's roundup, the St. Louis Blues could be buyers at the deadline despite their slow start, Kevin Hayes' future in New York and the latest on Artemi Panarin.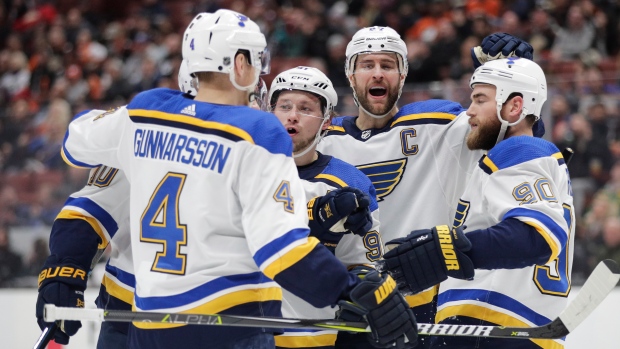 The National Hockey League's Trade Deadline is 3pm et on Monday, Feb. 25, and teams will be making decisions on whether to buy or sell and decide which players can make the biggest difference and hold the greatest value. Check out the latest trade rumours and speculation from around the NHL beat.
---

Back to Buyers?
The St. Louis Blues have climbed to within three points of a wild card spot in the Western Conference exiting the All-Star break.
While once viewed as a sure-fire seller with blueliner Colton Parayko listed at No. 1 on the TSN Trade Bait Board back in December, Blues general manager Doug Armstrong is now keeping the door open.
"I would say: 'To be determined," Armstrong told the St. Louis Post-Dispatch of his deadline plans. "It's a cliché, but the players tell you what you're supposed to do at the deadline. You don't tell the players. Their play will indicate what we do."
Armstrong pointed to the team's up-and-down season as a reason for his hesitancy to move in either direction ahead of the deadline. Last season, with the Blues still in the playoff race, Armstrong elected to trade pending free agent centre Paul Stastny to the Winnipeg Jets.
Armstrong added, however, that he's feeling more optimistic about the team's chances this year.
"There's a different vibe of where we're sitting here going into the All-Star break," Armstrong said. "I think we're playing much better than we were going in last year.
"We were trying to cauterize the wound last year and just find some reason to believe we were gonna get out of that funk. And we didn't do it as we got closer and closer to the (trade) deadline.
"This year, the glass is half-full in looking at our team. I really think since that western Canada trip (before Christmas), we've outplayed our opponent on most nights, outshot them most nights and our record indicates that we're getting better and stronger as we go."
The Blues, who are 7-5-1 this month, have five players listed on the most recent Trade Bait Board. Brayden Schenn is listed at No. 10, followed by Parayko (No. 18), Alex Steen (No. 29), Jay Bouwmeester (No. 30) and Patrick Maroon (No. 32).

---

Decision Looming
The New York Rangers have four weeks left to decide whether sign centre Kevin Hayes to a long-term deal or trade him to a buyer ahead of the trade deadline.
Larry Brooks of The New York Post reports Hayes and Rangers have yet to engage in contract negotiations and believes the team will "aggressively" shop the centre ahead of the deadline to determine his market value. Brooks thinks that the Rangers will want more than just a late first-round pick for Hayes, though he notes his market will be determined based on the returns for other wingers moved next month.
Hayes has missed the Rangers past nine games due to an upper-body injury, but is expected to return to the lineup on Tuesday to face the Philadelphia Flyers. He has 10 goals and 33 points in 39 games this season.
The 26-year-old expressed his desire to stay in the Big Apple on Sunday.
"Obviously it's going to come up a lot more now than it has, and there has been more chatter about who needs what, who needs a centre, and all that, but I've been able to keep my mind pretty clear," Hayes told The Post. "Everybody knows when the trade deadline is and what that means. Anyone who says otherwise isn't telling the truth.
"At the same time, everybody knows how I feel about wanting to stay. I've loved my five years here. I love the organization, the guys, the staff, the city, the fans. I really can't see myself anywhere else. But it's also kind of out of my hands."
Brooks writes that Hayes' next contract could carry a cap hit close to $6 million on a five or six-year term. Hayes is earning $5.175 million on the one-year contract he signed to avoid arbitration in July.

---

The Wait Continues
Artemi Panarin met with his agent Dan Milstein over the weekend, but it appears the winger is still unsure on his plans for the future.
Milstein, who said in December his client would have to make a decision on his future after the All-Star break meeting, told Aaron Portzline of The Athletic on Sunday that the two will need a second meeting before deciding on Panarin's plans.
"We're going to talk about, obviously, the team itself, the prospects of the future," Milstein said on Dec. 28 of the plans for the meeting. "He's extremely competitive, he wants to help the team to win. We're going to be looking at rosters, looking at teams, looking at the possibilities and the future role that he may have on the team and he'll basically make a decision.
"I just want to be up front that he likes it in Columbus. As far as the team, they have a good young team, he's got a very good centre (Pierre-Luc Dubois), and management has been nothing but great to him."
Blue Jackets general manager Jarmo Kekalainen has consistently expressed his desire to re-sign Panarin, who was acquired from the Chicago Blackhawks in 2017.
The Russian winger, who carries a $6 million cap hit this season, is the Blue Jackets leading scorer with 19 goals and 53 points in 46 games this season. He is listed at No. 44 on TSN Trade Bait Board.