Countdown to TradeCentre: Game plan for the Canucks?
Follow the latest trade rumours and speculation leading up to the Feb. 25 trade deadline with TSN.ca's Countdown to TradeCentre. Monday's roundup includes Jim Benning's deadline strategy, trade options for the Blackhawks and a target for the Sabres.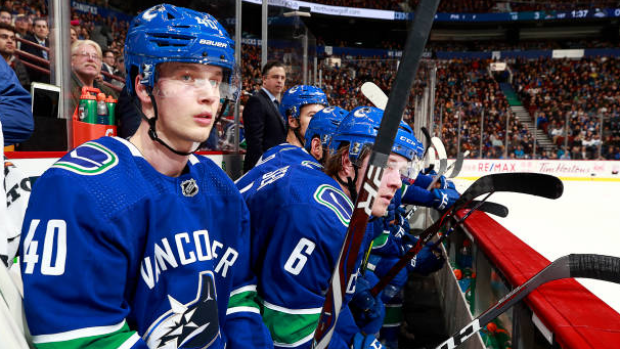 The National Hockey League's Trade Deadline is 3 p.m. ET on Monday, Feb. 25, and teams will be making decisions on whether to buy or sell and decide which players can make the biggest difference and hold the greatest value. Check out the latest trade rumours and speculation from around the NHL beat.
---

Out of the Rental Market
The Vancouver Canucks sit just one point back of the Minnesota Wild for the final wild-card spot in the Western Conference, but general manager Jim Benning is not planning to add a rental to help their playoff push.
"If we had another goal scorer that would be a big help to our group, but that's easier said than done," Benning said Sunday, per the Vancouver Sun. "I'm not necessarily looking at rentals. If we're going to do trades, it's going to be players who can be pieces of the puzzle moving forward."
Benning acknowledged that he could seek scoring help in free agency this summer, but acquiring a pending unrestricted free agent does not appear to be in the cards.
Ben Kuzma of the Sun believes the team could use an upgrade at left wing and points to 23-year-old Nikolay Goldobin as a player who could be moved out in the future. Goldobin has six goals and 19 points in 52 games this season with a minus-6 rating. Benning, however, appeared to rule out trading the pending restricted free agent on Sunday.
"It's in Goldy's hands," Benning said. "He has the head and the hockey sense and the skill to be a good player, but it's up to him and how hard he wants to work to get there. He can't do the stuff he's doing to be an NHL player. He has to learn.
"When the puck is at our blueline, it has to get out and when it's at their blueline, it's got to get in. When he gets it in, he has the freedom to create. But there have to be rules to be successful and he has to be able to follow those.
"But with his offensive skill set, we don't have anybody to replace him."
The Canucks acquired Ryan Spooner from the Edmonton Oilers on Saturday in exchange for Sam Gagner, who had spent the majority of the season in the AHL. Spooner has three goals and five points in 41 games this season, but Benning is hopeful he can find his previous form in Vancouver. Benning was an assistant general manager of the Boston Bruins when Spooner reached his career-best offensive total in 2015-16.
"He was a centre through junior, but in Boston because we had good centres and he learned to play the wing and played with (Patrice) Bergeron and (Brad) Marchand at times," said Benning.
"He can transport the puck through the neutral zone and is good on the second power play on the half wall. For whatever reasons, things haven't worked out for him. This is a fresh start."
The Canucks will return to the ice Thursday against the Arizona Coyotes and have just two games remaining before the trade deadline.

---

Moving Out?
With the Chicago Blackhawks having overcome a dismal start to the season to now sit three points out of the a wild-card spot, Jimmy Greenfield of the Chicago Tribune believes it would be a bad look for the team to trade players who could help their own playoff push.
Greenfield argues, however, that the team could still part with seven players from their NHL roster without "giving off the impression they're giving up on the season." He lists backup goaltender Cam Ward, defencemen Gustav Forsling, Slater Koekkoek and Carl Dahlstrom and forwards Marcus Kruger, John Hayden and Brendan Perlini as players who could fit in that category.
Corey Crawford is expected to be activated off injured reserve in the near future and Collin Delia has proved himself capable at the NHL level in his absence, leaving Ward, a pending unrestricted free agent, expendable.
All three defencemen named by Greenfield are pending restricted free agents and he believes none of them are guaranteed a roster spot next season. Of the group, Forsling has been the most productive this season, posting two goals and seven points in 23 games.
Kruger, a pending UFA, has four goals and nine points, but with two Stanley Cups to his name, Greenfield believes he could provide experience to a playoff contender. Hayden, who has three goals and four points in 42 games this season with a minus-12 rating, has another year left on his entry-level contract. Perlini, acquired earlier this season from the Arizona Coyotes, is a pending restricted free agent and has three goals and four points with a minus-15 rating in 28 games since joining the team.
The Blackhawks will host the Ottawa Senators on Monday night in their first of four games before the Feb. 25 deadline.

---

Centre of Attention?
With the Minnesota Wild headed for a re-tool, Mike Harrington of the Buffalo News believes the Sabres should try to pursue centre Charlie Coyle ahead of the trade deadline.
Harrington notes that bringing in Coyle, who's signed through next season at $3.2 million cap hit, would allow the team to bump down Casey Mittelstadt to a third-line centre role as he continues to develop. He notes that acquiring Coyle could cost the Sabres a first-round pick and they own three in June's draft – their own, along with that of both the San Jose Sharks and St. Louis Blues.
Coyle, 26, has 10 goals and 28 points in 59 games this season and is currently listed at No. 10 on the TSN Trade Bait board.

---