Countdown to TradeCentre: Stars eyeing Leafs D?
The NHL's Mar. 2 Trade Deadline is approaching and teams are making decisions on whether to buy, sell and decide which players can make the biggest difference and hold the greatest value. Today's rumour round-up looks at Dallas and Detroit's pursuit of blue line help, as well as what can be done about the grounded Philadelphia Flyers.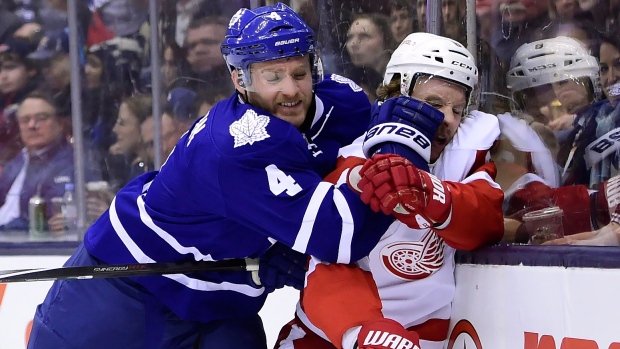 The NHL's Mar. 2 Trade Deadline is approaching and teams are making decisions on whether to buy, sell and decide which players can make the biggest difference and hold the greatest value.
Check out today's trade rumours and speculation from around the NHL beat. And follow TradeCentre on TSN and TSN.ca through Deadline Day for all the updates.
Flying South?
The Dallas Stars have some veteran pending UFA players that they may consider moving at the trade deadline, but could the team's bigger priority be adding a Toronto Maple Leaf to its blue line?
Mike Heika of the Dallas Morning News reported Sunday that while the likes of Erik Cole and Shawn Horcoff could be on the way out, the team might also want to bolster its back end for a playoff run this season.
Listed amongst possible trade targets that might appeal to the Stars are pending UFA Cody Franson as well as Leafs captain Dion Phaneuf.
Franson's point production and right-hand shot make him a coveted addition, according to Heika, who had the following to say of Phaneuf: "Toronto's captain has six years left on a contract extension that averages $7 million and would require a lot in return, so you have to be sold on the 29-year-old. But he's a big (6-3, 218) lefty who might be the No. 1 defenceman the team craves."
Heika also dropped pending UFAs Marc Methot and Zbynek Michalek.
End Goal
The Vancouver Canucks are rumoured to be in the market for a top-six forward to slot in behind their top line of the Sedins and Radim Vrbata.
Bruce Garrioch of The Ottawa Sun believes that they may be willing to dangle goaltending help in order to add a piece up front.
Vancouver has depth in net with back-up Eddie Lack and Jacob Markstrom enjoying a fine season with the AHL's Utica Comets. Meanwhile, Garrioch believes rugged forward Zack Kassian is also in play as the Canucks seek scoring in hopes of a deep playoff run.
Garrioch's Saturday piece also hit on the Leafs getting calls on some key pieces as well as the Arizona Coyotes potentially entertaining the idea of moving captain Shane Doan.
Not Flying Anywhere
The Philadelphia Flyers entered the All-Star break well out of the Eastern Conference playoff picture.
But with the team 12th in the East and a dozen points back of the nearest wild card spot, will GM Ron Hextall look to blow things up?
The answer, for now, is no.
"There's not going to be a fire sale,'' Hextall told The Burlington County Times. "We don't have the so-called UFAs (unrestricted free agents) ... if something makes sense for us to do, long term and this year, we won't hesitate to do it."
The article went on to point out that the Flyers have a few difficult contracts to deal with including veteran pieces like Vincent Lecavalier, R.J. Umberger and Andrew MacDonald, as well as underperforming younger bodies like Matt Read and Luke Schenn.
D-troit
The Red Wings, meanwhile, are another team that appear to be looking for blue line help.
Helene St. James of the Detroit Free Press writes that the team's prospect ranks are not going to provide any solutions in the immediate future, which could force the team to look at making a deal.
She, too, makes mention of Franson as well as the Capitals' Mike Green, Buffalo's Tyler Myers and Carolina D-man Justin Faulk. However, the cost to the Wings for that group could be steep, St. James speculating that "teams will want either Tomas Tatar or Gustav Nyquist or Anthony Mantha or Dylan Larkin, plus a higher-round draft pick."