Countdown to TradeCentre: Three marketable Canucks?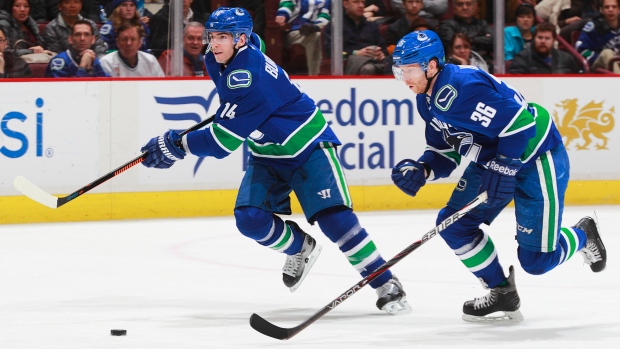 The NHL's March 1 Trade Deadline is fast approaching and teams are making decisions on whether to buy, sell, and decide which players can make the biggest difference and hold the greatest value. Check out today's trade rumours and speculation from around the NHL beat.
--
Three Names to Watch
The Vancouver Canucks are four points behind the Calgary Flames for second and final wild-card spot in the Western Conference, but the Winnipeg Jets and Los Angeles Kings also stand in their way.
Team president Trevor Linden has said the team won't be in the rental market, and that leaves them more likely to be sellers than buyers over the next eight days.
Ben Kuzma of the Vancouver Province believes the Canucks have three marketable assests ahead of the trade deadline. Those players are; forwards Alex Burrows and Jannik Hansen, and goaltender Ryan Miller. Burrows and Miller are both playing on expiring contracts, while Hansen is signed through next season at a cap hit of $2.5 million.
The Canucks may be forced to move Hansen in order to avoid leaving him unprotected in the Las Vegas expansion draft. Linden admitted to TSN 1040 earlier this month that if his roster remained in its current state, one of Markus Granlund, Sven Baerstchi and Hansen would likely be left available for the Golden Knights.
Burrows owns a full no-trade clause, while Hansen and Miller both own a modified no-trade clause, but Kuzma writes the Canucks cannot afford to lose another player for nothing on July 1 - or in the expansion draft.
Having Hansen agree to a deal to a team he hasn't approved, however, could prove difficult.
"I want to play here," Hansen told the Province. "I love being around the guys, I love the city and I want to win here. And I've been here for a very long time."
Kuzma lists Hansen, 30, as the most marketable of the three, but believes Burrows playoff pedigree speaks for itself - 19 goals in 70 playoff games.
Hansen owns six goals and 13 points in 27 games this season. He scored 22 goals and notched 38 points in 67 games last season.
Burrows has scored nine goals this season and added 11 assists. He scored nine goals in 79 games last season while tallying just 20 points.
As for Miller, as long as the playoffs remain possible for the Canucks, Kuzma believes that chance of the Canucks trading their starter at the deadline are remote.
--
Hold On to Kane
Evander Kane has been on a tear of late and owns seven goals in his past seven games, leaving some to argue his value will never be higher in a trade.
However, John Vogl of the Buffalo News argues that the Sabres need to hold on to the streaking winger in order to improve their long-term future.
The exception, Vogl writes, is if Sabres general manager Tim Murray believes Kane will not re-sign with the team after next season.
Kane is set to enter a contract year in 2017-18, playing in the final season of a six-year, $31.5 million contract signed with the Winnipeg Jets.
With 21 goals through 48 games this season, Kane has already secured his second straight 20-goal campaign.
If, or perhaps when, the Sabres begin selling prior to the deadline, Vogl expects either Dmitry Kulikov or Cody Franson to be the first player shipped out.
--
Panthers are Buyers?
The Florida Panthers are 8-1-1 in their last 10 and moved into the third spot in the Atlantic Division - a playoff position - with their win over the St. Louis Blues on Monday night.
With plenty of cap space and playoffs again on the agenda, the Panthers are looking to buyers ahead of March 1.
"The goal is to be buying," Panthers president of hockey operations Dale Tallon told NHL.com on Saturday. "I like where we're at, but I'd like to add some offense to get our power play going."
The Panthers power play success rate dropped to 14.9 per cent in Monday's win, fourth last in the NHL ahead of only the Canucks (14.5), Colorado Avalanche (14.3) and Detroit Red Wings (12).
Tallon told the League's website he would be willing to part with prospects in his system, due to a wealth of young talent on his roster, but only for the right addition.
--
No Interest in Cammalleri?
New Jersey Devils veteran Michael Cammalleri was scratched in back-to-back games by the Devils over the weekend, leading some to wonder if he's available in the trade market.
As Apron Basu of NHL.com writes, Cammalleri's contract, with two years at $5 million per remaining past the season, is likely to scare off any potential suitors.
Basu adds that though the Devils are likely to be sellers, Cammalleri, at 34 with 10 goals this season, is unlikely to have a market. He also owns a full no-trade clause.
Cammalleri could return to the Devils lineup Tuesday night against the Ottawa Senators.
--
Should the Ducks make a move?
Their offensive superstars haven't been producing like in the past and with valuable assets on the blue line, should the Anaheim Ducks make a move ahead of the trade deadline? TH2N weighs in below.